This site contains affiliate links. If you make a purchase using one of these links, I may earn a commission. Please click here for more information about cookies collected and our privacy policy.
Are you looking for some great mango smoothie recipes? These 16 mango smoothie recipes are delicious and a great way to use this vibrant, tropical fruit!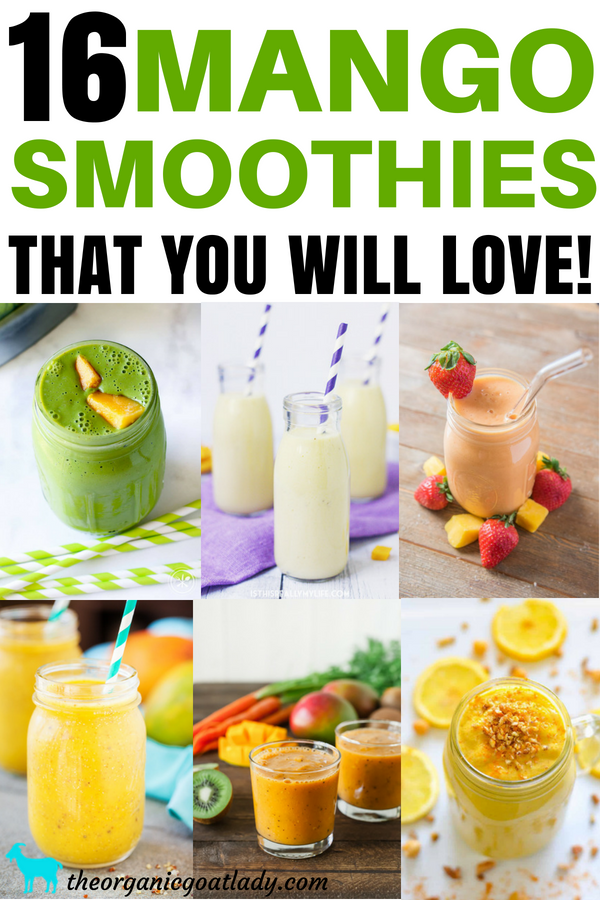 16 Mango Smoothie Recipes That You Will Love!
Living in south Florida, we get lots of mangos!
We end up with bags full of mangos in the summer! I mean, way more mangos than we can eat!
So what should you do with all of the extra mangos that you have?
First, puree the extra mango. You can find out how to easily puree mango here.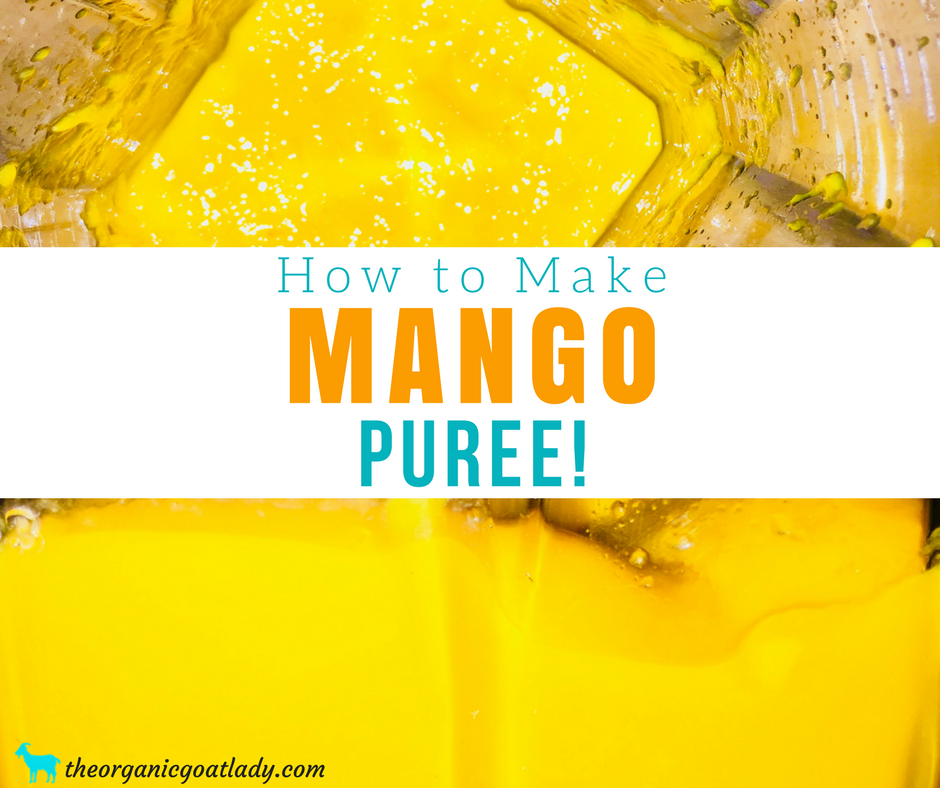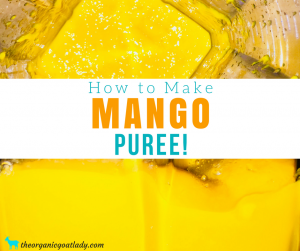 Next freeze all of the extra mango puree.
This allows you to have mango not only in the summer, but during the winter as well!
Plus, it is so much easier when making recipes to pull out ready to go mango puree rather than having to make it every time.
You can find out the best way to freeze mango puree here.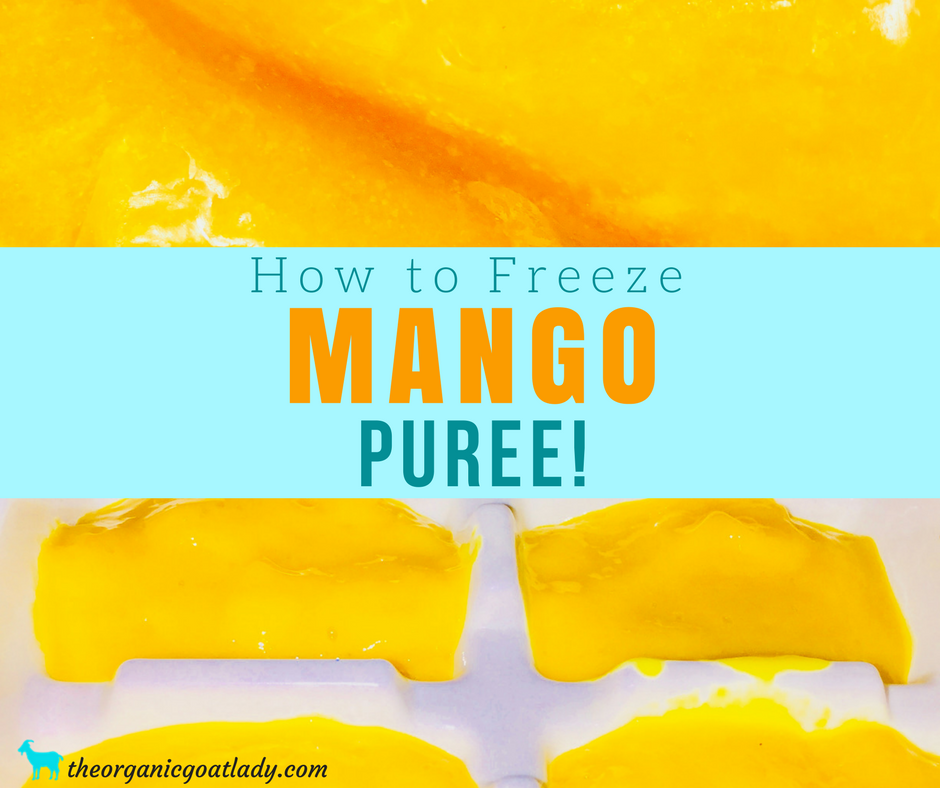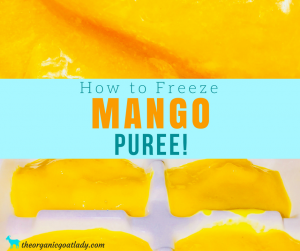 And then the only thing left to do is to start making mango everything!
I make Mango Kombucha, Mango Ice Cream, and of course mango smoothies!
Lot's of mango smoothie recipes!
These 16 smoothie recipes are delicious and healthy ways to use up those extra mangos!
Why drink the same smoothie everyday? Spice things up;) , try new things! These mango smoothie recipes will not disappoint!
Mango Smoothie Recipes
Smoothies are not only a great way to use up extra mangos, but a delicious way to start your day!
What better way to start your day than with a bright and cheery tropical smoothie?!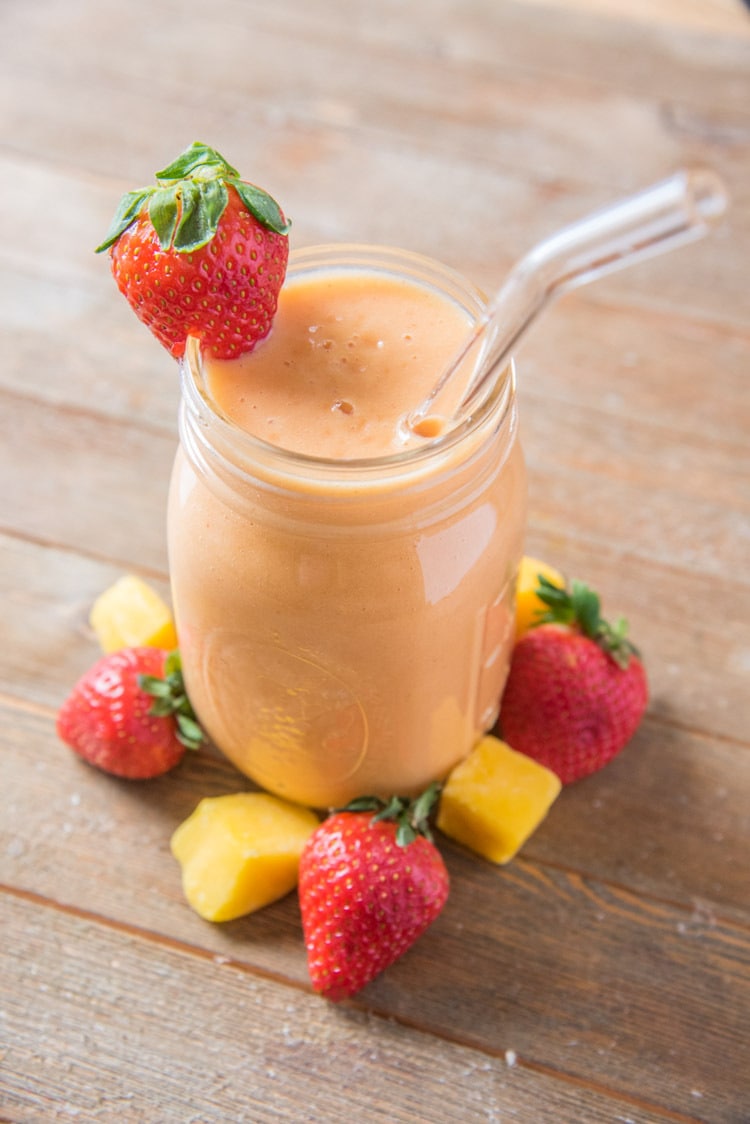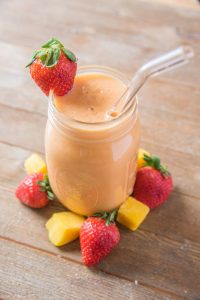 Strawberries and mango are just meant to go together! Don't you agree?!
This strawberry mango smoothie packs intense flavors, healthy ingredients, and a tropical flare to start your day off right!
Know Your Produce has the exact recipe to make this bright and cheery smoothie.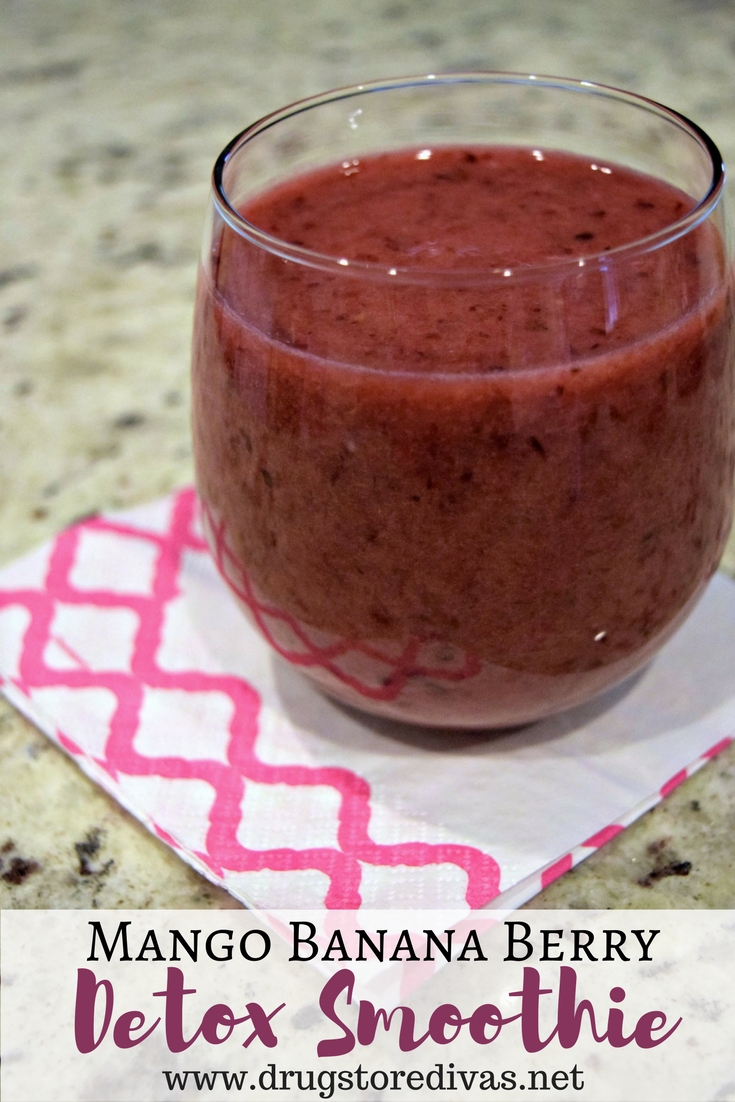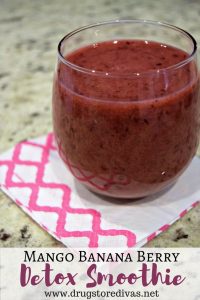 This berry mango banana smoothie combines the tropical flavors of mango and banana with the fruity flavor of blackberries!
What a delicious combo!
And what a healthy combo!
Visit Drugstore Divas to find out how to make this wonderful smoothie that you are sure to love!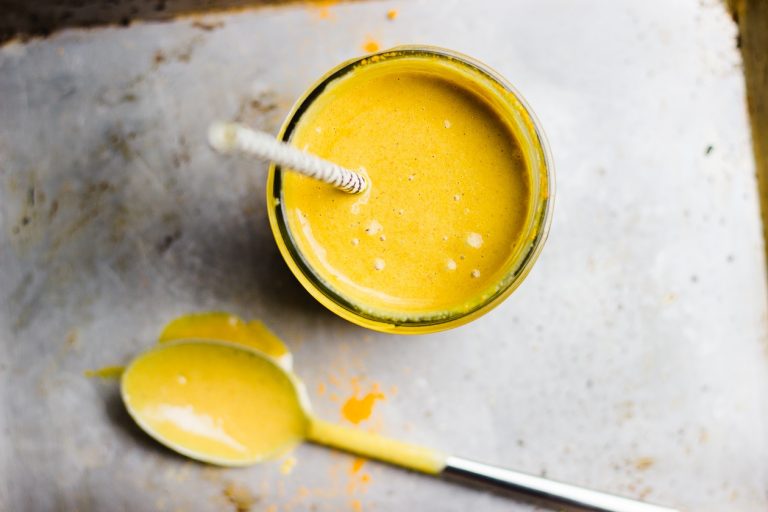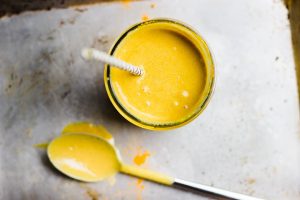 The golden mango smoothie is not just golden because of the mango. It is also such a beautiful golden color due to the turmeric in this smoothie!
That's right, this smoothie is a powerhouse of nutrition!
And turmeric isn't the only star in this golden smoothie. Visit With Food and Love to discover all of the amazing nutritious ingredients found in this tropical smoothie!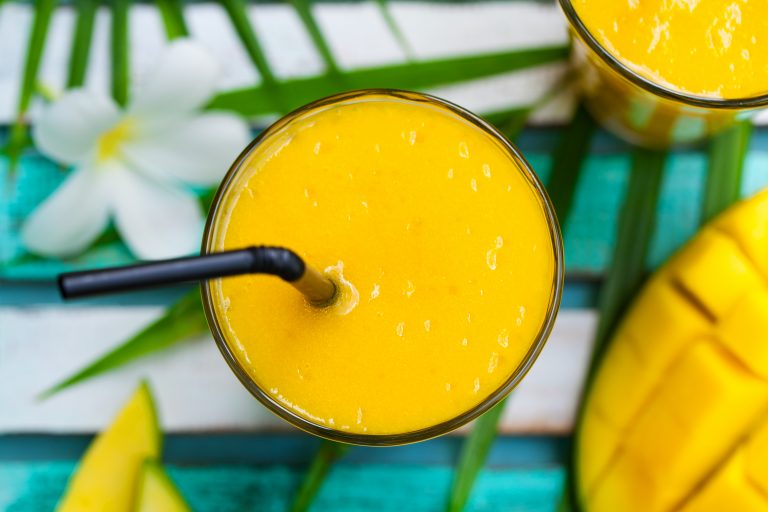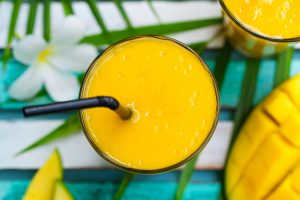 As The Organic Goat Lady, you know that I have to include some goat milk in here somewhere;)
While this Kefir Mango Smoothie can be made with any kefir, I make it with goat milk kefir! It is delicious!
And, the awesome part about the kefir smoothie, is that if you have a picky eater in your house, they won't even know that the kefir is there!
That's right, the mango is the star of this smoothie. It has such a powerful, intense tropical flavor that the only noticeable effect of the kefir is how creamy it makes this beautiful smoothie!
You can find out how to make the kefir mango smoothie here.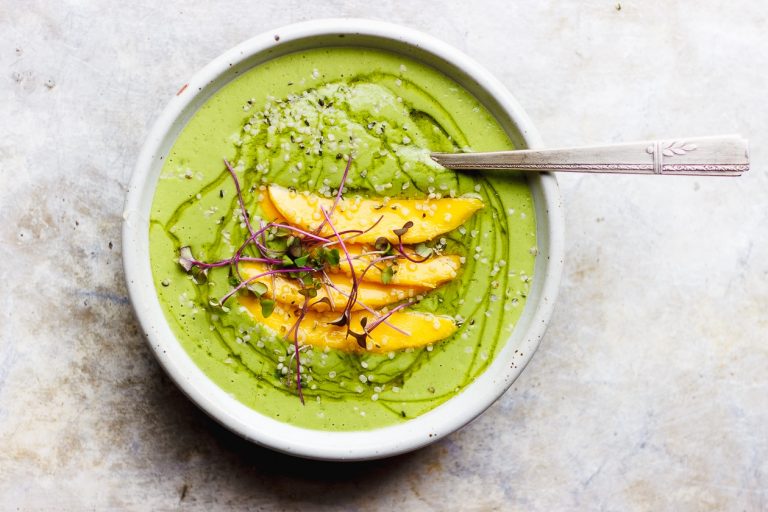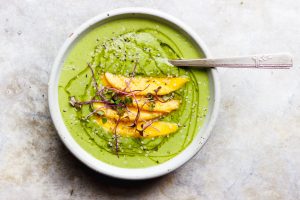 We can't have a mango smoothie roundup without a smoothie bowl recipe!
How gorgeous is this green mango smoothie bowl?! I love the intense green color compared to the vibrant yellow of the mango!
And it sounds delicious!
Baby kale or spinach gives this smoothie its bright green hue.
Visit With Food and Love to find out how to make this smoothie so that you can experience this amazing flavor combo!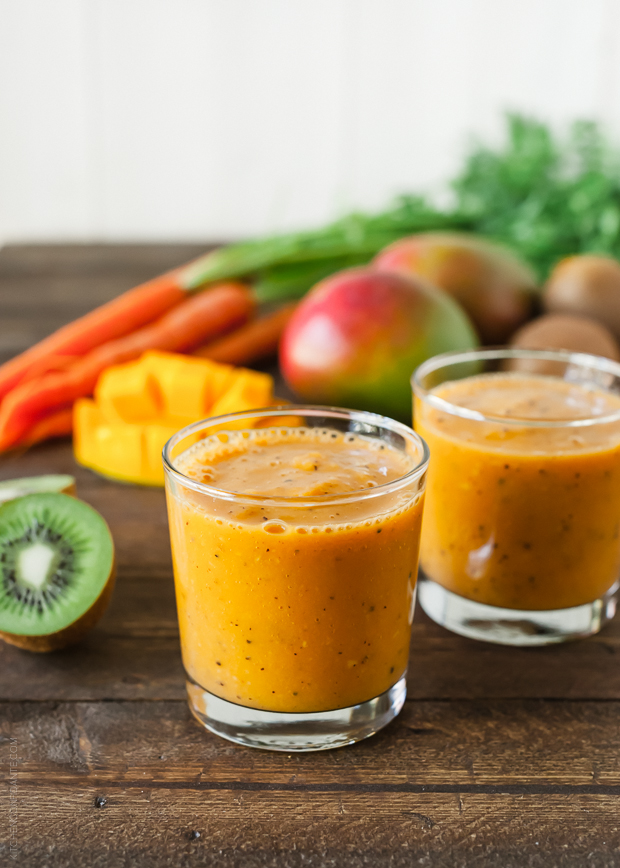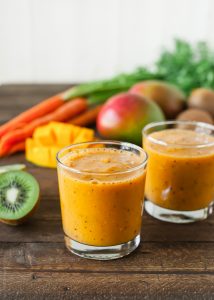 Carrots are always a great addition to any smoothie or juice recipe. And this smoothie recipe not only combines mango and carrots, but mango, carrots and kiwi!
This smoothie is also very easy to make with very few ingredients! A great smoothie recipe for those mornings when you're in a hurry.
Kitchen Confidante has the exact recipe to make this delicious smoothie!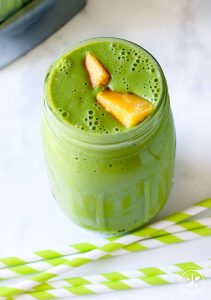 Peach mango smoothie is a very popular flavor!
Both peaches and mangos have such an intense fruity flavor.
But wait, you're probably wondering why this peach mango smoothie is green?!
That's because this mango smoothie contains spinach as well! This peach mango smoothie not only boasts delicious tropical flavors, but intense nutritional benefits as well!
Visit Hungry Hobby to find out not only how to make this smoothie, but also the additional healthy ingredients that it contains!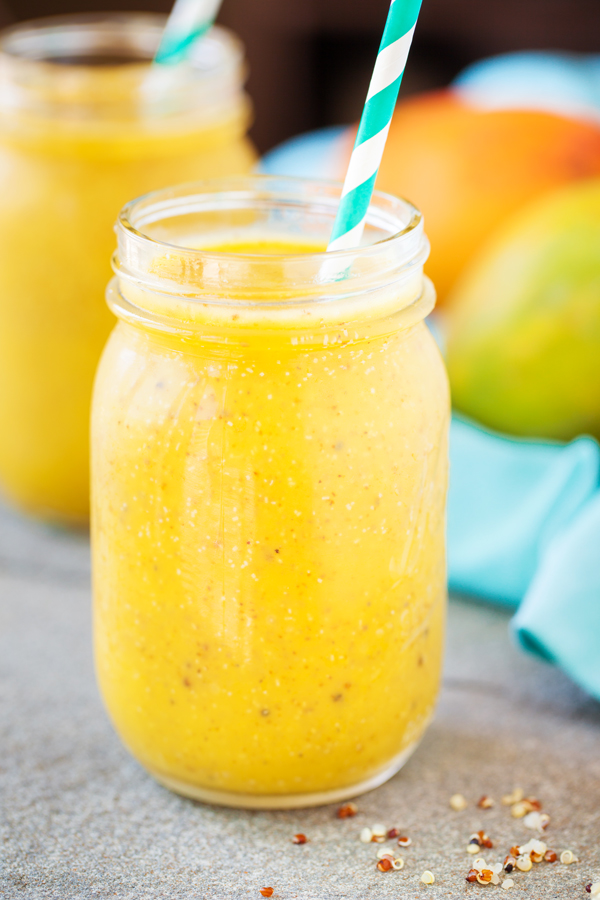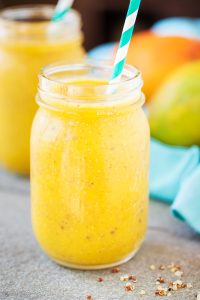 What, quinoa in a smoothie?! Yep, you read right!
This smoothie not only contains mango, but quinoa! And some additional fruity flavors:)
Blend up this smoothie for a tasty, bright breakfast to go!
Find the recipe at The PKP Way.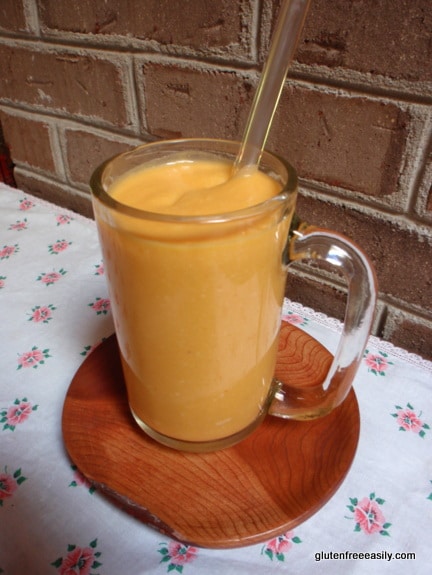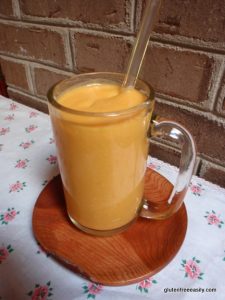 The super mango orange smoothie contains more than just mango to make it orange.
This smoothie boasts multiple very orange ingredients: mango, oranges, sweet potato, and pumpkin just to name a few of the ingredients!
Head over to Gluten Free Easily to discover everything that this healthy superfood smoothie contains!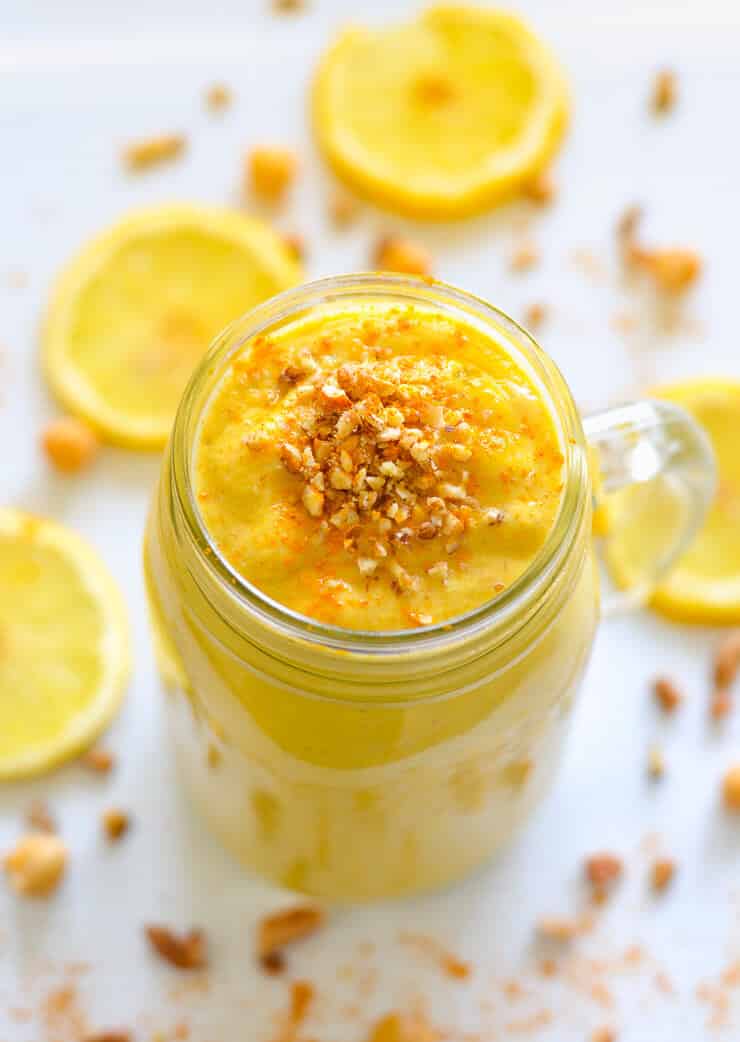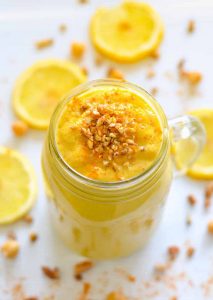 Lemon, cheesecake and mango are all foods that catch my attention, especially the cheesecake part;)
This luscious lemon cheesecake smoothie is decadent, smooth and full of flavor!
Isn't it so pretty?! Definitely a smoothie that I want to start my day with:)
Visit A Virtual Vegan to find the recipe to make this beautiful smoothie.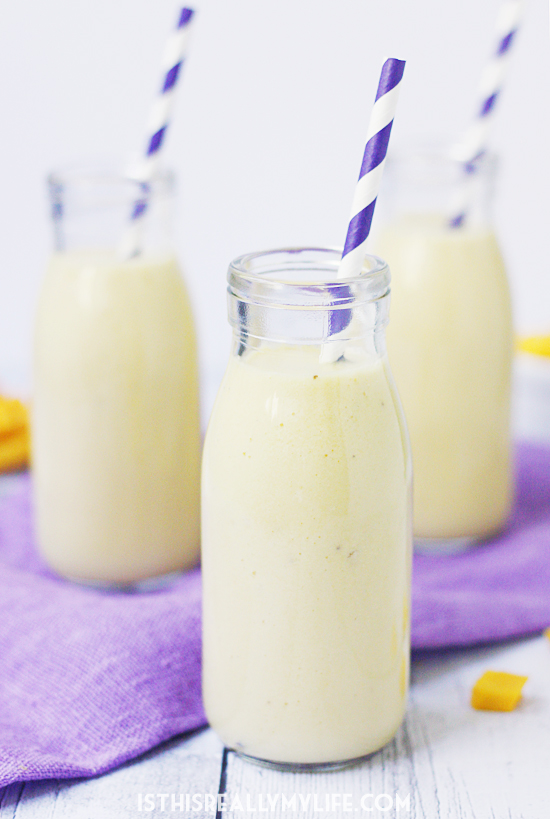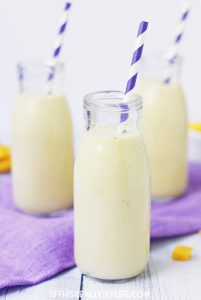 Coconut, pineapple and mango is a brilliant flavor combination!
All tropical, intense flavors that meld so well together.
Not to mention it is full of nutritional support! A great smoothie to start your day right!
You can find the full recipe at Half Scratched.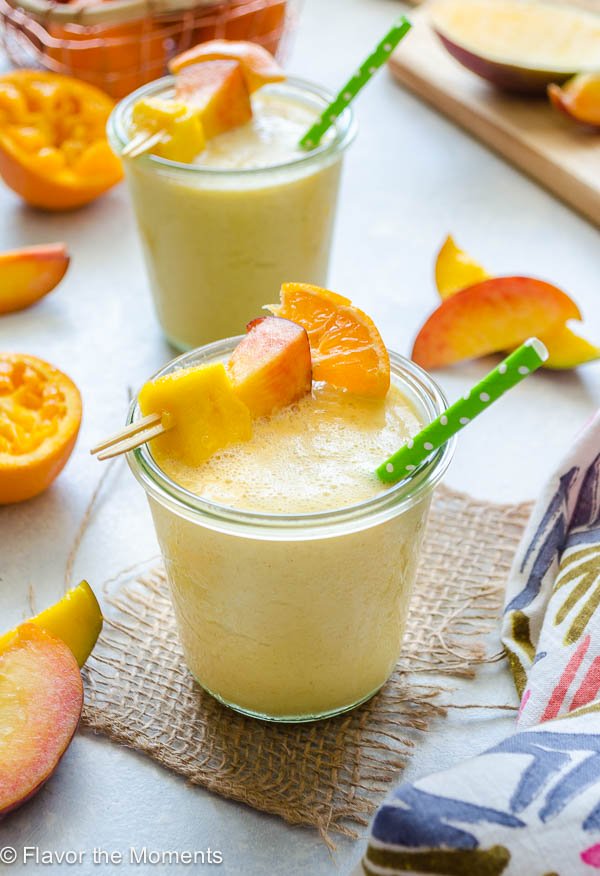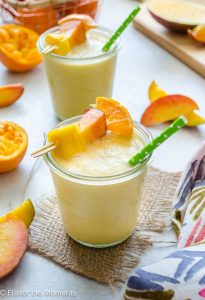 Another mango peach smoothie. But wait, this one is very different!
First of all, look at the colors, the first peach mango smoothie on our list is green. This one is definitely mango peach colored.
But don't let this smoothie fool you, it also contains a powerhouse of nutrition!
Flavor the Moments has the exact recipe that you need to make this yummy smoothie.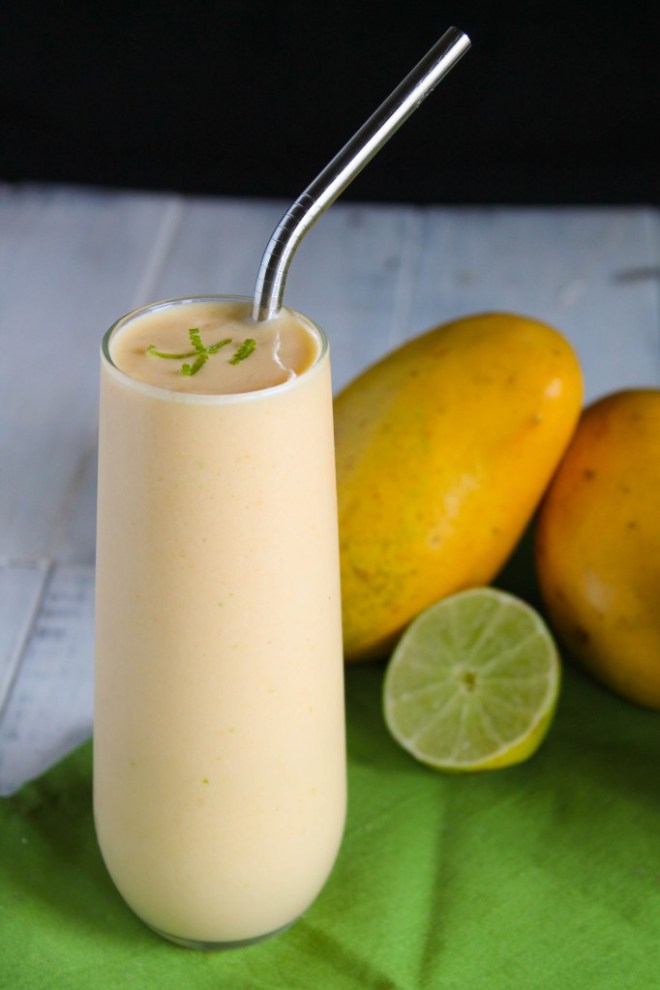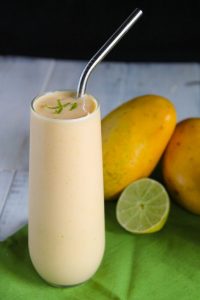 Kombucha in a smoothie?! This smoothie is definitely speaking my language:)
Kombucha is a main staple in my house! I make kombucha using the Continuous Brew System to save time.
And we love to make lots of different kombucha flavors. As I mentioned above, Mango Kombucha is one of our favorites:)
But why not add kombucha to a smoothie?! It gives a wonderful flavor to the smoothie, as well as the wonderful health benefits that kombucha has to offer!
Tessa the Domestic Diva shares the recipe to make this super healthy mango kombucha lime smoothie.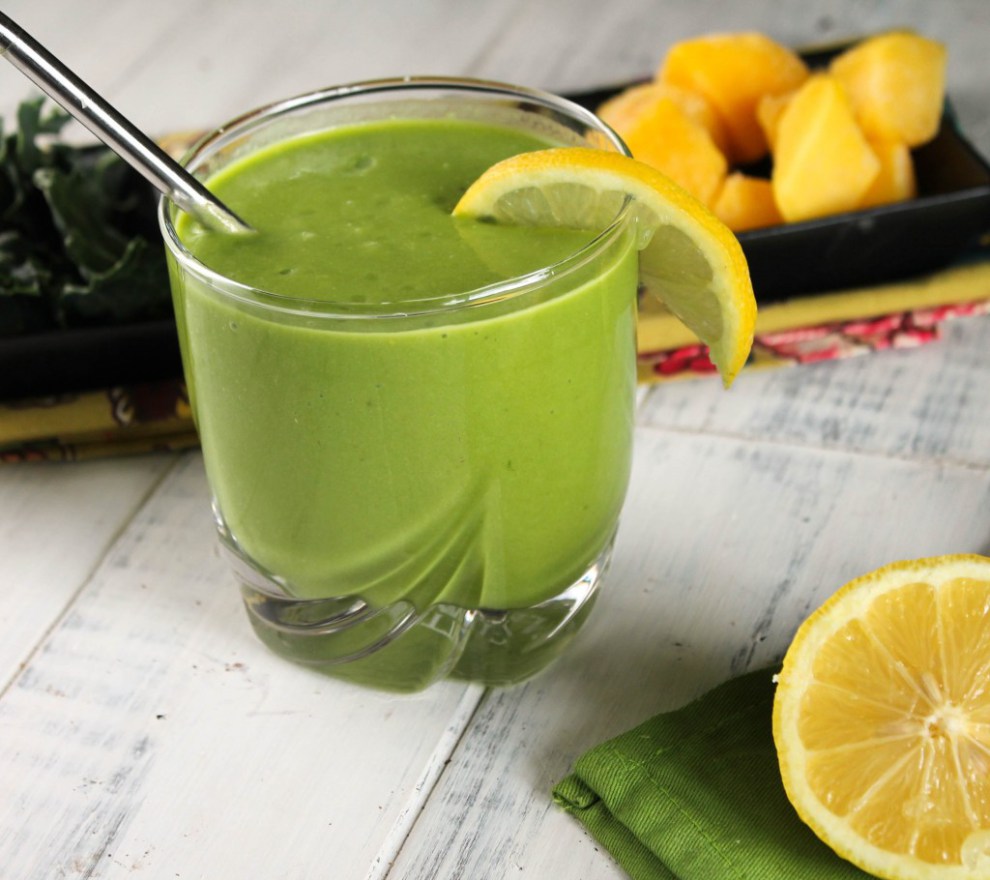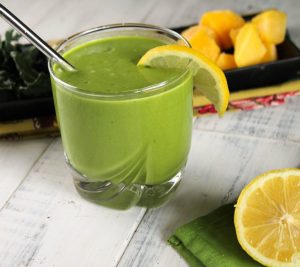 This green mango smoothie is a powerhouse of nutrition and contains some of my favorite ingredients! One of which is avocado!
I absolutely love avocado in smoothies! Of course I love avocado in anything;) , but avocado and mango together?! Mmm, mmm, good!
If you've never had this flavor combo before, give it a try! You need to visit Tessa the Domestic Diva to not only try this recipe, but to find out what all of the other amazing ingredients are!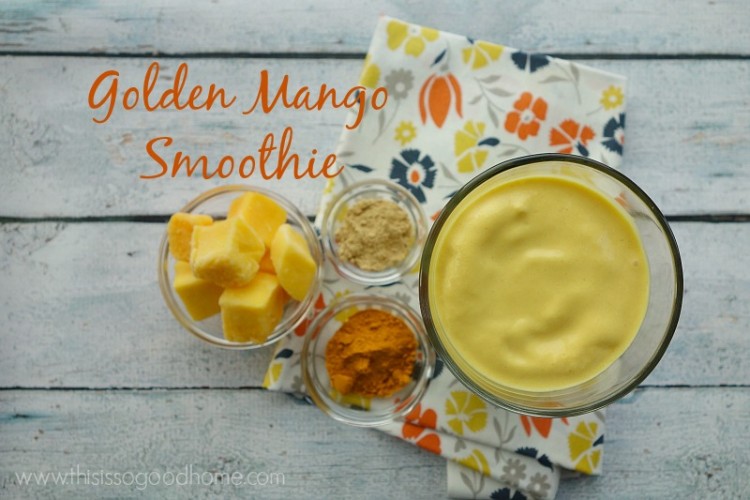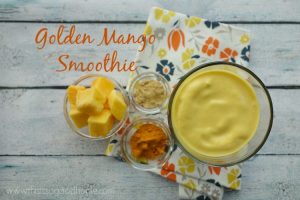 Another golden mango smoothie!
Delicious Obsessions takes the turmeric mango smoothie to the next level by adding ginger to it as well!
I love ginger! It goes well with most tropical fruits, which is why I also combine it with orange in my Orange and Ginger Kombucha.
This smoothie is definitely a must try! Start your day off right with this nutritiously superior smoothie!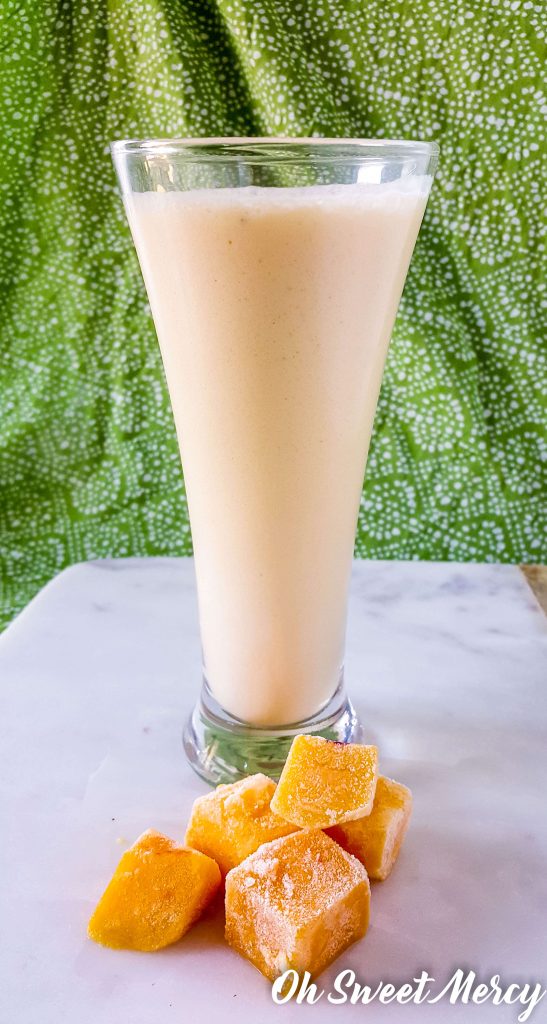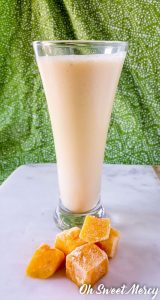 Another kefir smoothie! But this smoothie combines kefir not only with mangos, but with peaches as well!
Such a delicious flavor. And a great way to get your kids to drink kefir! Kefir is such a nutritious beverage, you can find out why you should be drinking kefir here.
The intense flavors of peach and mango are the stars of the show and are complemented nicely by the smooth creaminess of the kefir.
Get the full recipe at Oh Sweet Mercy.
And that is 16 mango smoothie recipes that you must try! I hope you enjoy each and every one of them and that these vibrant smoothies help to brighten your day:)
Do you enjoy smoothies? Which of these mango smoothie recipes are your favorites?
Leave me a comment below and let me know!
Please follow and like us: