Are you looking for a delicious mango ice cream recipe? This mango ice cream made with goat milk is so creamy and has an intense tropical flavor!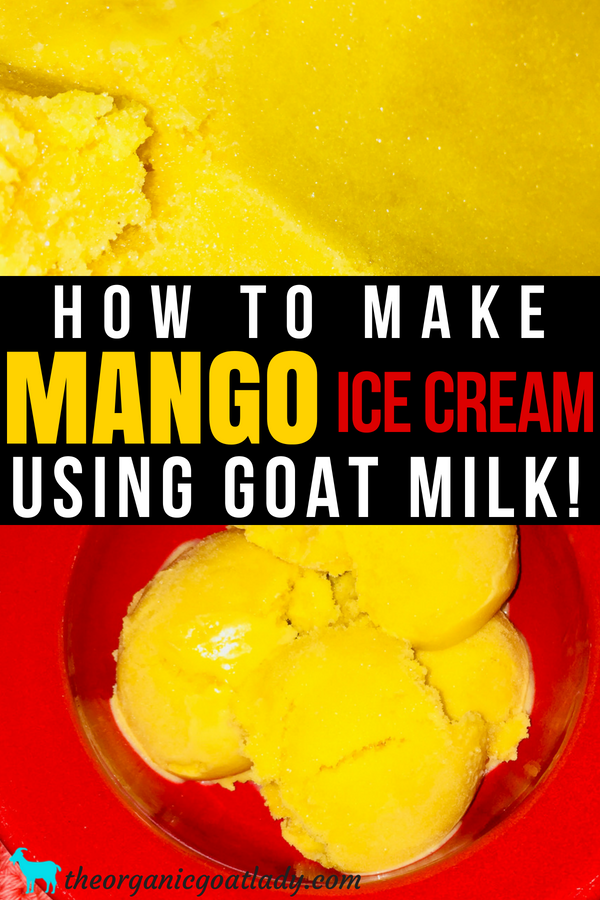 This site contains affiliate links. If you make a purchase using one of these links, I may earn a commission. Please click here for more information about cookies collected and our privacy policy.
Mango Ice Cream!
Who doesn't love ice cream?!
This mango ice cream not only has a wonderful rich flavor, but the goat milk gives it a wonderful texture!
Goat Milk Ice Cream
As you know, I raise dairy goats.
I have four children and I love to be able to give them fresh goat milk! (If you are considering milking your own goats then be sure to read about the Goat Milking Supplies that you will need and 9 Tips for the Best Tasting Goat Milk)
However, a lot of times we have more goat milk than we can drink. So, I use it to make yummy treats and foods!
One of our favorite recipes for goat milk is Chèvre Goat Milk Cheese! It is soooo creamy and delicious. It has a wonderful tart flavor. If you haven't tried homemade goat cheese before, you are really missing out!
I also make goat milk buttermilk. We not only use this to make cheese, but we use it in any recipe that calls for buttermilk. It makes great buttermilk pancakes:)
Another favorite goat milk recipe of mine is Cafe Con Leche With Goat Milk! Mmm, Mmm good!
After making these recipes, I started thinking that we needed a sweet treat made with goat milk:)
And what better goat milk treat than goat milk ice cream!
It is delicious!
This mango ice cream is my daughter's favorite flavor that we have made!
Mango Ice Cream Recipe
This mango ice cream recipe is so easy to make as well!
It also calls for very few ingredients.
To make this mango ice cream all you need is goat milk, egg yolks, sugar, vanilla, gelatin, and mango puree.
All really healthy ingredients! Well, maybe except the sugar, 😉 but I do use organic sugar. And I would like to experiment soon by making this ice cream using other natural sweeteners! I bet it would be just as good! I'll keep you posted with how it turns out:)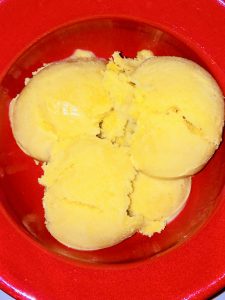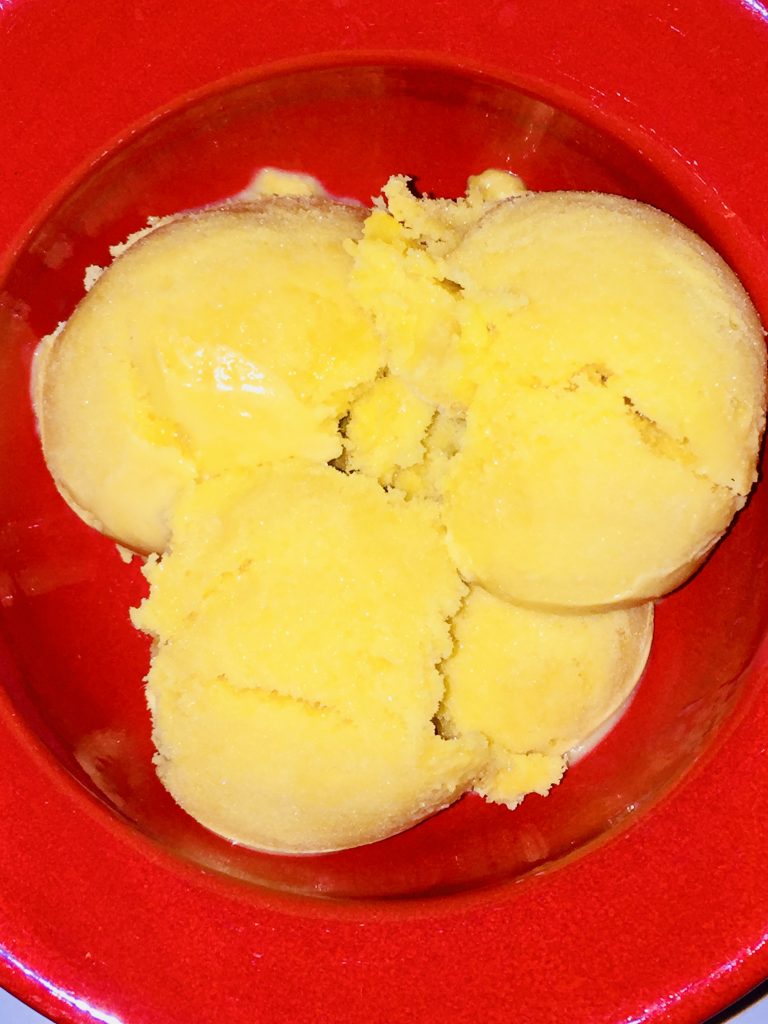 Goat Milk Ice Cream Recipe
One additional item that you will need to make your goat milk ice cream recipe, is an ice cream maker!
Now, you technically do not need an ice cream maker to make ice cream. But, your ice cream will taste sooo much better if you have it!
You can mix all of your ingredients and simply put it in the freezer. I have tried that. However, the ice cream ends up being more ice like and less creamy.
When you make the ice cream in the ice cream maker, and the ice cream is churned as it is frozen, the texture of the ice cream is so much better!
This is the exact ice cream maker that I use to make my mango ice cream and it works great!
The key to successful ice cream is to store your churn canister in the freezer. We leave our canister in the freezer at all times so that its ready to go whenever we choose to whip up a batch of ice cream!
Another awesome thing about this ice cream maker is that it does not require salt! Simply dump your ingredients in, flip the switch and watch your mango milk mixture turn into creamy smooth, mango ice cream!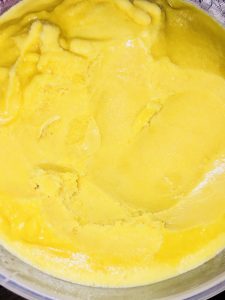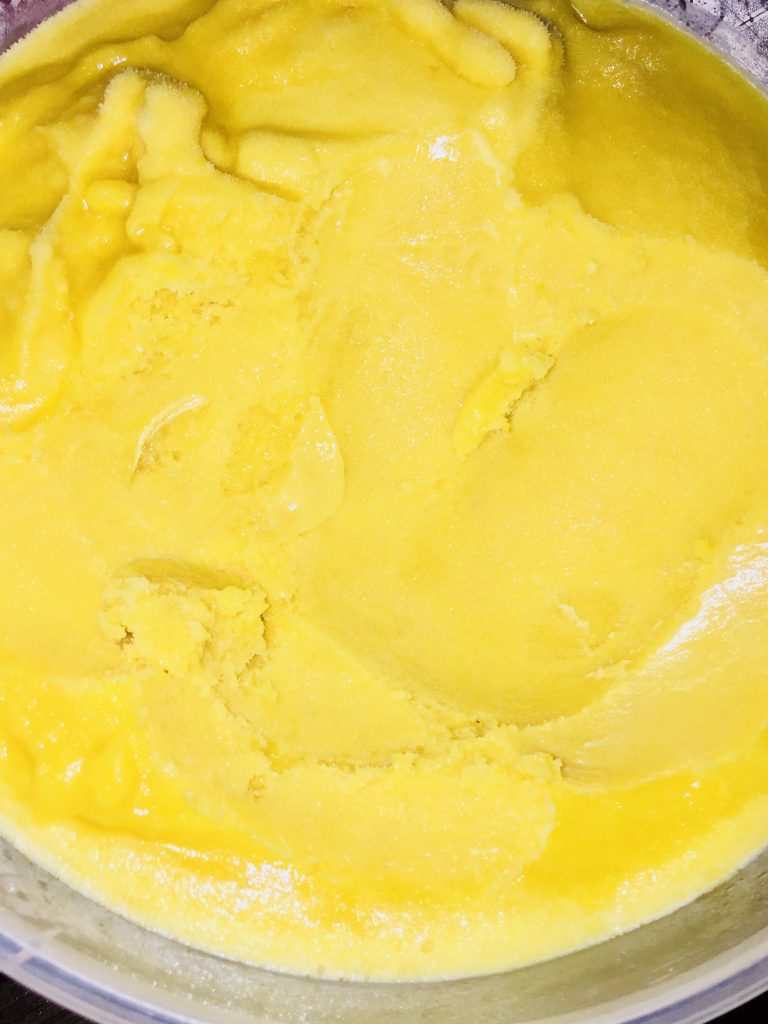 Mango Ice Cream
Now, before you get started making your mango ice cream, there is one item that needs to be prepped beforehand.
You need mango puree!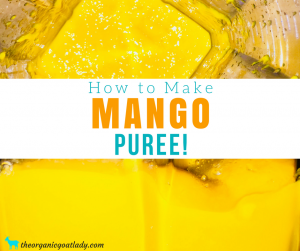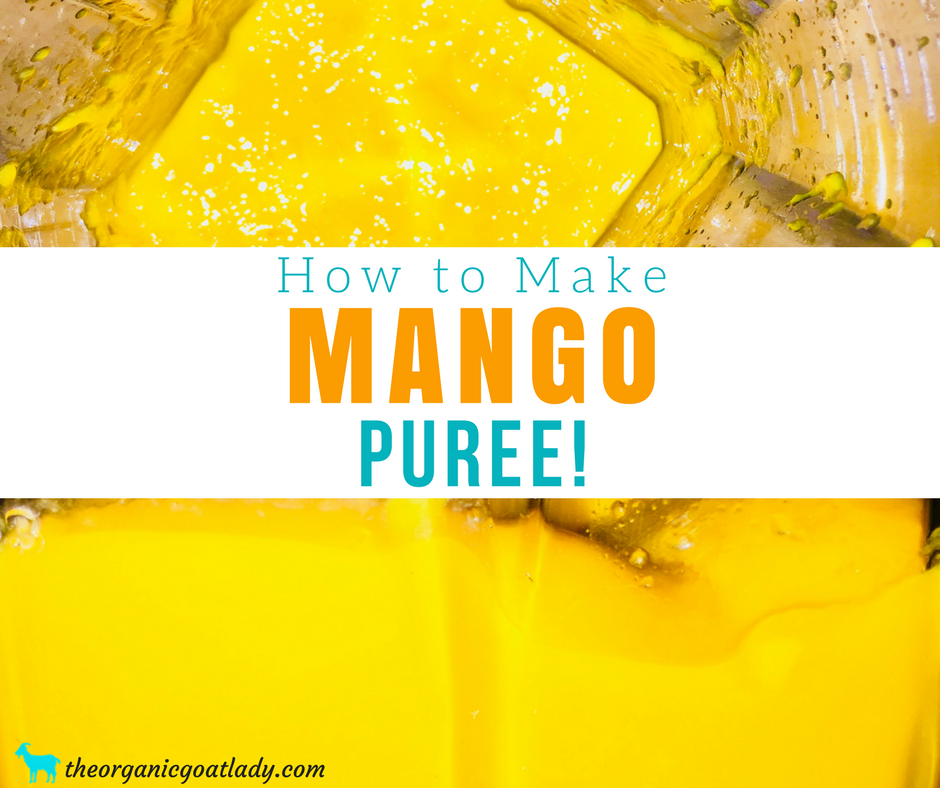 Mango puree if incredibly easy to make! If you've never made mango puree before, read my post How to Make Mango Puree. It will guide you through the incredibly easy process of making mango puree!
Also, be sure to read how to freeze mango puree so that you can freeze any extra that you puree for your next batch of ice cream:)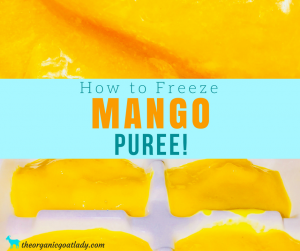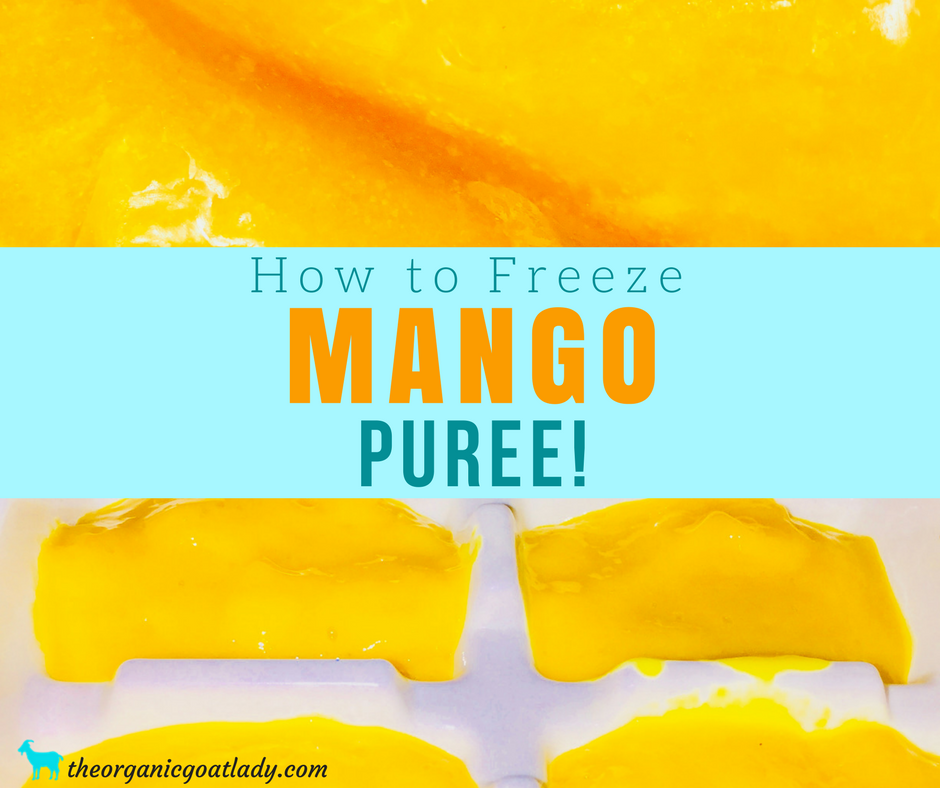 Living in southwest Florida, we get lots of mangos during the summer months!
We love to not only eat them and make ice cream, but we love to make Mango Smoothies and Mango Kombucha as well!
How to Make Goat Milk Ice Cream
To make your delicious mango ice cream, you need to combine all of the ingredients in a blender.
One quick note, be sure that you are using the correct gelatin. I use this grass feed gelatin that has been hydrolyzed so that it does not solidify. You don't need gelatin chunks in your ice cream!
This gelatin will dissolve easily into the ice cream, giving you the added collagen and protein without even knowing it's there!
After blending all of your ingredients together very well, simply dump them into the ice cream maker and watch it churn!
Follow the instructions that come with your ice cream maker to know when your ice cream is done.
And that's it! We immediately transfer our ice cream to the freezer briefly to make sure that it is completely firmed up before eating.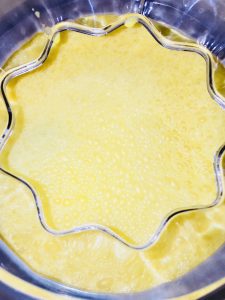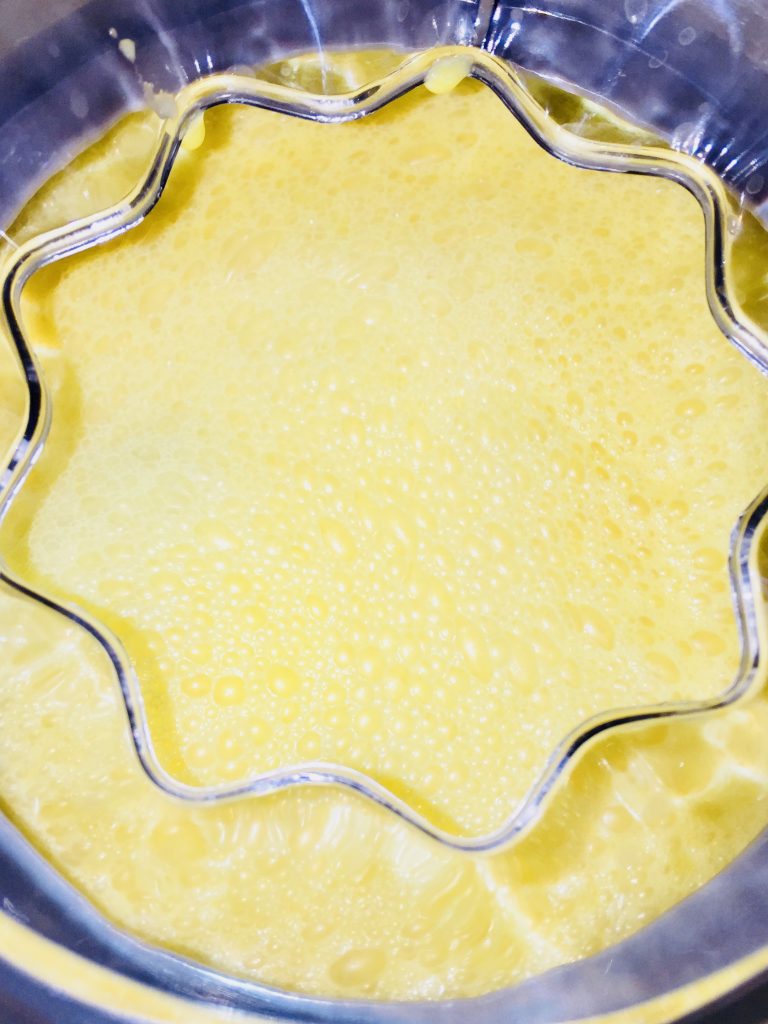 Isn't that easy?!
Have you ever made ice cream before? Have you ever made goat milk ice cream before?
I hope you and your family enjoy this mango ice cream as much as we do!
It is the ultimate goat milk sweet treat!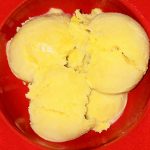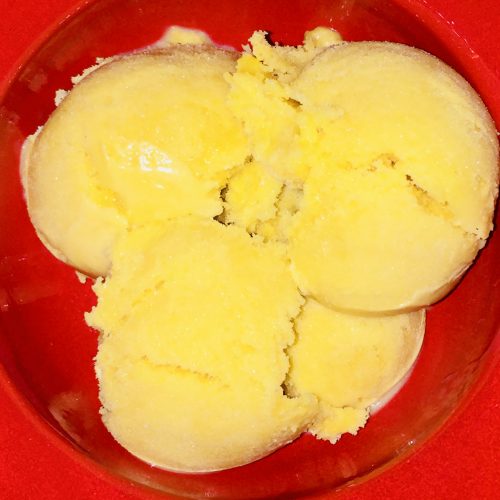 Mango Ice Cream
This mango ice cream is made with goat milk! It is creamy with an intense tropical flavor that you will love!
Ingredients
4

Cups

Goat Milk

4

Egg Yolks

1

Cup

Organic Sugar

1

tsp.

Vanilla

2

Tbsp.

Gelatin

Grass-Fed Hydrolysate

1

Cup

Mango Puree
Instructions
Blend all ingredients well using a blender.

Add mixture to ice cream maker following the ice cream maker instructions.

And watch your ice cream churn! Check ice cream maker's instructions to know when your ice cream is done.

Scoop your ice cream into a bowl and freeze until it reaches the desired firmness.