Would you like to learn how to make goat cheese? Do you have excess goat milk that you are looking for ways to use?
You will LOVE this goat cheese! It is the creamiest chèvre with a very mild flavor. It's pleasant tang goes perfectly in recipes, or eat it by itself with crackers or chips!
This site contains affiliate links. If you make a purchase using one of these links, I may earn a commission. Please click here for more information about cookies collected and our privacy policy.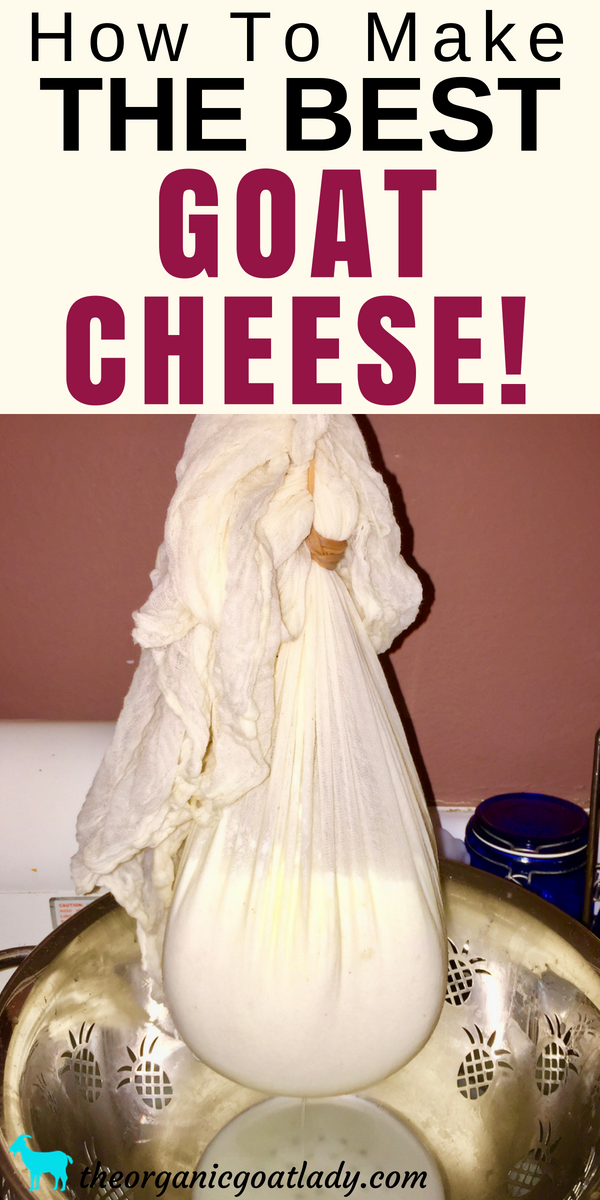 How To Make Goat Cheese!
Chevre is my favorite cheese to make with goat milk! I crave it! Actually most of my family asks for it as well. My kids love it and my mom is addicted to it!
It is also incredibly easy to make! It's simple, requires very few ingredients, and tastes amazing!
Trust me, one taste and you will be hooked! You will never ever buy store bought chevre again:)
My friend Maureen from Earthsong Farm taught me how to make goat cheese. She is an expert with all things goat milk!
Also, if you are planning on getting your own goats to milk be sure to check out my Goat Care Section! You will also want to read about the Goat Milking Supplies and 9 Tips for the Best Tasting Goat Milk that you will need in order to get the delicious milk to make your cheese:)
How To Make Cheese From Goat Milk
Kitchen Utensils You Will Need
Large Double Broiler
Let's talk about what you will need to learn how to make goat cheese.
The pot that you use to make your cheese in must be stainless steel and must have a lid. This is the pot that I use. You will need to put your large stainless steel pot inside a larger pot that is filled with water. Here is a picture of my pots ready to go:

Your stainless steel pot needs to be big enough to hold 5 quarts of milk with some room to spare.
Make sure that the larger pot that is on the stove is not too full, otherwise it will overflow when you put your stainless steel pot inside!
Butter Muslin (fine weave cheesecloth)
You definitely want to use butter muslin to strain your cheese because it has such a fine weave. DO NOT use the cheesecloth that is sold at the grocery store! It is not a very tight weave and will not make good cheese.
I use a bread knife to cut my cheese and it works very well. So if you have a bread knife already, there is no need to buy a knife that is made specifically for cheese.
I love my cheese ladle! I highly recommend investing in one because it will make your life easier while making cheese! Plus it looks pretty neat in my utensil holder that sits on my counter;)
Large Stainless Steel Colander
Chèvre Goat Cheese
Learning how to make goat cheese is not hard. Let's get started!
1. Start by adding your raw goat milk to the double broiler. You want to use four quarts of fresh milk and one quart that is a little older. By older I mean three to five days old.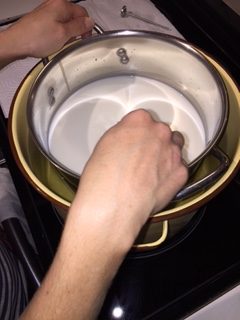 2. Heat the milk on medium-low heat until it reaches 72-78 degrees on your candy thermometer.
I personally bring my milk to 76 degrees, but anywhere in that range will be fine.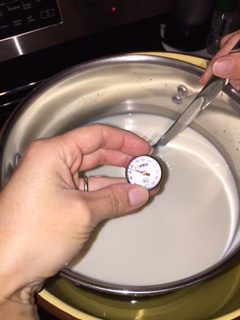 If it gets too warm remove it from the heat and allow it to cool to the desired temperature. Stir frequently to evenly distribute the milk so that you get an accurate temperature reading.
3. Once your milk is at the correct temperature, you are going to add a 1/3 cup of the Goat Milk Buttermilk that I taught you to make in a previous post. Don't stress if you have never made your own buttermilk, it is sooo easy! The buttermilk is going to culture your cheese.
If your buttermilk is really strong then you will probably need to add less than 1/3 cup. You can use as little as half the 1/3 cup if it is really strong.
I like to make a new batch of buttermilk a couple of days before I'm going to make cheese. Then I don't have to worry about it being too strong.
Trust me, this is important! Once I made a batch of cheese using an older buttermilk and my cheese was rubbery! I had to make several new batches before my buttermilk was fresh enough to use.
Chèvre Recipe
4. Stir for about a minute after adding the buttermilk. Stir in one direction, then stir in the opposite direction. You want the buttermilk to be mixed in really well.
5. Next mix one drop (and I mean ONLY one drop) of your liquid rennet into 1/3 cup of filtered water. Any more than a drop will give you, yep you guessed it, rubbery cheese!
6. Add the liquid rennet and water mixture to your milk and stir again for about a minute.
7. Cover the pot with the lid and DO NOT MOVE for about 18 hours.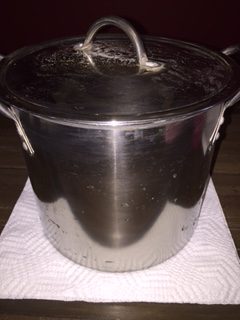 8. Just before the 18 hour mark you need to prepare your cheesecloth.
Put your stainless steel colander inside your large stainless steel bowl.
Wet your cheesecloth and wring it out really well. You don't want it to be dripping water, just damp.
Lay the cheesecloth over the colander like in this picture: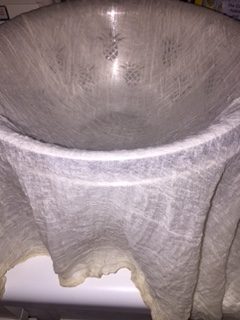 How To Make Homemade Goat Cheese
9. Next pour some of the whey into the cheesecloth covered colander without dumping out the cheese.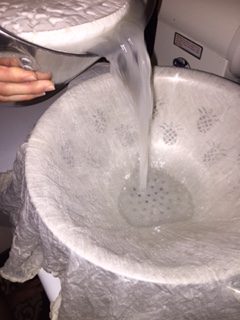 10. Using your bread or cheese knife, slice the cheese into approximately one inch squares like this: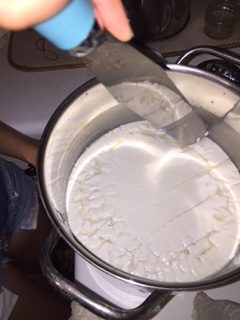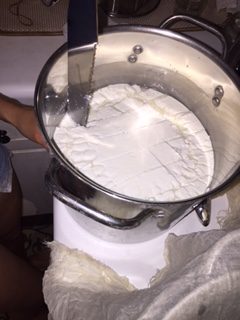 Also slice the cheese horizontally all the way around so that it is divided in two. You don't want the cheese to be too thick so that the whey can drain. Just do the best you can with this, it doesn't have to be exact.
11. Carefully scoop the cheese curds using your cheese ladle into the cheesecloth. You can gently pour the curds into the ladle and then carefully deposit the curds into the cheesecloth.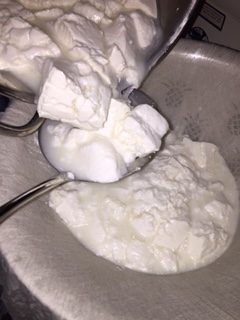 Scrape all of the cheese out of the pot into the cheesecloth.
Making Goat Cheese From Raw Goat Milk
12. Gather all the edges of your cheesecloth together to close it. Be careful not to leave a corner out or you will dump your cheese!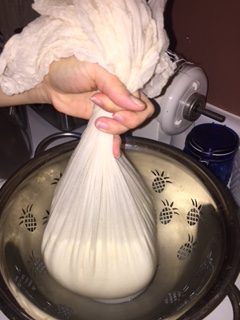 13. Slightly twist the top of the cloth and tie it in a tight not. Be careful not to put pressure on the cheese. You don't want to squeeze it, you just want it to drain on its own.
I then wrap a large rubber band around it to give it addition security and to hang it with.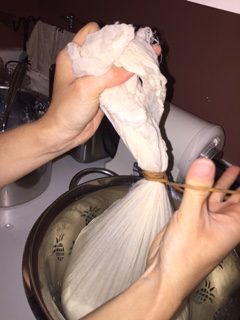 How To Make Whey
14. Now you need to hang it over a bowl to catch the whey. I hang mine on a wooden spoon that I stick through the handles of my upper kitchen cabinets. Not super professional looking, but it does the job;)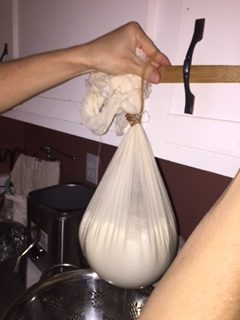 Let your cheese strain for 6-8 hours. I strain mine for 8 hours.
15. After your cheese is done open your cheese cloth and dump the cheese into a small stainless steel bowl. Stir the cheese with a spoon to break up the chunks. By stir I mean mash!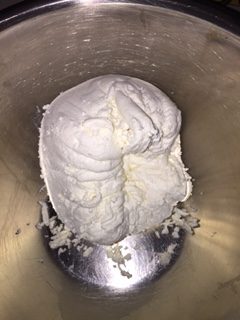 16. Add at least a tsp of sea salt or pink Himalayan salt to your cheese and mix it in really well.
You can add as much salt as you like to reach the desired flavor, but make sure you add at least a tsp. I use about two teaspoons of pink Himalayan salt.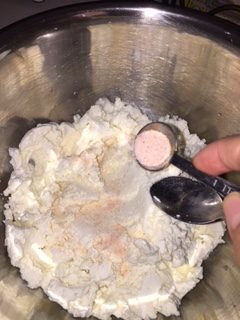 And that's it! Put your cheese into containers and store it in the fridge. You can use plastic containers or freezer bags, but I find that the cheese lasts longer if you store it in glass containers.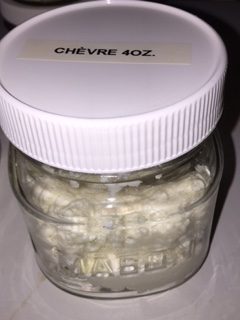 One final note I want to add is that weather and altitude can affect the outcome of your cheese.
You might need to play around with the amounts of buttermilk and rennet that you add to your milk.
I live in Florida and this cheese turns out perfect here! But like any other recipe, the temp of your home and the altitude can affect it.
Try to keep your home temperature within the 72-78 degree range while your cheese is sitting as well.
Now, once your cheese has chilled, sit back and enjoy! We love ours with tortilla chips or crackers. There are also some yummy flavorings to add to your cheese that I will be sharing with you soon as well!
I hope this helps you to know how to make goat cheese!
I hope you enjoy the cheese, please comment below letting me know how much you love it! After one batch, I am sure that you will be as addicted as I am!
How To Make Goat Cheese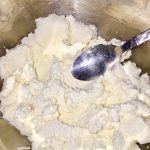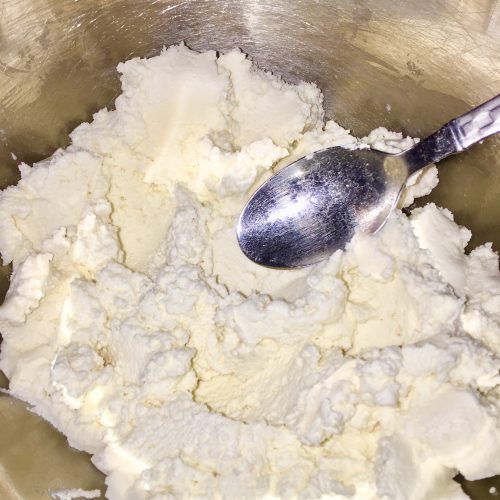 How To Make Creamy Goat Cheese!
You will LOVE this Goat Cheese! It is the creamiest Chevre with a very mild flavor. It's pleasant tang is perfect to use in recipes, or to eat by itself with crackers or chips!
Total Time
1
day
3
hours
15
minutes
Ingredients
5

Quarts

Raw Goat Milk

(Four fresh and one older)

1/3

Cup

Goat Milk Buttermilk

(Recipe link in above post)

1

Drop

Liquid Animal Rennet

1/3

Cup

Filtered Water

1-2

Teaspoons

Himalayan Pink Salt
Instructions
Detailed instructions are listed in the post above.