Are you looking for a tasty way to get Milk Kefir into your diet? Do your kids dislike the taste of Milk Kefir?
If you answered yes, then you need to try this delicious smoothie!
It is so simple and tastes amazing!

*This Post Contains Affiliate Links*
Mango Kefir Smoothie!
If you love Mango, then you will love this smoothie! It has a wonderful tropical flavor and is such a beautiful vibrant color! It's like sunshine in a cup:)
So, what's in it?
Let's talk ingredients.
1. Mango

Ok, so no surprise there huh? I'm guessing you saw that one coming;)
Recently, my husband came home with a bunch of mangoes (and by a bunch, I mean bags of mangoes!) And since then, I have been given even more! So, what did I do? I made mango everything! What can you make with mangoes you might ask?
I started out making this delicious Mango Kombucha! It is amazing! If you are looking for a new Kombucha recipe, definitely try this one!
Then I made Mango Goat Milk Ice Cream! I am in LOVE with this ice cream! It is so sweet, creamy and contains all the benefits of raw goat milk.(This recipe will be coming soon;)
And of course I made this delicious smoothie!
2. Milk Kefir

The second ingredient is my awesome (if I do say so myself;) Goat Milk Kefir!
Kefir is sooo good for you! It is easily digested. It is full of probiotics and a bunch of other healthful goodies. If you would like to learn more about how to make Milk Kefir and where to buy what you need, then check out my post The Amazing Benefits of Milk Kefir.
You can use different types of milk to make your Kefir, but I prefer to use raw goat milk from my own dairy goats.
And that's it, just two ingredients! Didn't I tell you it was simple? I don't know about you, but I love simple! Yummy, healthy and simple!
This site contains affiliate links. If you make a purchase using one of these links, I may earn a commission. Please click here for more information about cookies collected and our privacy policy.
How do I make the Mango Kefir Smoothie?
Combine your chilled Mango Purée and Kefir in a blender and blend until smooth.
As I have listed in the recipe box below, I use 3 cups of Mango Purée to 2 cups of Milk Kefir. You can size this up or down depending on how much you want to make. This amount is enough for my four kids and myself. But my younger kids don't drink a lot, so you might need more for that many people.
I love to blend mine in my Vitamix blender. It is awesome! If you don't have one you should totally invest in one!
I also sometimes use my Magic Bullet to make smoothies. This is great for single servings.
Here is a closeup of what it should look like:

Isn't it vibrant!
Now you are ready to serve your tropical deliciousness with one of these pretty glass straws!
If you want to feel like you are in the islands on vacation, add a cute tropical umbrella pick to your smoothie:) Now, sit back, sip and enjoy!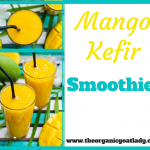 Mango Kefir Smoothie!
Yummy, healthy and super simple to make! This tropical glass of deliciousness will have you imagining yourself sitting in the sand under a palm tree!
Ingredients
3

Cups

Chilled Mango Purée

2

Cups

Cold Milk Kefir
Instructions
Combine the mango purée and Kefir in a blender and blend until smooth.

Serve immediately and enjoy!