Are you looking for an amazing Christmas punch to serve during the holidays that doesn't contain lots of nasty, unhealthy ingredients?
Are you looking for a punch that not only tastes delicious, but is actually good for you?
This site contains affiliate links. If you make a purchase using one of these links, I may earn a commission. Please click here for more information about cookies collected and our privacy policy.
Then you are going to LOVE this Christmas Kombucha Punch!
✅
In a Hurry? Get Started Brewing and Flavoring Your Own Homemade Kombucha NOW!
Join me in the Scoop On Booch and you will be enjoying your own healthy kombucha for just cents per bottle. Increase your energy, decrease sugar cravings and take charge of your health now by learning everything you need to know about creating healthier than store bought kombucha for you and your family!

Kombucha Christmas Punch!
Every year on Christmas Eve we go to my grandmother's house to celebrate Christmas with my Dad's family. And every year it is my responsibility to make the Punch!
Unfortunately, the Punch that everyone likes is made with very unhealthy ingredients such as soda, syrupy juice mixes, etc.
I cringe when I mix it all together! It really goes against everything that I am about!
Christmas Punch For Kids
I even take some of the juice out before adding the bad ingredients so that I can have some "Punch" to serve my kids because we don't drink those ingredients in our home!
But this year will be different!
If you are a member of my family and are reading this, please don't panic! I will still have an amazingly delicious punch on Christmas Eve! Trust me, everyone will LOVE it!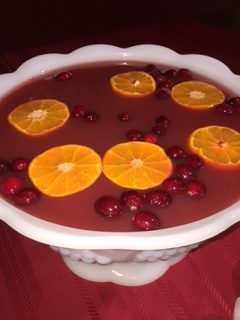 Christmas Punch Recipes
This Kombucha Christmas Punch has the tartness of cranberries, the sweetness of orange and pineapple, the warmth of ginger and the fizziness of Kombucha!
This should definitely be made for your next holiday get together! It's a great punch to make for parties, family get togethers and even Christmas dinner (or even breakfast;)!
Everyone will love it!
Not only does it taste amazing, but look at it, it's so pretty!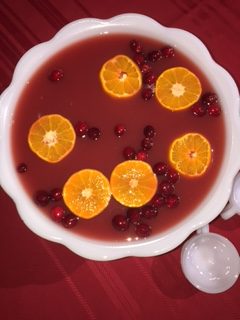 Christmas Punch Recipe
And it's actually nutritious! Kombucha has so many health benefits. One example would be Kombucha's ability to aid in digestion. And what better time than Christmas dinner to help the body with digestion!
If you'd like to read more about the benefits of Kombucha, or how to make your own healthy Kombucha, then please read my post Why You Should Use The Kombucha Continuous Brew System!
Making homemade kombucha is something that I am very passionate about.
Because of my love and passion for kombucha, along with all of the kombucha brewing questions that I receive, I decided to create a detailed course that contains everything that you need to know about making your own nutritious and delicious kombucha.
Within The Scoop On Booch course I will guide you through every step from start to finish of making kombucha, leaving you with the end result of better health and more delicious and nutritious than store bought kombucha! Visit The Scoop On Booch and watch the video to learn more about how you can become a successful kombucha homebrewer!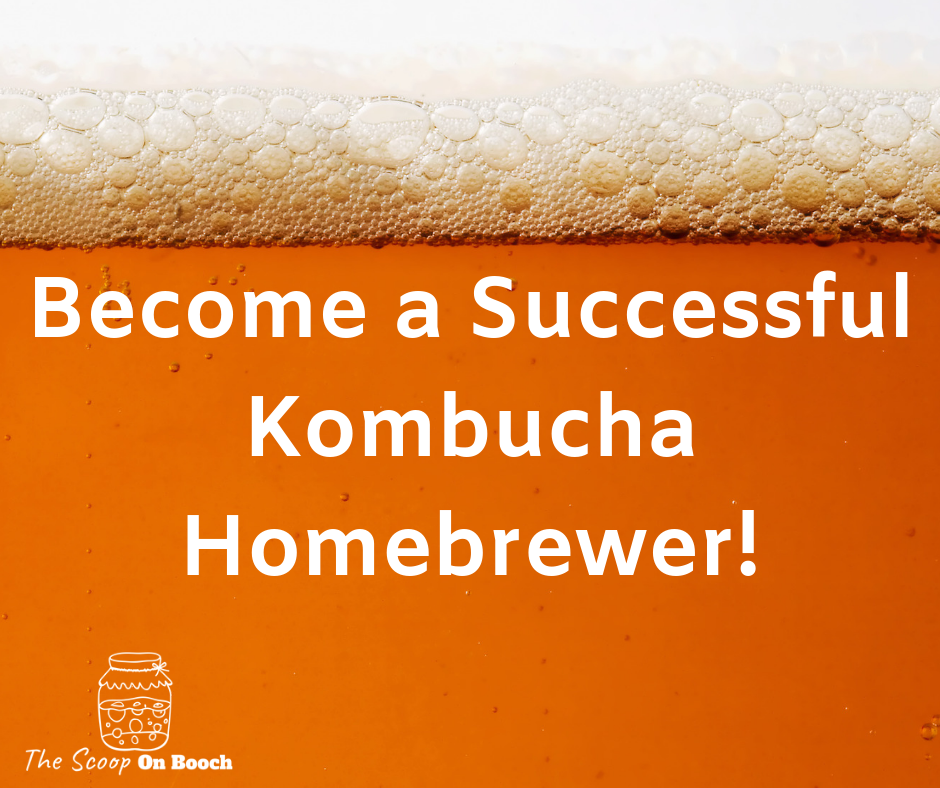 Non Alcoholic Christmas Punch
Tips to make the best punch!
I recommend using organic juices to make your punch. And be sure that your juice doesn't contain added sugars! I mean seriously, its fruit, it's already sweet!
Also you can either buy Ginger Kombucha, or, if you want to make your own, try my recipe for Orange and Ginger Kombucha! It would go perfectly in this recipe!
Be sure to chill all of the ingredients prior to making your punch as well. Everyone likes their punch cold and frosty!
One additional tip that will make your punch look as amazing as it tastes, is to add orange slices and cranberries!
Easy Christmas Punch
This is so easy to do and makes a huge difference in presentation! All you need is one large orange sliced and a few handfuls of cranberries!
I use frozen cranberries to float in the punch. This way you not only have berries for decoration, but they will also help keep your punch cold without melting and watering down your punch like ice would!
Christmas Morning Punch
Do you usually serve punch at Christmas?
Are you also tired of unhealthy punch recipes?
I can't wait for you to try this delicious and healthy Kombucha Christmas Punch! Your yummy punch will be the talk of the party!
Some additional Kombucha posts that you might be interested in are:
Make Healthier Kombucha Using This Ingredient
Why You Should Use The Kombucha Continuous Brew System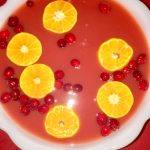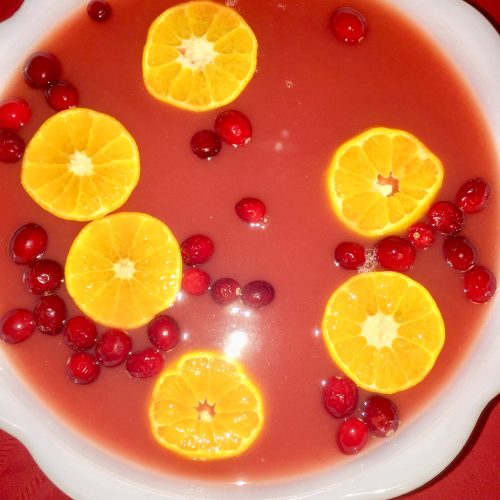 Kombucha Christmas Punch!
This Kombucha Christmas Punch has the tartness of cranberries, the sweetness of orange and pineapple, the warmth of ginger and the fizziness of Kombucha!
Ingredients
40

Ounces

Orange Juice

34

Ounces

Cranberry Juice

32

Ounces

Pineapple Juice

48

Ounces

Ginger Kombucha

1

Large

Orange

(Optional)

1/2

Cup

Whole Frozen Cranberries

(Optional)
Instructions
Chill juices and Kombucha the day before you want to make the punch.

Combine all of the juice. You can combine the juices up to a few days before you are ready to serve the punch.

Just before serving add the Kombucha and stir until well mixed.

Slice the orange and float it in your punch along with the frozen cranberries.

Serve and enjoy!