This site contains affiliate links. If you make a purchase using one of these links, I may earn a commission. Please click here for more information about cookies collected and our privacy policy.
Essential oils are so amazing and learning about them can be so exciting! But knowing which essential oil to use isn't the end. Some essential oils require dilution in a carrier. But which carrier oils for essential oils are best?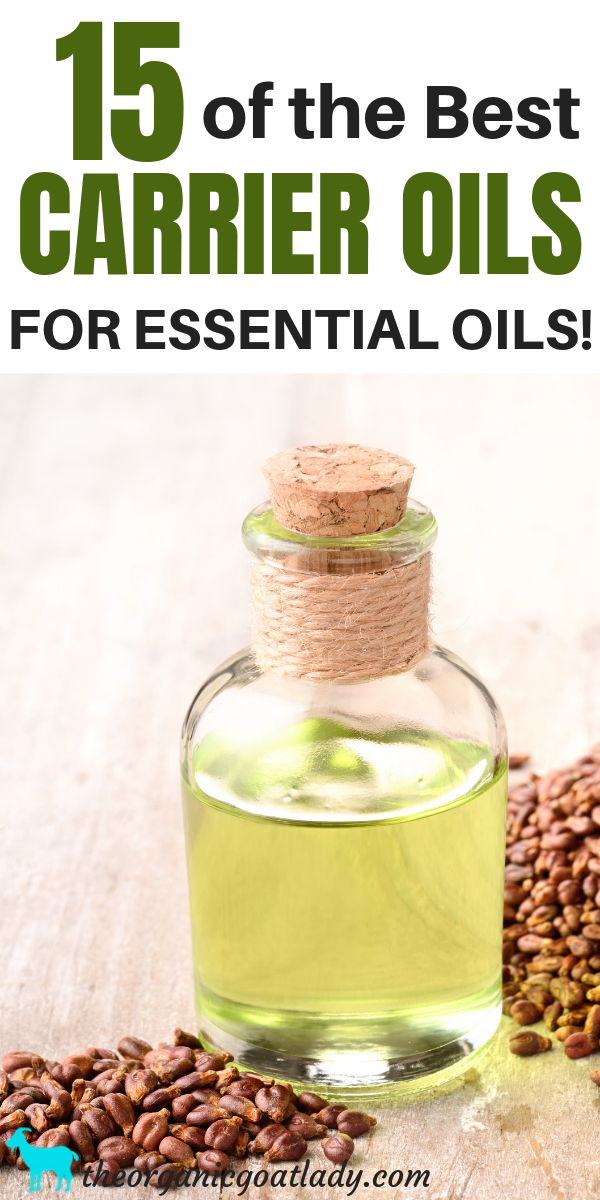 15 of the Best Carrier Oils for Essential Oils
Essential oils are one of my biggest passions! I love using essential oils for so many things.
I love using essential oils in bath water.
Cleaning is another one of my favorite ways to use essential oils! You can find out about the top 11 essential oils for cleaning your home naturally here! And if you'd like to use essential oils to help clean and freshen your clothes be sure to read 11 essential oils to use in the laundry.
The diffuser is another amazing way to utilize essential oils. I have created many different diffuser blends for hundreds of different uses. One of my favorite diffuser resources is the 100 Essential Oil Diffuser Blends eBook. The eBook includes many recipes for cleaning, children, pets, home, holidays, health etc.. Diffusing essential oils can be so beneficial!
Also if you are new to essential oils be sure to check out my FREE Essential Oils for Beginners Course! This course will discuss different ways to use essential oils, dilution ratios, and some of my favorite carriers.
Now while some of these methods for using essential oils can be used neat (this means undiluted), some methods require drops of essential oil to be diluted with a carrier.
A carrier allows for a broader surface coverage such as when it's used as a massage oil, and a slower absorption rate through the skin. They are especially beneficial for diluting warm oils that can burn the skin and for children.
But which carrier oils are best to use? And are they all good for the same thing? What do I do?!
Before you start to panic or feel overwhelmed take a deep breath! I have compiled a list of the top 15 carrier oils for essential oils to make your life easier and to help eliminate stress!
So, take a deep breath of lavender essential oil or frankincense essential oil and let's get started!
Let me first say that I am not a doctor! All of the information that I provide on this site is for educational purposes only and is in no way intended to diagnose, treat, or prescribe. Please read my disclaimer page and/or the disclaimer at the bottom of this page for a full disclaimer statement.
Also, one thing to note is that it's always best to test a new carrier oil on a small area of skin first to make sure that you do not have any adverse reactions to it.
Best Carrier Oil for Essential Oils
One of the awesome things about carrier oils is that they posses health benefits themselves! They can be a great a way to protect the skin, and different oils are amazing for the different skin types including: sensitive skin, dry skin, mature skin, and various skin conditions.
Grapeseed Oil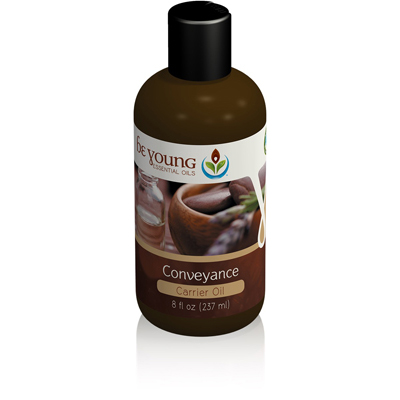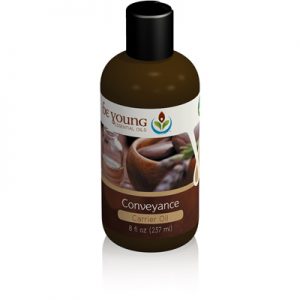 Grapeseed oil is one of my favorite carrier oils! It is a light, non-greasy oil that is hypoallergenic.
It is an excellent choice for babies and children, and a carrier I use in lots of different blends.
According to Be Young Total Health's Total Health Desk Reference, Grapeseed oil is commonly used for acne, dermatitis, sun burns, cooking, diluting essential oils, and so much more!
I personally use grapeseed oil in my Tummy Ease/Soother Roll-On, Moisturizing Facial Blend, Pampered Feet Massage Oil, and my Anxiety Relief Roll-On.
I also use it in this recipe for my Essential Oil Insect Repellent. Check it out and make it yourself!
You can find grapeseed oil here.
Sweet Almond Oil
This oil has a light to medium consistency that is easily absorbed and non-greasy
Sweet almond oil is pressed from the almond nut.
This oil is excellent for the skin, hair, and nails.
Apply it to the scalp and hair to nurture and to encourage long shiny hair. And don't forget to mix in essential oils that are great for the hair and scalp as well, such as rosemary essential oil!
Sweet almond oil is also nourishing to the nails, apply with some of your favorite essential oils for a relaxing and nourishing manicure treatment!
And of course the skin! Sweet almond oil is excellent for the skin! It is also hypoallergenic and a great choice for cleansing pores, thus preventing acne. It is also helpful for eczema, fine lines, rashes and encouraging flawless, smooth skin!
You can find sweet almond oil here.
Apricot Kernel Oil
Apricot kernel oil is a fine, light oil. It provides vitamins A, B, and E for the skin which is very nourishing.
It is a non greasy oil that absorbs quickly without leaving a greasy feel to the skin.
While it is extremely moisturizing to the skin and helps to firm and tone, it might not be the best oil for those prone to acne as it can clog the pores.
Apricot oil is wonderful to promote a more youthful appearance as it helps to diminish wrinkles. It also helps to reduce dark circles.
Mix this oil with your favorite face care essential oils such as myrrh essential oil, frankincense essential oil, and palmarosa essential oil for even better skin care results!
You can find apricot kernel oil here.
Avocado Oil
This carrier is a heavy oil but full of valuable nutrients!
One of the things it is best known for is its ability to hydrate the scalp and repair dry damaged hair. Have a dry, flaky, itchy scalp? Then you might want to try using avocado oil. Again, when using an oil for hair I love to add in some rosemary essential oil for its wonderful hair growth properties and for its ability to soothe the scalp.
Also, even though heavy, avocado oil is said to be an excellent oil to use for those that suffer from eczema and psoriasis. Of course as I mentioned above, everyone is different and it's always good to test patch on a small area before slathering your body in avocado oil;)
You can find avocado oil here.
Castor Oil
Castor oil is a wonderful skin care oil, but one to use with caution. It is said to have the ability to induce labor so be sure to consult your healthcare provider before using if pregnant.
And some people have complained of the oil affecting the skin negatively. So be sure to test in a small area before using.
However, castor oil has some great benefits! It is said to be great for dry damaged hair, helping to decrease hair breakage.
It is also said to be anti-inflammatory and to help with lymphatic drainage when massaged on lymph nodes. I use castor oil in my Lymph Relief Blend.
It is also said to help stimulate tissue growth, assisting the body with wounds.
Essential Oil Carrier
Flaxseed Oil
Flax oil contains antioxidants that are beneficial to skin repair and rejuvenation. An excellent oil to keep the skin moist and hydrated.
Flaxseed oil helps to plump the skin, fighting wrinkles and aging, helping you to have a more youthful appearance. What a great oil to combine with skin care essential oils!
Flaxseed oil is also a carrier that I include in my Lymph Relief Blend.
You can find flaxseed oil here.
Mustard Seed Oil
While there are some negative thoughts on mustard seed oil, it is gaining in popularity. As with any oil be sure to consult your doctor before using.
However, there are lots of benefits when it comes to mustard seed oil concerning the skin. It contains vitamin E, which may help to reduce wrinkles and fine lines.
It is also said to help encourage healthier hair and stimulate hair growth.
You can find mustard seed oil here.
Evening Primrose Oil
This carrier is said to help improve skin elasticity and firmness, and to help moisturize.
It is a light to medium oil high in GLA, vitamins, and antioxidants.
This oil is also cited as being a productive oil to use if you suffer from eczema or acne as it assists in reducing inflammation.
You can find evening primrose oil here.
Hazelnut Oil
Hazelnut oil is a light, pleasant smelling oil that is easily absorbed. I love the fragrance of hazelnut!
It is said to offer some assistance in protecting against sun damage and to hydrate the skin.
Hazelnut is also touted as having the ability to help boost collagen production, reduce the appearance of fine lines and scars, and cleanse and shrink pores.
You can find hazelnut oil here.
Jojoba Oil
Jojoba oil, while called an oil, is technically a liquid wax.
It is a great carrier to use in your face care routine as it does not clog the pores and helps to control sebum production helping to reduce oily skin. This makes it a wonderful oil to use for skin prone to acne.
I also love it for fine lines, wrinkles and scars. A wonderful carrier to combine with your facial essential oils!
Carrier Oils for Essential Oils
Olive Oil
Olive oil is a somewhat heavy oil that contains lots of nutrients. While it is primarily used for cooking, olive oil is not to be overlooked for topical use. It is very hydrating and nourishing to the skin.
I recommend using an extra virgin olive oil, and as with any carrier, an organic version.
Olive oil has been used for thousands of years for skin and hair. It is said that applying warm olive oil to the hair nourishes and repairs damaged hair.
Olive oil is the carrier that I use in my teething relief oil.
You can find extra virgin olive oil here.
Rosehip Oil
Rosehip oil contains vitamin C and essential fatty acids, which makes it a wonderful oil to use on scar tissue and skin irritations. It is a non greasy oil making it great for all skin types.
I love rosehip oil for fine lines, wrinkles, firming the skin, and leaving the skin glowing and vibrant.
You can find rosehip oil here.
Coconut Oil
We are all familiar with coconut oil for cooking, but do you also use it topically? It can be used as a carrier for essential oils.
While it isn't the best option for the face due to it being a thick oil that can sometimes clog pores, it does contain many benefits.
Coconut oil is said to help decrease inflammation, nourish and moisturize the skin, and assist the body with scars and wounds.
Skin with acne, psoriasis, and eczema is also said to benefit from coconut oil.
You can find coconut oil here.
Sesame Oil
Sesame oil is full of fatty acids, vitamins, and nutrients. It is also a great moisturizing oil for the face and body.
Sesame oil is said to be great for softening the skin, making it a great option for dry cracked heels. I love to use essential oils to moisturize the feet, especially orange essential oil!
Peach Kernel Oil
Peach kernel oil might be one that you aren't familiar with, but it is an excellent oil for skin! It is a light oil making it a good oil to use on the face. It helps to cleanse the pores, and some have used it as a makeup remover!
It contains vitamins A, E, & B, as well as fatty acids. An excellent carrier for those with dry, flaky skin.
Many that have used peach kernel oil say that it is excellent for dry cracked lips, helping to moisturize and soothe.
You can find peach kernel oil here.
And that is 15 of the best carrier oils for essential oils! While this is not a complete list of all possible carrier oils, it is definitely a good list to get you started:) And stay tuned, I will be writing about carriers to mix essential oils in that are not oils before long!
Do you use any of these oils to dilute your essential oils in? Which ones are your favorites? Be sure to leave me a comment below and let me know!
Disclaimer: The information provided on this site is for educational purposes only. I do not prescribe, diagnose or treat any medical conditions. Please consult your health care provider before implementing any of the information provided on this site.
The information provided on this site is completely my own opinion and does not reflect the opinions or beliefs of any other entity.
Any statements or claims regarding health benefits of foods, supplements or essential oils listed on this site have not been evaluated by the Food and Drug Administration and are not intended to treat, cure or prevent any disease.
You can read my full disclaimer here.