Do you have an overabundance of mulberries? Are you wanting to learn how to freeze mulberries? Freezing mulberries is a great way to preserve them!
This site contains affiliate links. If you make a purchase using one of these links, I may earn a commission. Please click here for more information about cookies collected and our privacy policy.
Companion Planting
✅
In a Hurry? Get Started With Preserving Your Own Food NOW!
Pick up a copy of the Food Preservation Planner

for freezer inventory sheets, preservation method temperatures and cook times for fruits and vegetables, as well as canning instructions, and awesome charts to help keep your preserved foods organized. Everything you need to know about food preservation in an easy to read format so you can start preserving food sooner!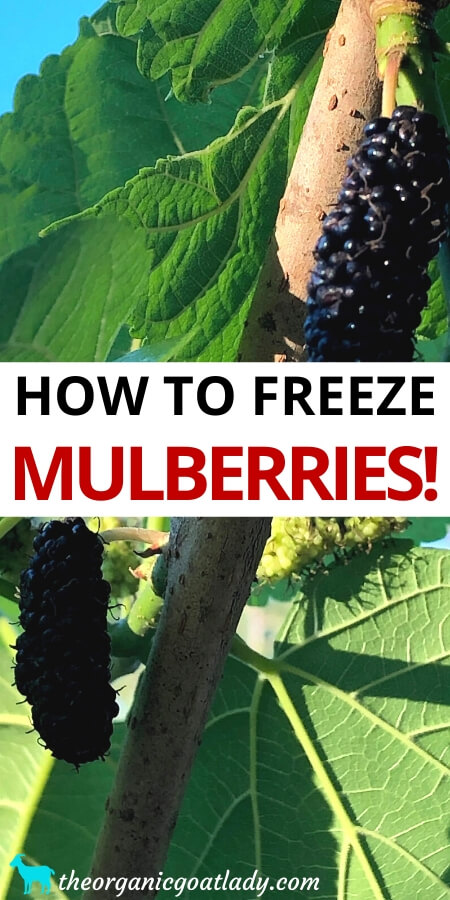 How to Freeze Mulberries
We have two pretty large mulberry trees. And this time of year they are LOADED with mulberries! We have more mulberries than we know what to do with.
We do our best to gather them all but it's hard there are so many! Our chickens spend a lot of their time hanging out under the mulberry trees eating the overripe berries that fall off:)
You would think having four kids we wouldn't have a problem eating them all. But we do!
I do try to make delicious treats with our mulberries. I make this really good Mulberry Pie, and I love to make Mulberry Kombucha.
But even then we still end up with lots of mulberries that go bad before they are eaten.
I hate wasting these delicious, juicy fruits that were grown on our own trees! So I decided that I needed to start preserving them!
The easiest way to preserve mulberries for later use is to freeze them!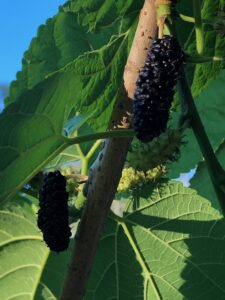 Freezing Fresh Mulberries
Frozen mulberries can be used for many things!
They can easily be thawed and used in pies or as ice cream toppers. They can be turned into jams or jellies. And they are excellent when used frozen in smoothies!
Not to mention, freezing mulberries is incredibly easy to do! I really can't think of an easier way to preserve these delicious berries for future use.
Freezing Mulberries
There are two methods to choose from when freezing mulberries.
The first method is to line a baking sheet with wax paper or parchment paper. Then spread the mulberries on the lined pan in a single layer. The berries should not be touching.
Then simply place the baking sheet in the freezer.
Once the berries are frozen you can transfer them to a freezer bag, label and seal them, and put them back in the freezer.
This method is the best method to keep the berries from freezing together.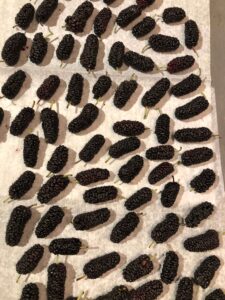 The second method is to simply add the fresh berries to a labeled freezer bag, seal, and place in the freezer.
Now this is the easiest method. And I will confess the one that I use;) . However, it also means that some of the berries will probably freeze together.
You can keep them from freezing into a large lump though by pulling them out of the freezer and breaking them apart through the bag once they are frozen enough not to squish. Then place them back in the freezer to freeze completely.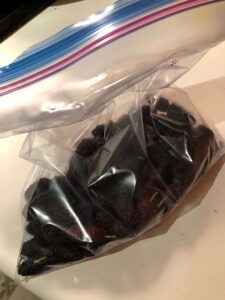 How Long do Berries Last in the Freezer?
Once your berries are frozen you can leave them in the freezer until you are ready to eat them or bake with them.
They should stay fresh in the freezer for about 12 months. Honestly they would probably be fine longer than that, but the flavor might not be the greatest the longer they sit in the freezer.
So, during mulberry season freeze all those extra berries so that you can enjoy mulberries all year round!
Do you have mulberry trees? Do you, like me, struggle to use up all of your berries? Then try freezing them!
What kind of recipes do you enjoy making with your mulberries? Leave me a comment below and let me know!
If you would like to find more recipes for preserving food then be sure to check out 47 Food Dehydrator Recipes, 140 Home Canning Recipes, 75 Fermented Foods Recipes, and 13 Foods You Can Freeze.
For freezer inventory sheets, other preservation method temperatures and cook times for fruits and vegetables, as well as canning instructions, and awesome charts to help keep your preserved foods organized, you NEED to use the Food Preservation Planner!
Do you get overwhelmed at harvest? Do you find yourself having to research and look up dehydrating temperatures, canning times and info every fall to preserve foods?
The Food Preservation Planner contains cheat sheets, inventory lists, meal planning, additional recipes, and more! You definitely need this for your sanity!