Are you looking for a great way to use up those extra mulberries? Do you love kombucha? Then you definitely need to make mulberry kombucha! Yummy, fruity, fizzy goodness in a bottle:)
This site contains affiliate links. If you make a purchase using one of these links, I may earn a commission. Please click here for more information about cookies collected and our privacy policy.
✅
In a Hurry? Get Started Brewing and Flavoring Your Own Homemade Kombucha NOW!
Join me in the Scoop On Booch and you will be enjoying your own healthy kombucha for just cents per bottle. Increase your energy, decrease sugar cravings and take charge of your health now by learning everything you need to know about creating healthier than store bought kombucha for you and your family!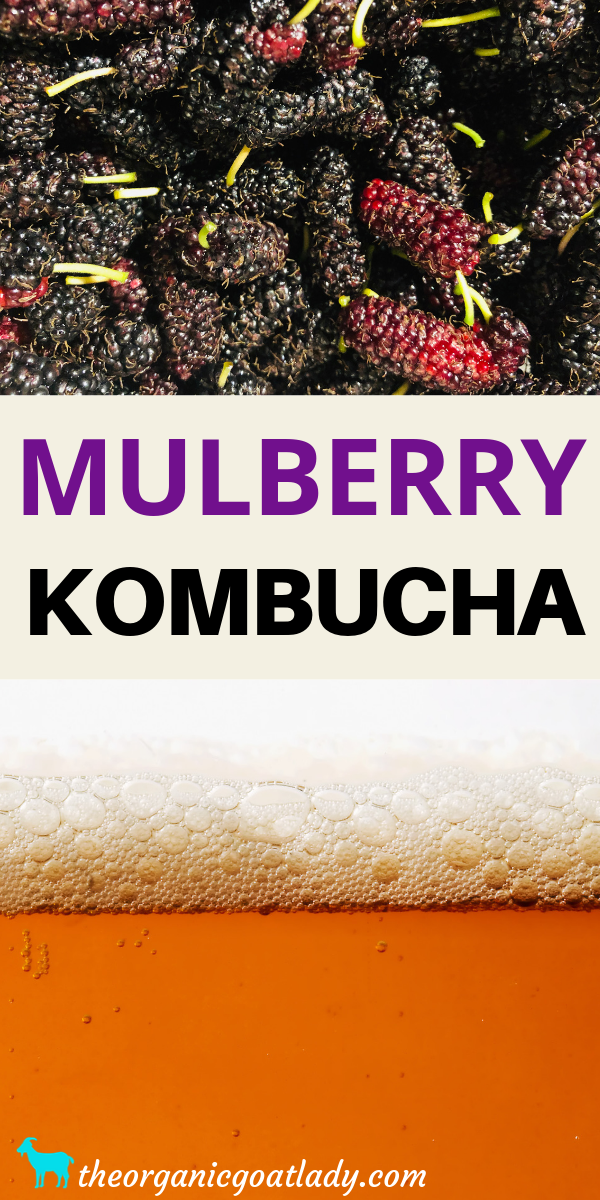 Mulberry Kombucha!
My family loves mulberries! Lately we have had more mulberries on the trees in our backyard than we know what to do with. We've been eating mulberries for dessert, breakfast, snacks, and I've been making mulberry pie! Mulberries are also great over homemade ice cream.
And even after all of that we are still drowning in mulberries!
So, I decided to make mulberry kombucha!
It is a hit:) The fruity flavor of the berries combined with the tartness of kombucha is delicious!
Before you begin!
Making homemade kombucha is something that I am very passionate about.
Because of my love and passion for kombucha, along with all of the kombucha brewing questions that I receive, I decided to create a detailed course that contains everything that you need to know about making your own nutritious and delicious kombucha.
Within The Scoop On Booch course I will guide you through every step from start to finish of making kombucha, leaving you with the end result of better health and more delicious and nutritious than store bought kombucha! Visit The Scoop On Booch and watch the video to learn more about how you can become a successful kombucha homebrewer!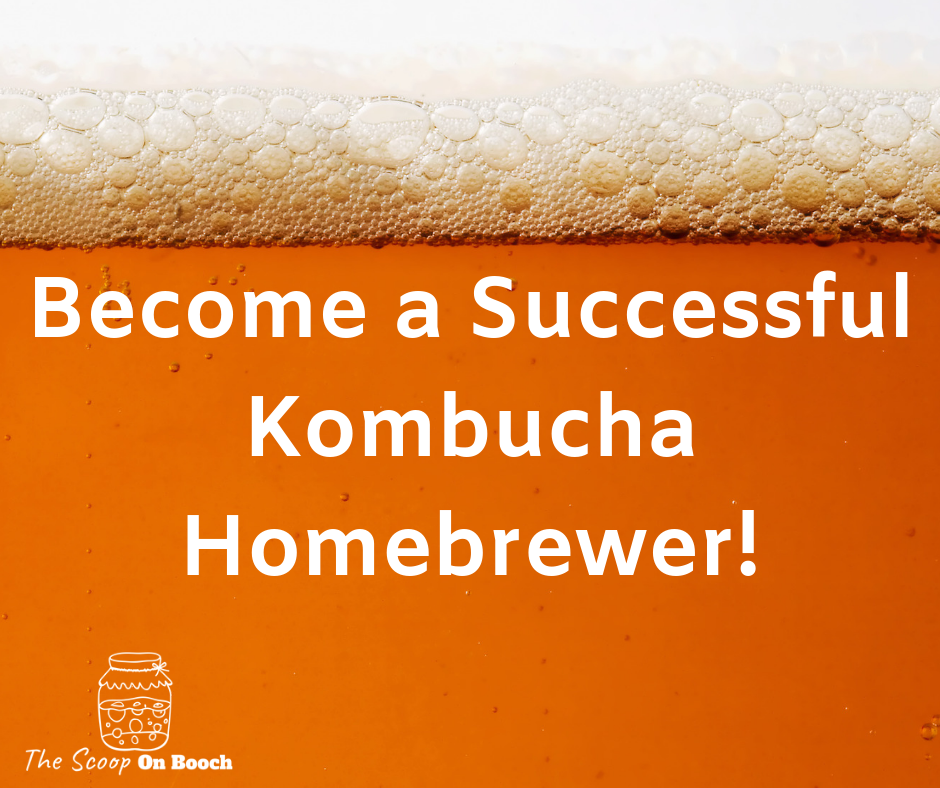 Also, if you like mulberry kombucha, then be sure to check out the Tasty Booch Recipe Book! This book is a compilation of my family's favorite flavors! Kid tested and approved, the recipes in this book are sure to convert even your pickiest eater (including husbands;) into kombucha fans!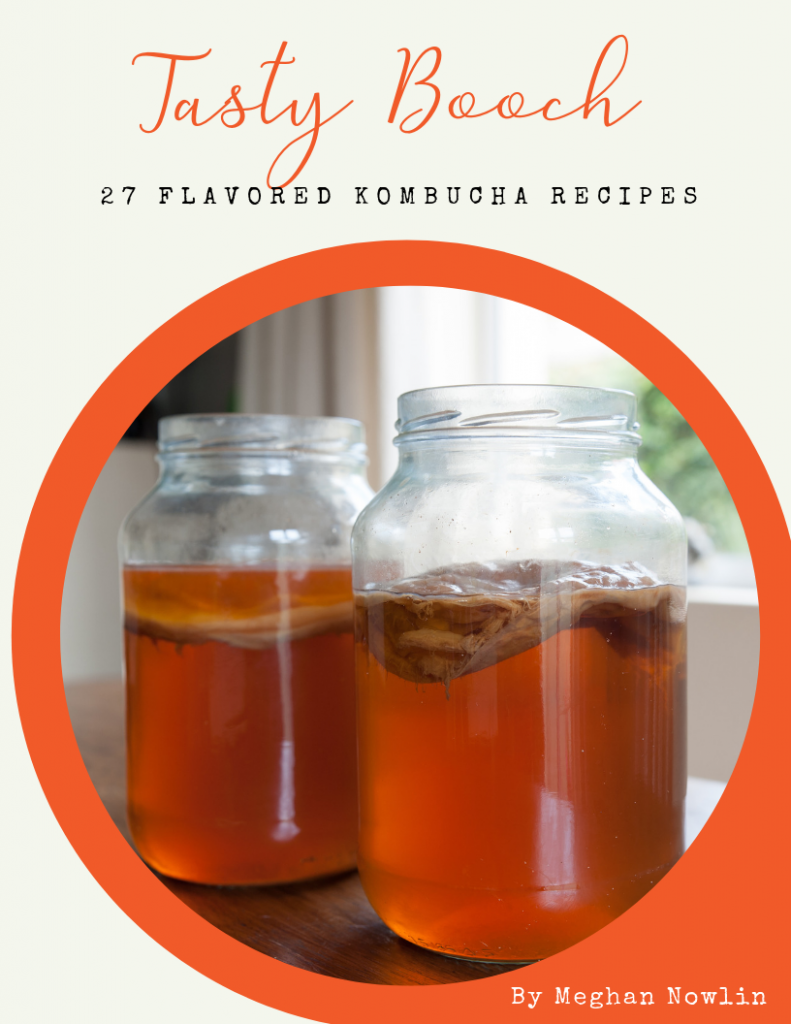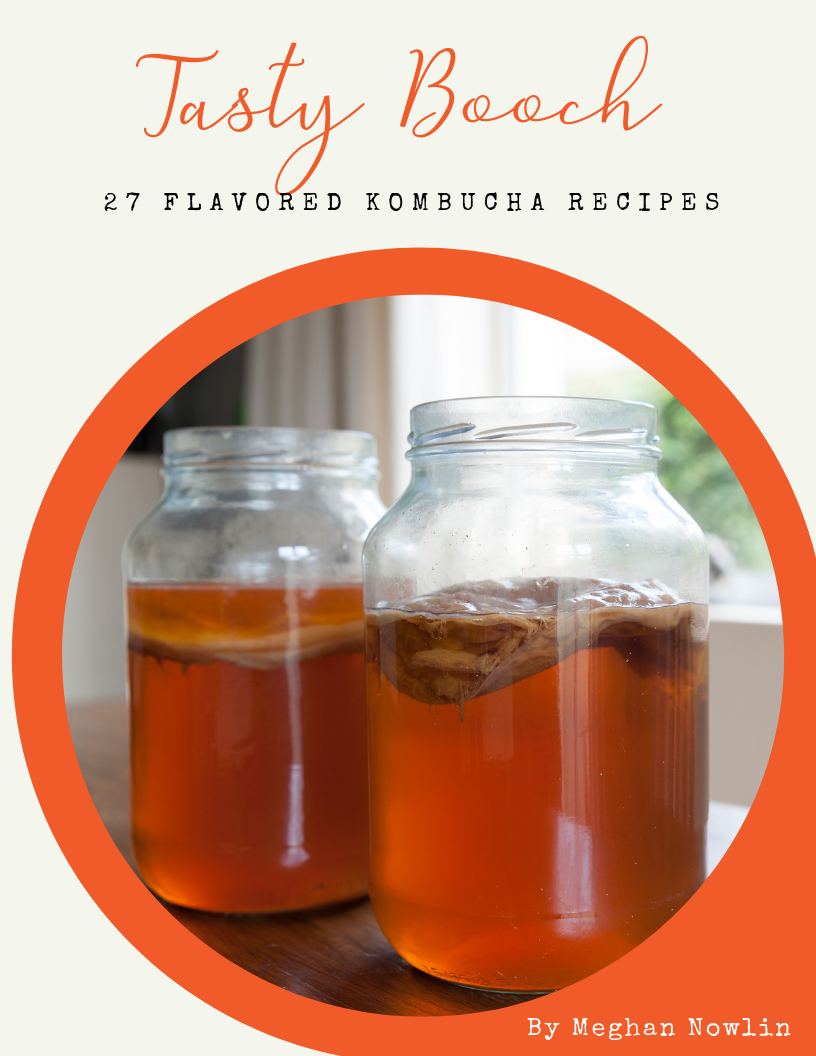 But anyways, getting back to our yummy flavor, we aren't going to talk about how to make kombucha today. Instead we are focusing on how to flavor our Kombucha once it's made!
What you will need
Ok, first let's go over our ingredients and supplies. If you are using the Continuous Brew System this will be really easy! With it's easy fill spout, filling bottles is a dream!
1. Bottles
I usually use bottles that I have saved from store bought Kombucha, or you can purchase these glass bottles that are the same size.
Also, I use these swing top glass bottles to make a more fizzy second ferment. They are better at locking in the bubbles to give you a fizzier second ferment if that is your desire.
2. Mulberry Puree
You need to puree the mulberries before adding them to the kombucha or you will not get the full flavor of the berries to mingle during the second ferment.
How To flavor your Kombucha!
Ok, now that you've gathered your ingredients, let's get started!
1. First add the mulberry puree to your bottles. Wipe any puree off the rim of the bottle after adding.
The amount listed in the recipe below is a matter of preference so feel free to experiment with the amount to find the flavor that you enjoy most!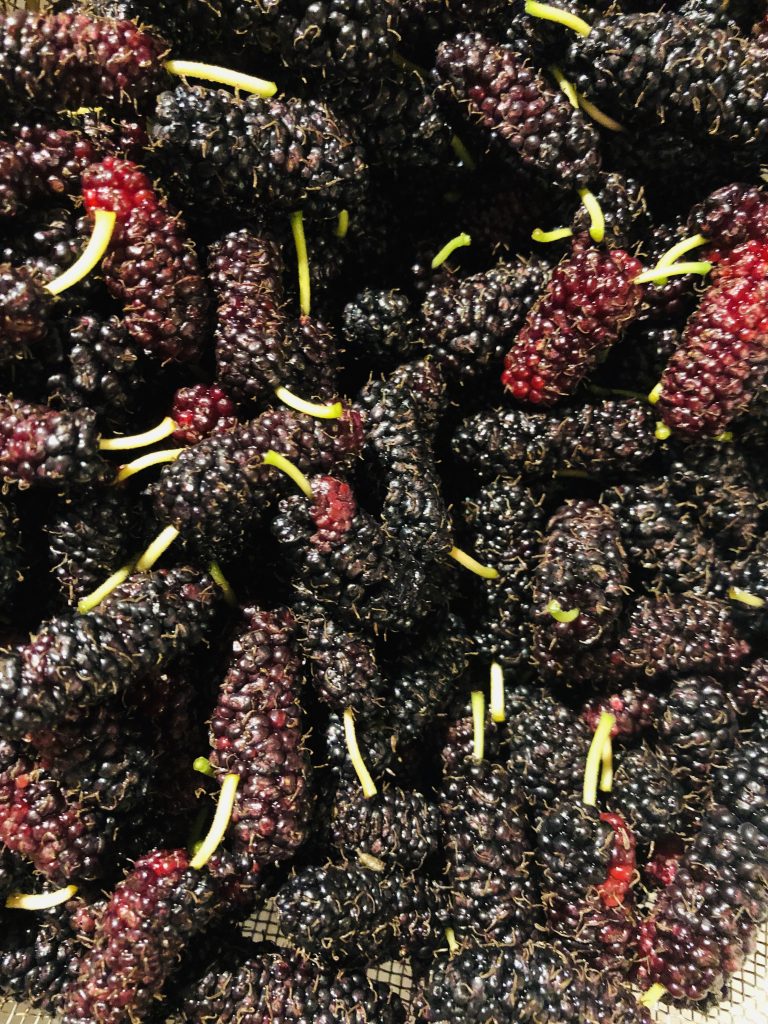 2. The last ingredient that you need to add is your prepared Kombucha! Fill it all the way to the top.
3. And finally, you are going to screw on the lids and put your bottles in a dark cabinet. You want to allow your Kombucha to complete it's second ferment. This will take anywhere from one to three days. You need to leave it for at least a full 24 hours to give the Kombucha time to eat a portion of the natural sugars in the flavorings.
Definitely do not leave it longer than three days. Leaving it longer than the three days will increase the alcohol content of your Kombucha, making it unsafe for children.
And that's how you make Mulberry Kombucha!
If you enjoy this flavor then be sure to check out the Tasty Booch Recipe Book! It contains 27 tasty kombucha flavor recipes to take your kombucha to the next level! The recipes within the book are kid tested and approved, to help convert even the pickiest of eaters into kombucha fans!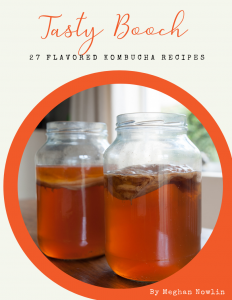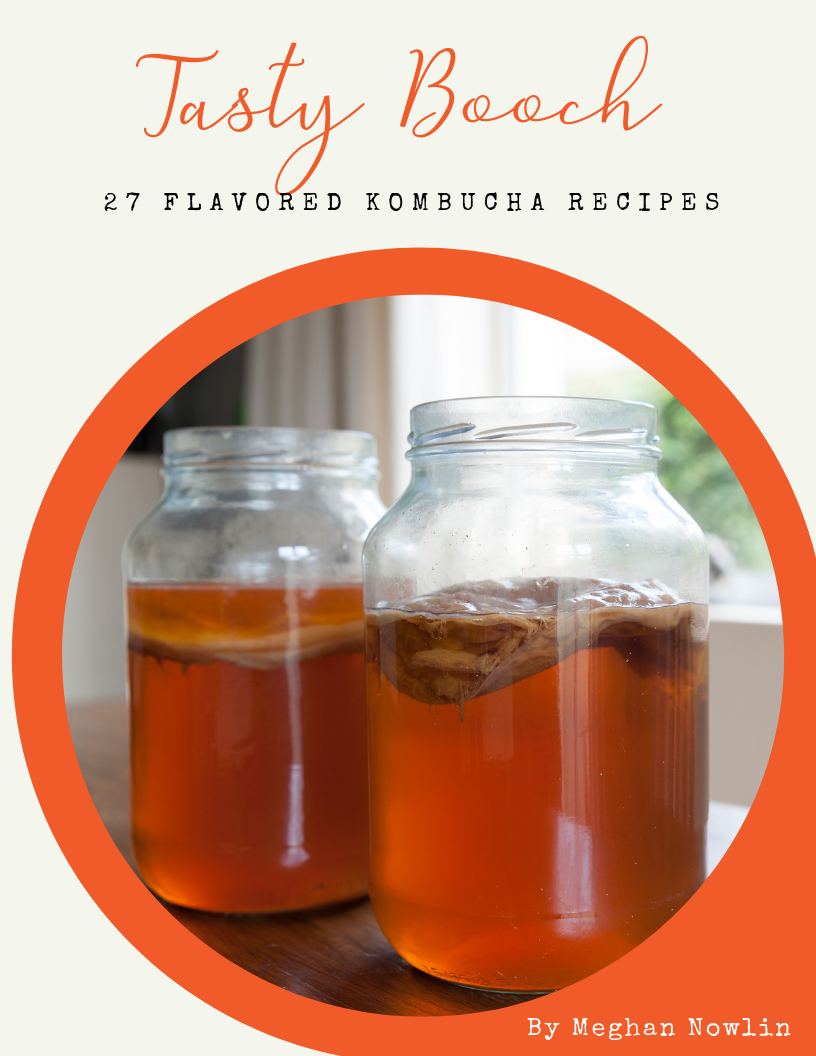 Yield: 1 16oz. Bottle
Mulberry Kombucha
Fruity kombucha that everyone will love!
Ingredients
2 Tbsp. Mulberry Puree
Prepared Kombucha
Instructions
1. Add mulberry puree to a 16oz. glass bottle. You can use either bottles with screw on lids or flip top lids. If you need to you can use a funnel. Wipe any puree off the mouth of the jar when done.
2. Fill your bottle the rest of the way with prepared kombucha.
3. Place your bottles in a dark cabinet for 1-4 days until your kombucha has reached the flavor that you like and then transfer to the fridge. Then enjoy!
Notes
You might want to strain the kombucha before drinking once it is done to remove the mulberry puree pieces. I have to do this for my kids as they do not like pieces of fruit in their kombucha!
Disclaimer:
The information provided on this site is for educational purposes only. I do not prescribe, diagnose or treat any medical conditions. Please consult your health care provider before implementing any of the information provided on this site.