Do you have an overabundance of mulberries? Are you looking for a delicious mulberry pie recipe? This mulberry pie is a delicious way to use up all of those extra mulberries!
This site contains affiliate links. If you make a purchase using one of these links, I may earn a commission. Please click here for more information about cookies collected and our privacy policy.
Mulberry Pie
Do you grow your own mulberries? We have a couple of mulberry trees and this year they produced a TON of berries! The were delicious!
We ate some straight from the tree, staining our fingers and mouths:) We at them by the bowl full for snacks and with meals, we at some in the form of Mulberry Kombucha. And of course I made us this delicious mulberry pie!
It was a big hit! Definitely a great way to keep those extra mulberries from going to waste. I first made this pie on a Sunday afternoon and then that night we ate it for dessert while having family movie night. It was a great night:)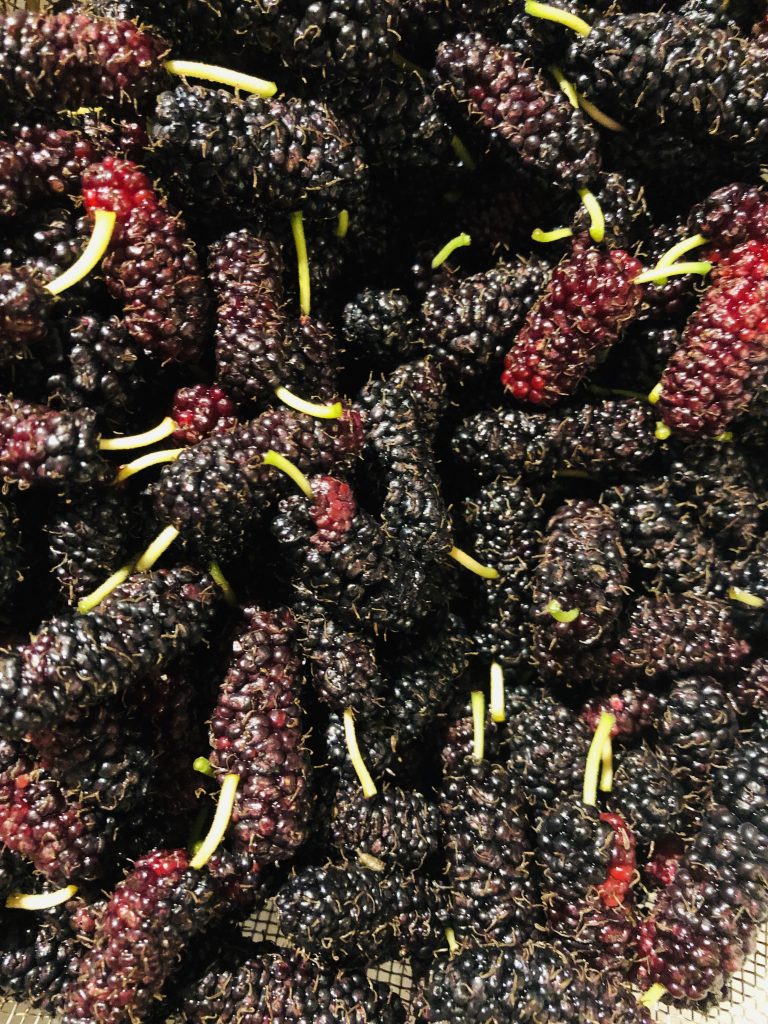 Mulberry Pie Recipe
To start making your pie you need to first make sure that you have plenty of berries. You will need 5-6 cups of mulberries.
This is a very easy recipe to make, however one step does tend to take a little time. The most time consuming part of this recipe is cutting off the stems from the mulberries. Using kitchen scissors trim off the stems from each berry.
Once you have trimmed and washed each of your berries, set them aside and prepare your crust according to your crust's recipe or instructions.
Mix together the dry ingredients with a fork. Then add the berries and lemon juice. Gently fold and stir everything together to evenly coat all of the berries.
Pour the berry mixture into your pie crust and then cut the cold butter into small pieces, scattering them evenly on top of the pie filling.
The top layer of your crust can be applied however you would like. If you would like to make your crust in a lattice pattern as I did in the picture, then you need to fold your crust in half and cut it evenly into fifteen strips, approximately 3/4 inch wide.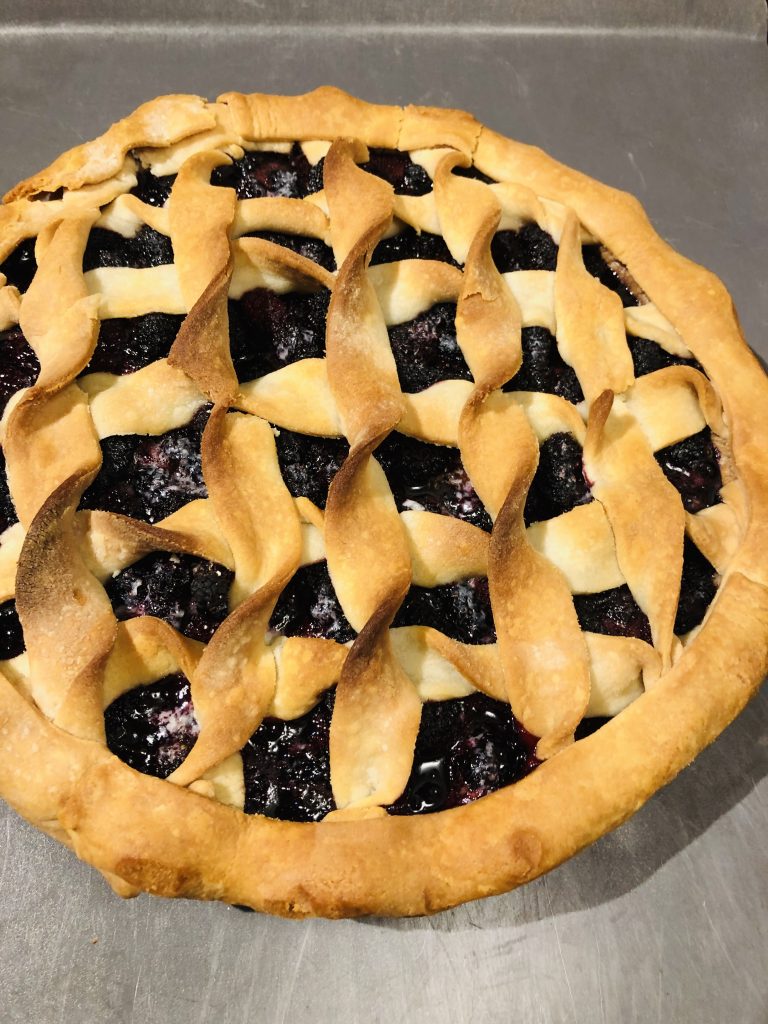 Healthy Mulberry Pie
Next set aside the three large strips from the center. Taking the remaining strips, unfold and twist them. Lay five of the twisted strips evenly across the filling in one direction. Then lay the 5 remaining twisted strips in the opposite direction, forming a crisscross lattice pattern. Firmly press the ends of the strips onto the top edge of the bottom crust. Brush the edge with water. Unfold the three reserved strips and place them end to end over the crust edge, trimming the ends to fit as needed. Press the edges of the crust to seal it.
How to Make a Mulberry Pie
Finally it's time to place your pie into the oven that has been preheated to 400 degrees and bake it for about 45 – 60 minutes. The crust should be golden brown and the filling slightly bubbly.
If needed you can loosely cover the pie with aluminum foil once it is browned to prevent burning.
Let the pie cool completely before serving. This pie is great eaten alone, but it is also excellent served with vanilla ice cream!
And don't forget, after you have made and enjoyed this delicious mulberry pie with your family, be sure to come back and leave me a comment below. I would love to hear how much you enjoyed it!
And be sure to pin it for later!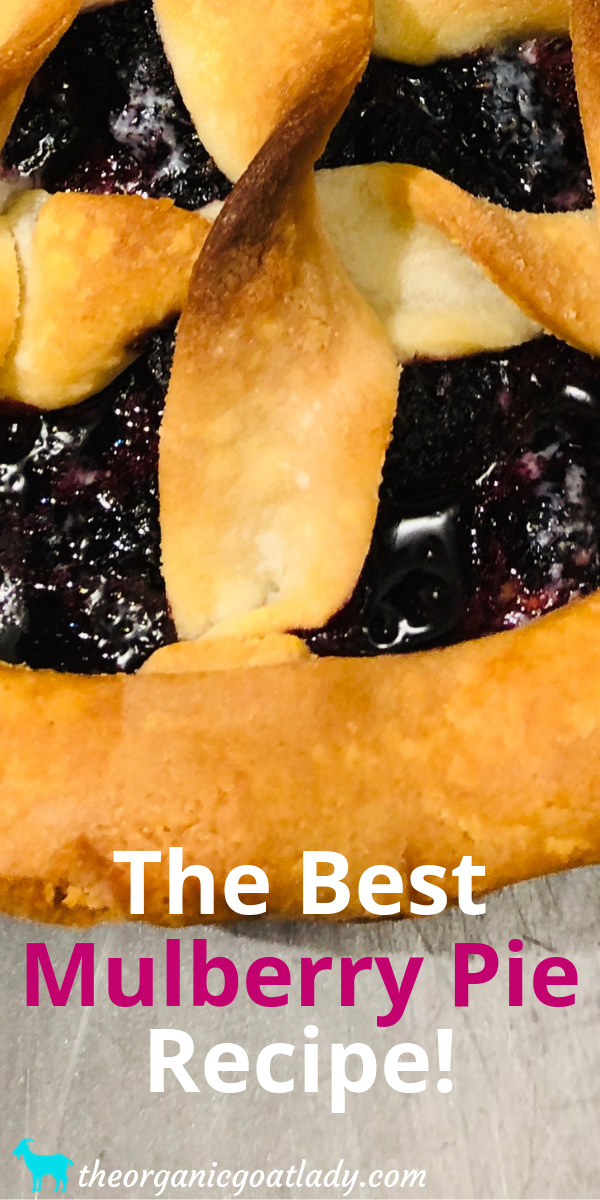 Happy baking:)
The Best Mulberry Pie Recipe!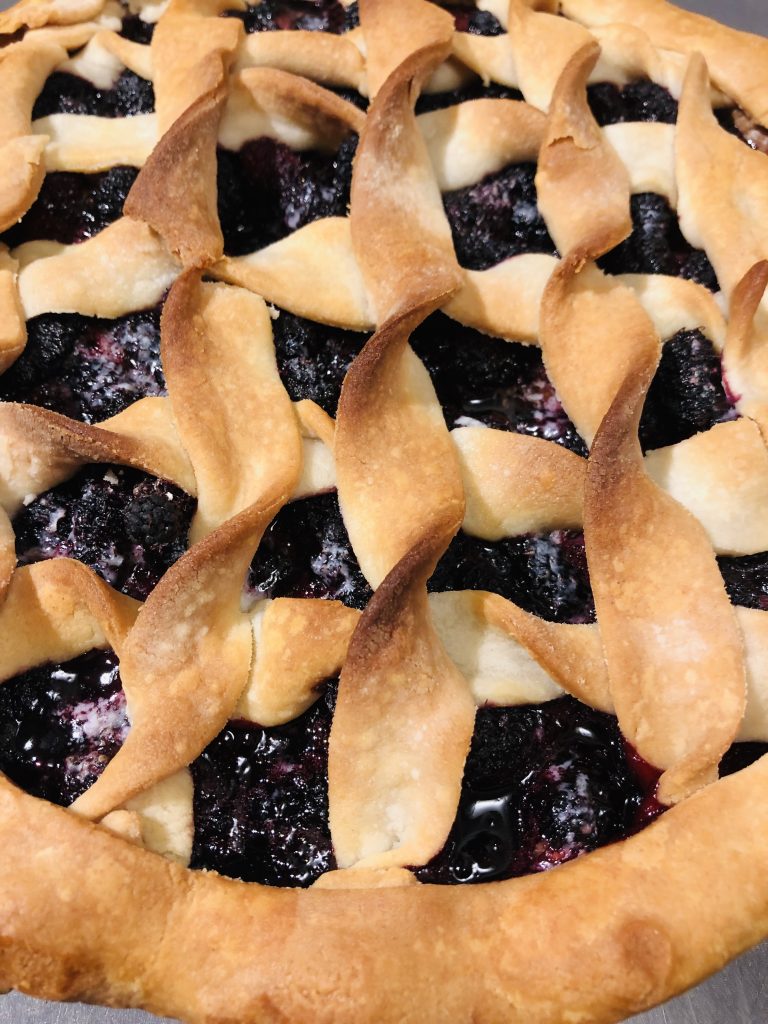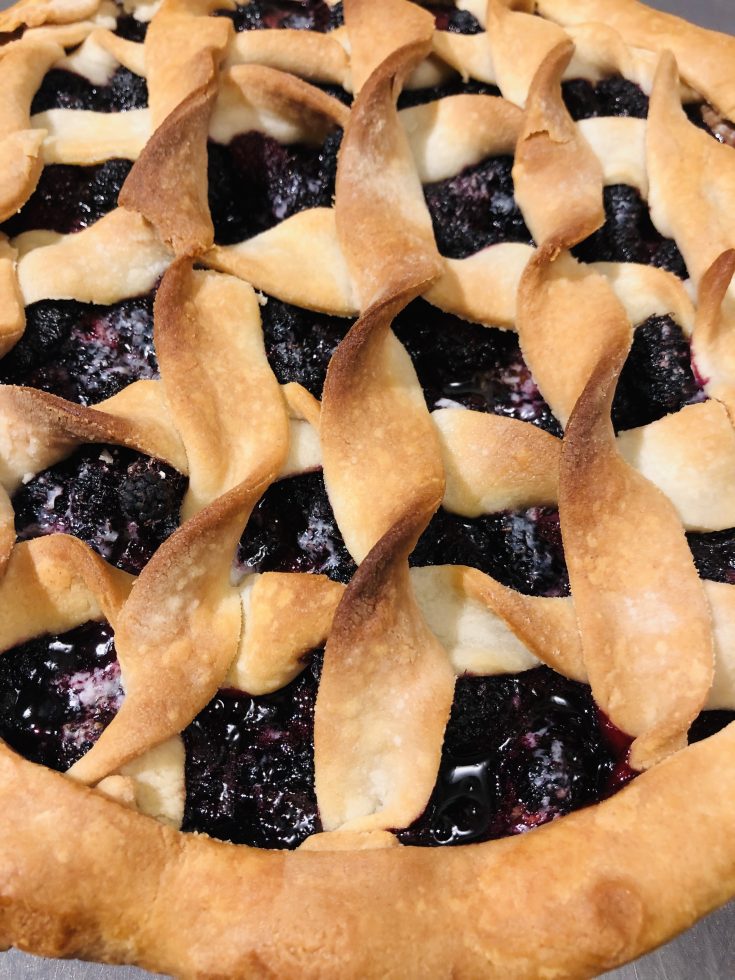 This is a delicious way to use up those extra mulberries! Once you've tried this mulberry pie you will definitely want to make it again:)
Total Time
1 hour
15 minutes
Ingredients
5-6 Cups of Mulberries
1/2 Cup Maple Sugar
1 Tbsp. Lemon Juice
1/3 Cup Arrow Root Powder
Pinch of Salt
2 Tbsp. Cold Butter
2 Pie Crusts
Instructions
Preheat oven to 400 degrees.
Wash and trim stems from berries.
Prepare bottom crust according to packaging or recipe.
Mix dry ingredients together.
Fold in berries and lemon juice mixing until berries are fully and evenly coated.
Pour filling into pie crust.
Cut butter into small chunks and evenly place on top of pie filling.
Place top crust on according to detailed instructions in the above post.
Bake for 45-60 minutes until crust is golden brown and filling is slightly bubbly. If needed cover loosly with aluminum foil once crust is browned to prevent burning.