Are you looking for a yummy fall diffuser blend? Are you looking for the perfect scent to transform your home into a pumpkin patch or an autumn paradise? The Give Thanks fall diffuser blend is the best blend for the fall season!
This site contains affiliate links. If you make a purchase using one of these links, I may earn a commission. Please click here for more information about cookies collected and our privacy policy.
✅
In a Hurry? Get Started Diffusing in Your Home Right NOW!
Get a copy of my eBook 100 Essential Oil Diffuser Blends to help you cleanse your home and to create a pleasant atmosphere. Everything that you need in order to start diffusing faster for all of life's moments in an easy to access format. Find many recipes including delicious fall and holiday blends, home care, and air purifying blends that provide the comfort and happiness of home!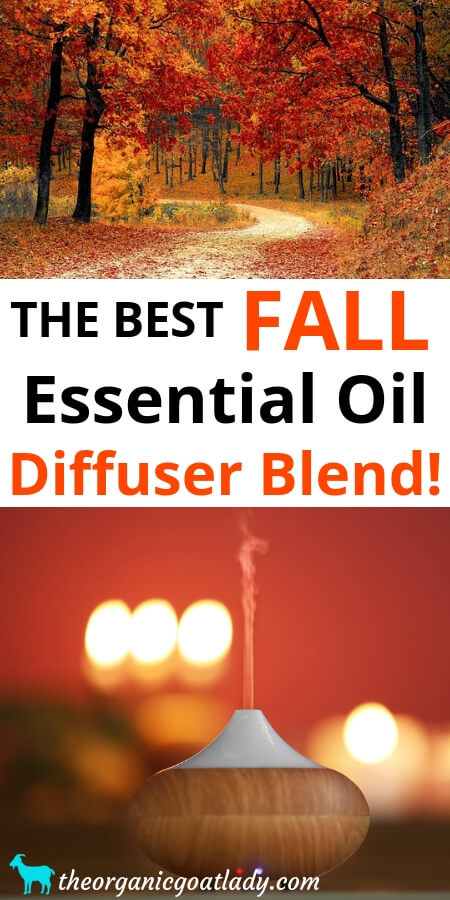 Fall Essential Oil Diffuser Blends
Fall is my favorite time of year! Living in south Florida, summer is like the surface of the sun! So fall is a welcome change for us:)
I love everything fall! And yes, I am one of those people that live in the south and pull out my boots as soon as fall is officially here;) Don't laugh! I can't help it! I love pumpkin spice, winter clothes and boots, and fall beverages such as Pumpkin Spice Cafe Con Leche. It's not my fault that I was born in a hot climate! This is where I live, but I still love fall!
So of course, fall essential oil blends are my favorite! It might be hot outside but if the AC is on, my house is decorated for fall, and my diffuser is misting the wonderful scents of autumn throughout my house; then I can imagine that my house is surrounded by maple trees that are a brilliant orange and red and that a crisp nip is in the air!
I know, I know, but hey, that is my happy place:)
Essential Oil Recipes
While fall is my favorite, diffusing should be a practice year round.
There are essential oil blends for all of life's moments and events! I love to diffuse at Christmas time (Who doesn't want to feel like they live in the middle of a Christmas tree farm?!).
And of course on Valentine's Day! (Why not spice up your love life with some aromatic romance oils;)
And of course you don't want to miss the lovely scents of spring!
Or hey, why not pretend it's fall all year around? I'd be down with that;)
Each of these life events, plus many many others, is why I created the 100 Essential Oil Diffuser Blends eBook. This book contains recipes for every situation.
Did the boys just get home from school and leave their stinky, sweaty, clothes and bags laying around? Turn on the diffuser!
Did the dog run inside after playing in the water, leaving that stinky wet dog smell in your living room? Turn on the diffuser!
No matter what the event (or crisis!) I have a blend for that!
My home is my happy place. I love being at home with my family. I love to be at home at night curled up on the couch with a snack, cafe con leche, watching a movie with my hubby. And I love to decorate my home for the holidays.
Using one of these diffuser blends just takes everything to the next level! It helps to create a cozy, happy atmosphere. Smell is such a big part of emotions. And without the scent of pumpkin pie spice it just wouldn't feel like fall! Am I right?!
I include 100 blends in the essential oil diffuser book to help turn your home into your happy place!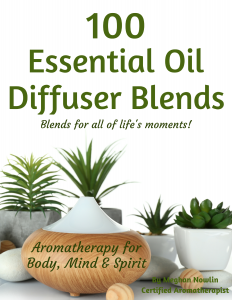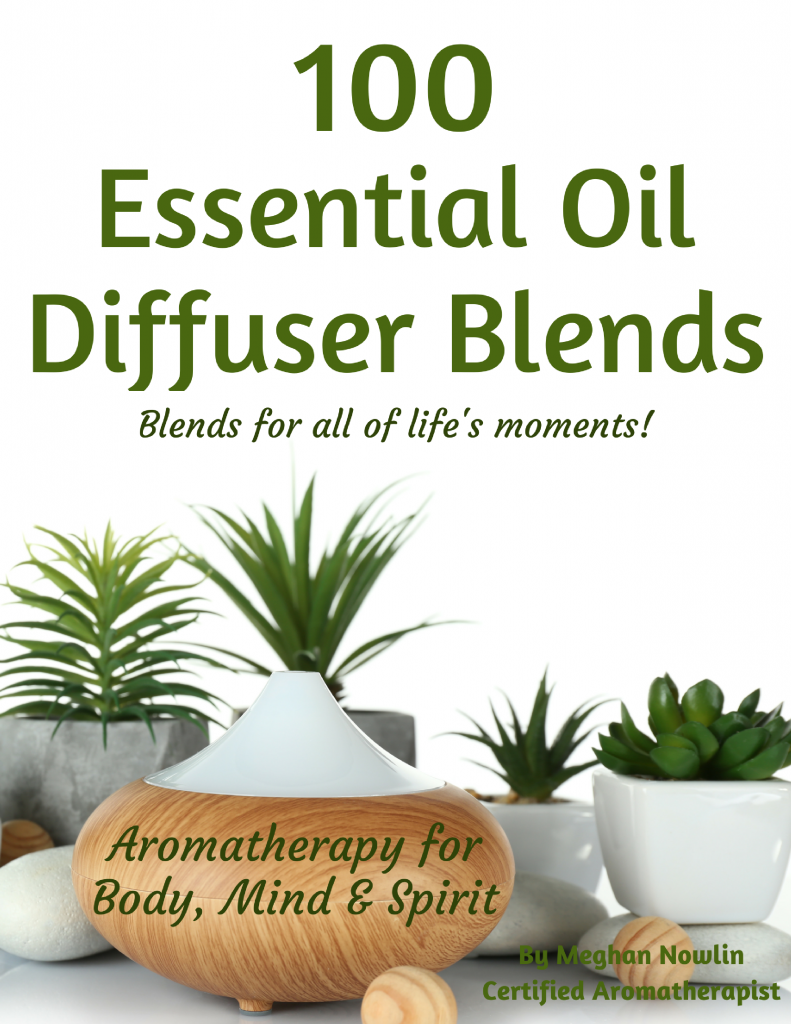 Fall Diffuser Blends
Like I said, smell is such a big part of our emotions. Think of how happy and relaxed certain smells make you feel. And think about how a scent can immediately take you back to your childhood?
Does the smell of cinnamon take you back to your grandma's kitchen? Does the smell of balsam fir take you back to Christmas morning as a child? Do these scents comfort you?
What is your happy place? While my happy place involves more than just scent, scent does take it to the next level:) If I can smell pumpkin spice while drinking hot chocolate and snuggling under a blanket, it's that much better!
The Give Thanks Fall Diffuser Blend is one of the blends that are included, along with many other amazing fall blends, in the 100 Essential Oil Diffuser Blends eBook.
Essential Oil Diffuser Blends
Let's talk about each of the essential oils that are in this awesome blend!
Cinnamon leaf is a wonderful fall scent!
It's scent is similar to the ground cinnamon that you have in your kitchen. It has a warm, pleasantly spicy smell that is heavenly! A wonderful oil to use in your fall diffuser blends!
Clove Bud essential oil definitely smells like fall!
It has a very warm, rich, spicy scent that blends well with the other two oils in this blend.
Using clove bud essential oil in your home will have a greatly relaxing effect, helping to erase the stress of your day!
Red Mandarin has a sweet, fruity, uplifting scent.
A great addition to the Give Thanks blend! Citrus blends so well with cinnamon and clove.
Red Mandarin essential oil is great for relieving stress, anxiety, moodiness and fatigue.
These three oils combined together make a wonderfully delicious fall scent! Just thinking about it makes me want to go turn my diffuser on;)
Now you are probably wondering how much of each oil you should use.
Here is the exact recipe that is included in the 100 Essential Oil Diffuser Blends eBook. I hope you enjoy it as much as we do! And don't forget after diffusing the blend to come back and let me know how it has transformed your home into your happy place!
Happy diffusing and happy fall:)
If you would like to learn about more wonderful essential oils to use during the fall season, then be sure to check out 10 Fall Essential Oils That You Must Try!
Give Thanks Fall Diffuser Blend
Transform your home into your happy place! The Give Thanks fall diffuser blend will fill your home with the yummy scents of autumn creating a cozy, relaxing atmosphere that you can snuggle up in!
Ingredients
12 Drops Cinnamon Leaf Essential Oil
10 Drops Clove Essential Oil
2 Drops Red Mandarin Essential Oil
Instructions
Blend these oils together and add to your diffuser for a wonderful fall experience!
Disclaimer: The information provided on this site is for educational purposes only. I do not prescribe, diagnose or treat any medical conditions. Please consult your health care provider before implementing any of the information provided on this site.
The information provided on this site is completely my own opinion and does not reflect the opinions or beliefs of any other entity.
Any statements or claims regarding health benefits of foods, supplements or essential oils listed on this site have not been evaluated by the Food and Drug Administration and are not intended to treat, cure or prevent any disease.