Are you looking for some great mango salsa recipe ideas? These 19 mango salsa recipes are delicious and a great way to use this vibrant, tropical fruit!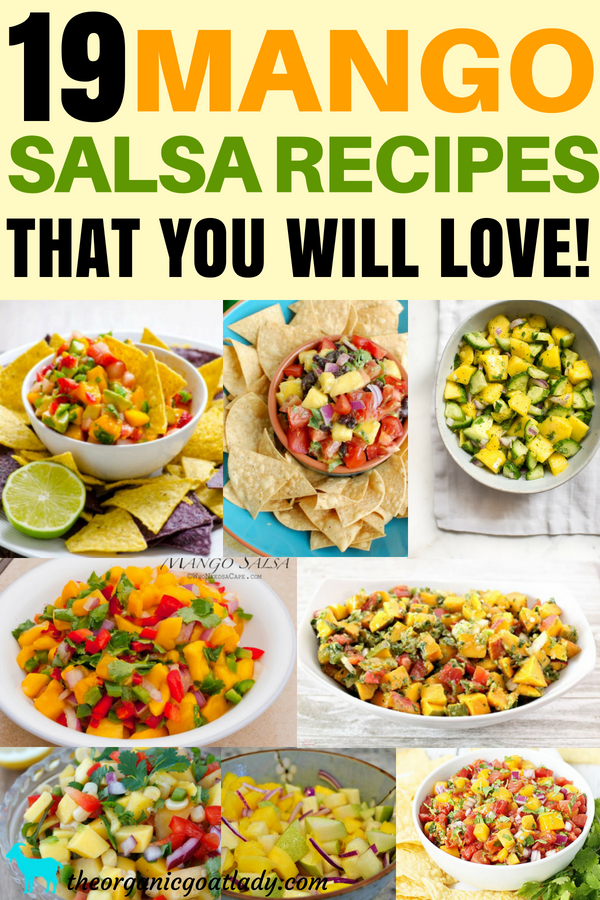 This site contains affiliate links. If you make a purchase using one of these links, I may earn a commission. Please click here for more information about cookies collected and our privacy policy.
19 Mango Salsa Recipe Ideas!
Living in south Florida, we get lots of mangos!
As I said in my post 16 Mango Smoothie Recipes, we end up with bags full of mangos in the summer! I mean, way more mangos than we can eat!
So what should you do with all of the extra mangos that you have?
I usually use our extra mangos to make Mango Kombucha, Mango Ice Cream, and Mango smoothies. And mango salsa is definitely going to be a recipe I make lots of this summer! There are so many different mango salsa recipes and they all look AMAZING!
These 19 mango salsa recipe ideas look not only delicious but healthy!
I'm thinking that all of these recipes would make a great addition to any summer BBQ or Fourth of July party! Or they would be great just to make for myself;) I can totally see myself eating an entire bowl of these mango salsa recipes:)
Mango Salsa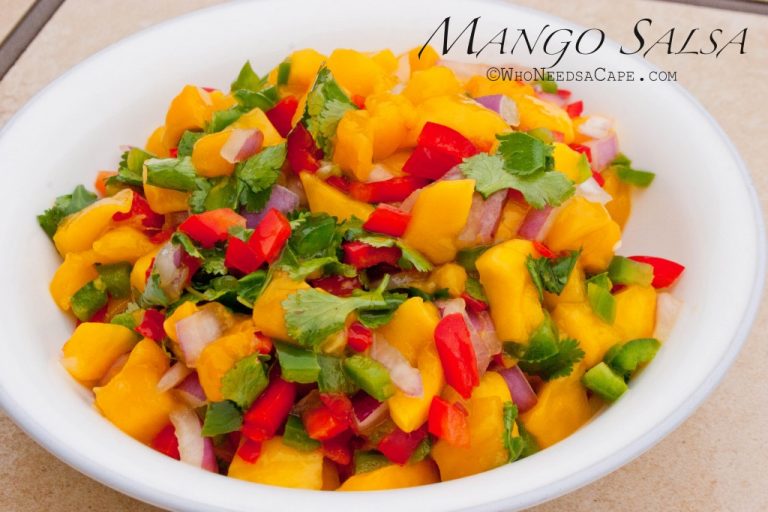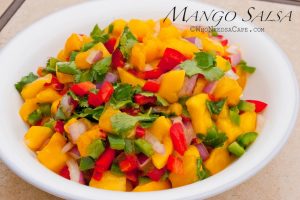 This sweet and spicy mango salsa from Who Needs a Cape looks delicious!
It contains jalapeños for some spicy to accompany your sweet peppers and tropical mango!
A great addition to any summer get together!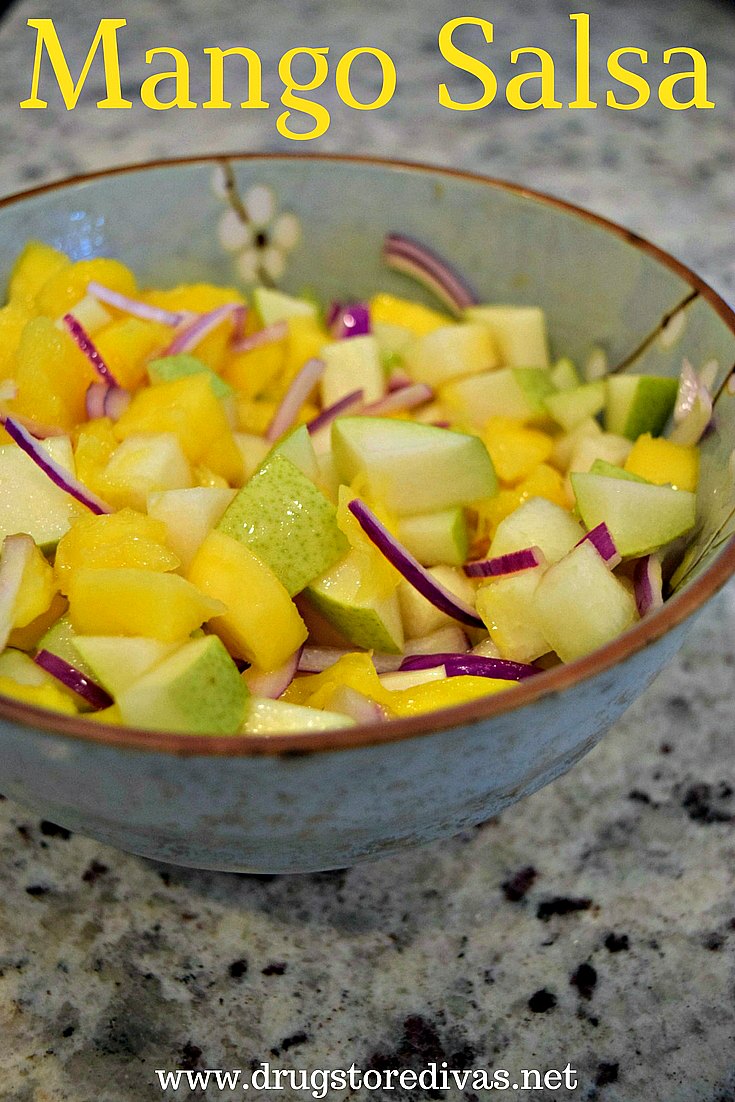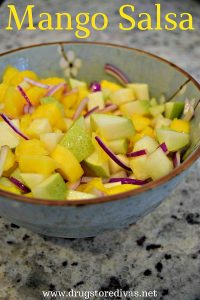 This mango salsa from Drugstore Divas is a unique version of mango salsa.
It contains pears! This fruity mango salsa is sure to be a hit!
This would make a great side dish to go alongside most meals. I'm thinking it would be great to eat next time we grill burgers!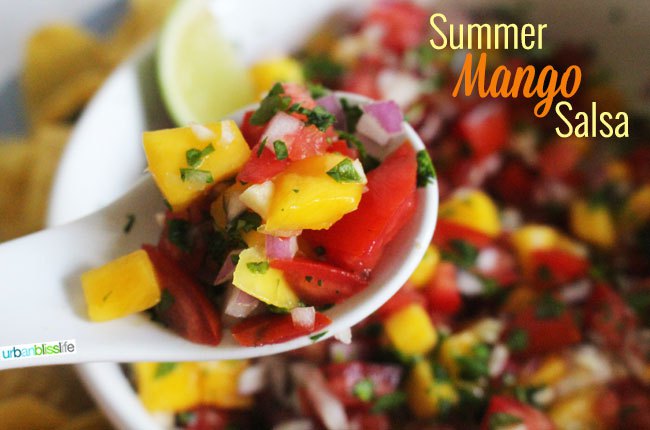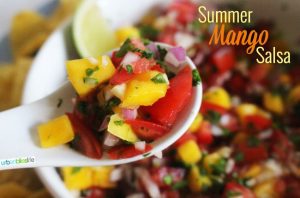 This mango tomato salsa reminds me of a mango pico de gallo.
I love that it adds the mango to a more traditional salsa. The sweetness paired with the acidity of the tomatoes is such a great combination!
You can find the exact recipe to make this summertime treat at Urban Bliss Life.
This is definitely on my dinners to make list! Steak topped with mango salsa?! Yum!
This mango salsa is also a more traditional tomato salsa combined with mango, an excellent combo to pair with steak!
You can find the recipes for both the steak and mango salsa at 3 Boys and a Dog.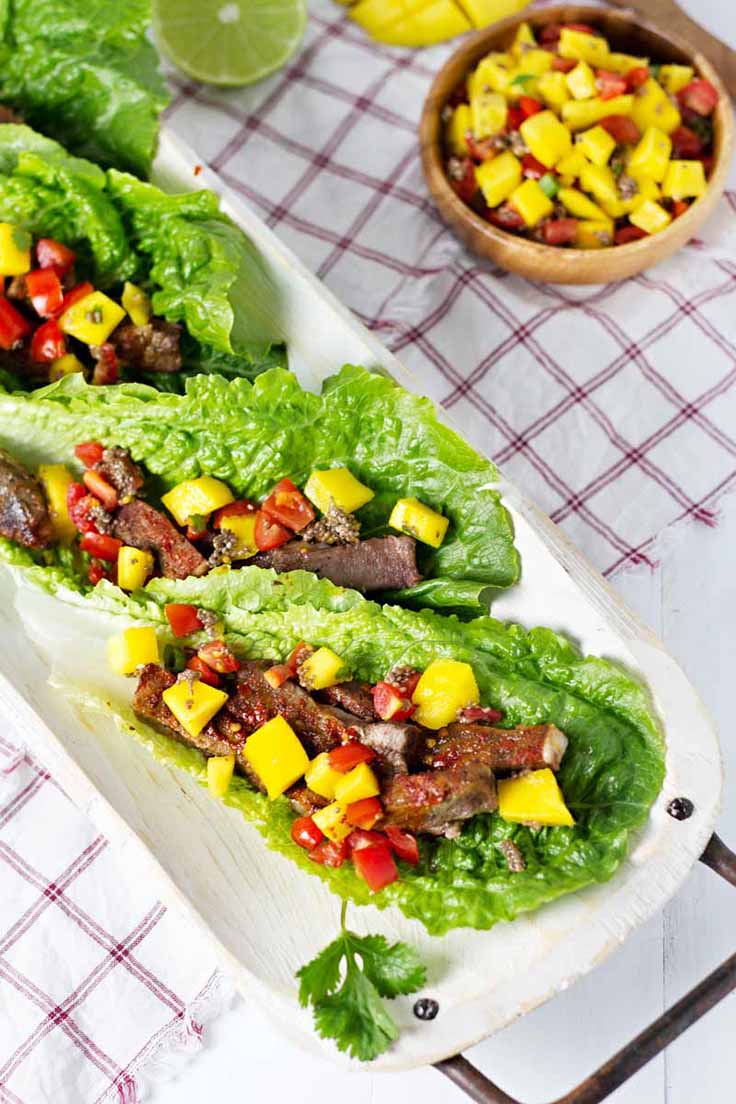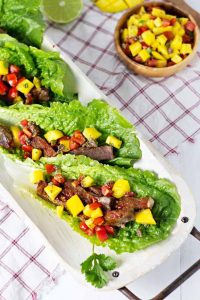 This mango salsa also makes a great topper for meats. These beef tacos look amazing!
One of the ingredients that makes this salsa unique is chia seeds! Add some chia seeds for not only a wonderful flavor and texture, but a great health boost as well!
You can find the recipe for these mango salsa tacos at Diabetes Strong.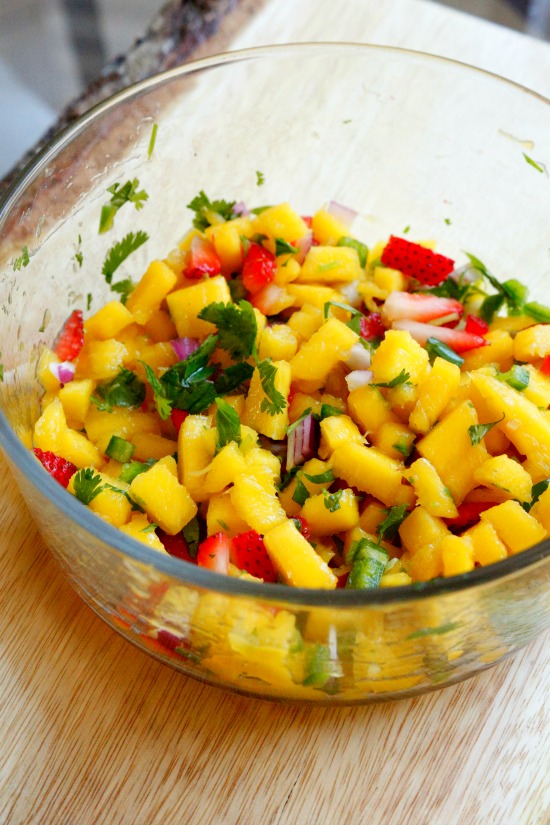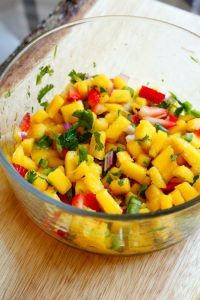 What can be a better summer time snack or side than strawberry mango salsa?!
This is definitely a salsa that I will be making for my family, I know that even my kids will love this!
I think it would be a great mango salsa to take to our family gathering for the fourth of July.
Find the recipe at Jordan's Easy Entertaining.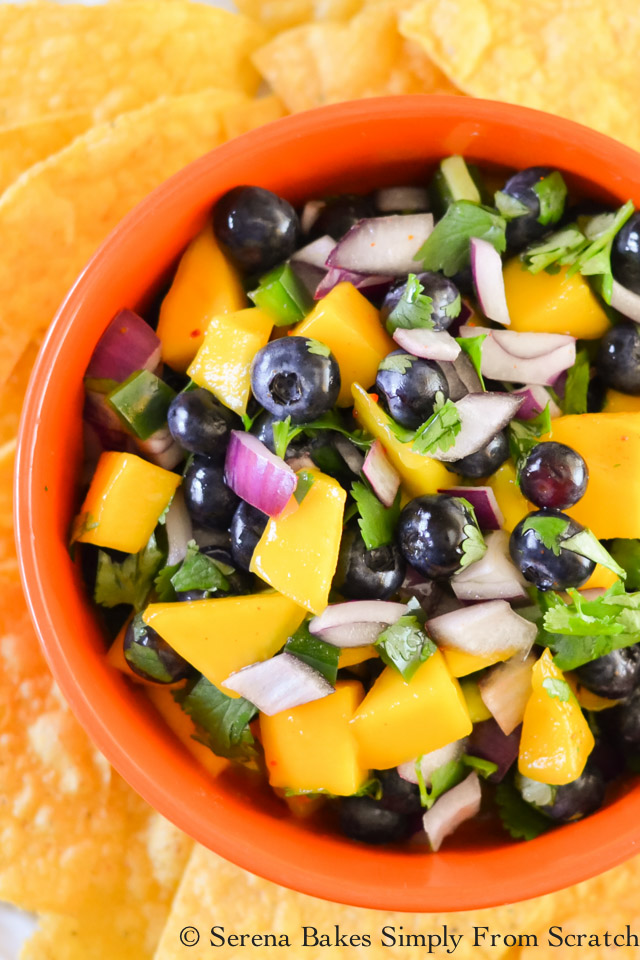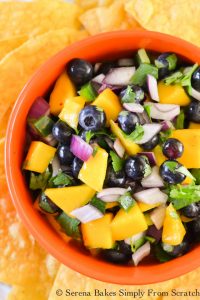 Ok, now I'm torn! Do I take the strawberry mango salsa or the blueberry mango salsa to our fourth of July family gathering?! They both look so festive!
Maybe I should combine the two?!
Find the recipe for this delicious blueberry mango treat at Serena Bakes Simply From Scratch.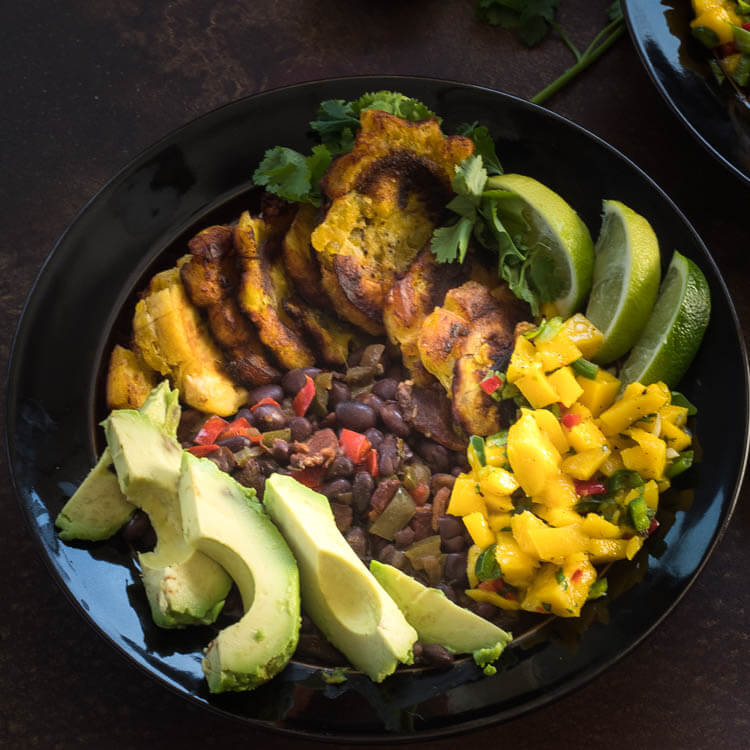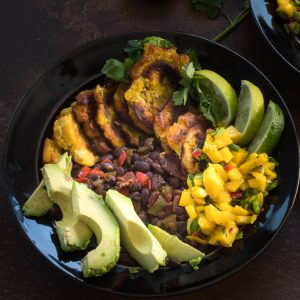 Beyond Mere Sustenance makes a traditional mango salsa and pears it with a delicious black bean and plantain dish.
This is definitely a meal that I need to add to our dinner rotation!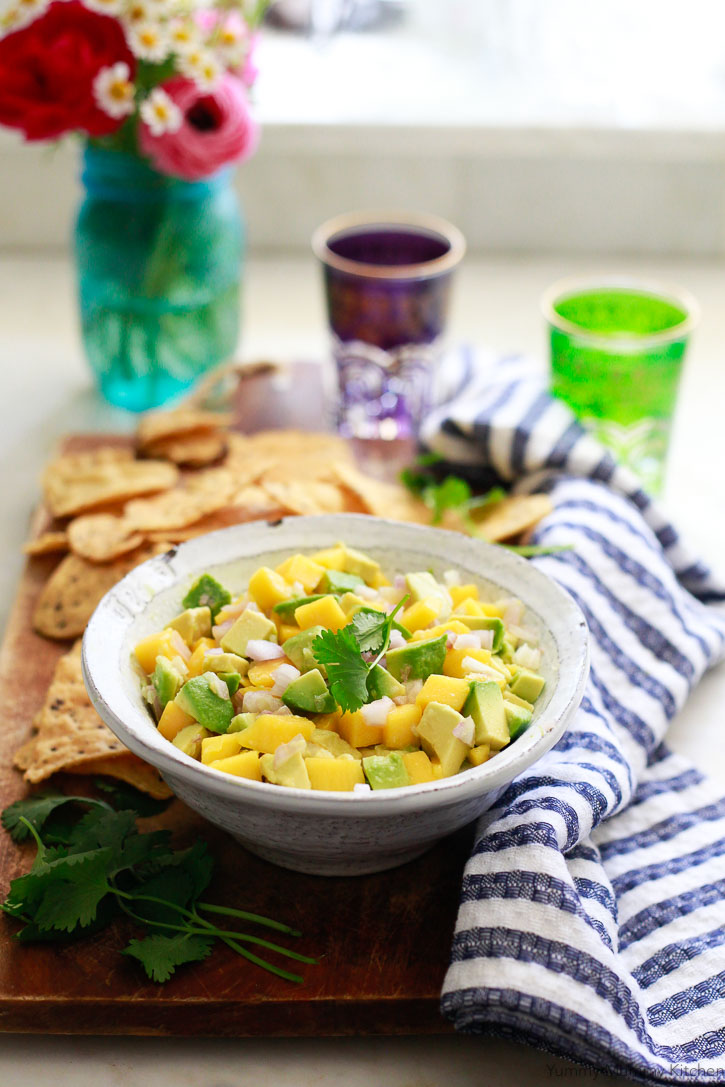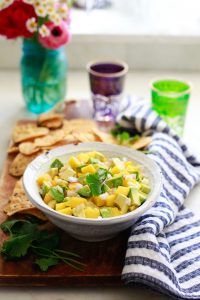 This dish combines mango with one of my favorite foods!
Avocados are delicious, healthy and a great partner for mango:)
I will not be making this to take to a family gathering. That's because I will be making this for myself, and I'm not sharing;)
Find the recipe for this delicious and nutritious mango salsa recipe at Yummy Mummy Kitchen.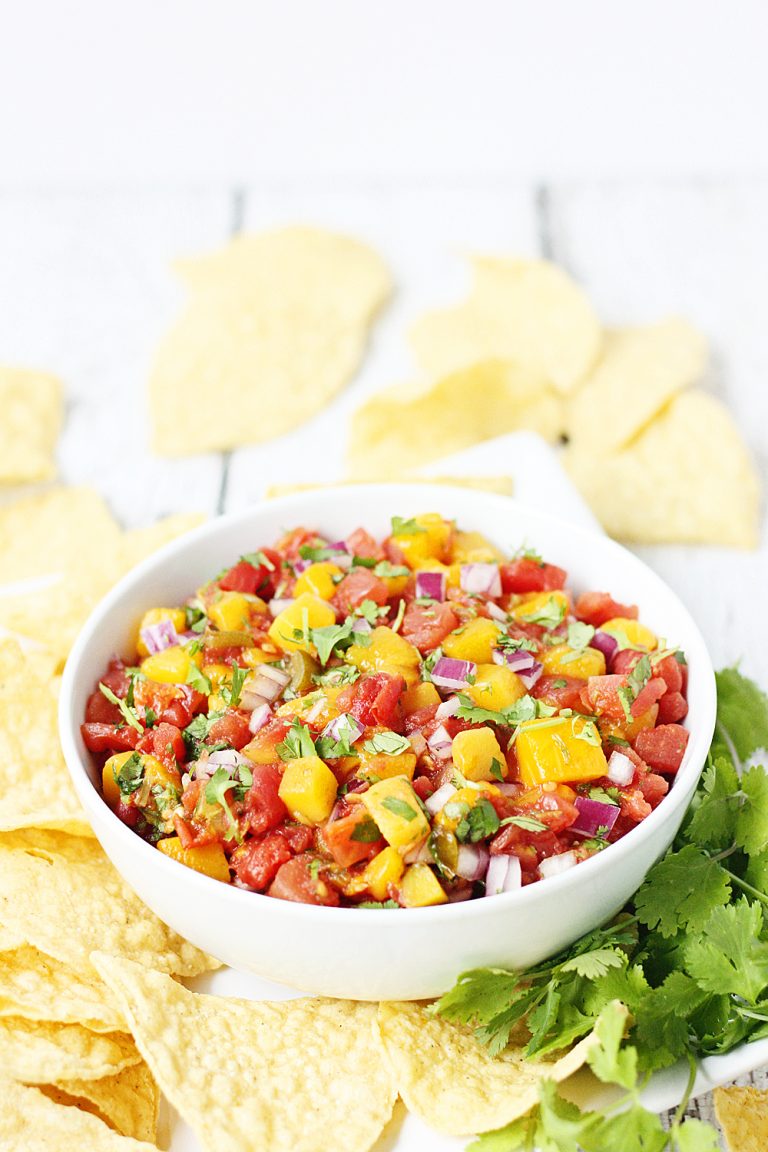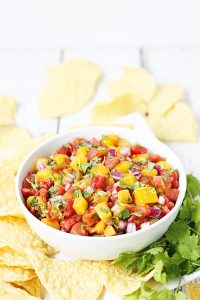 This easy to make mango salsa is a delicious salsa that can be made in only a few minutes.
A great last minute snack to throw together for guests, or for a last minute lunch or dinner.
Find the recipe to make this easy mango salsa recipe at Half Scratched.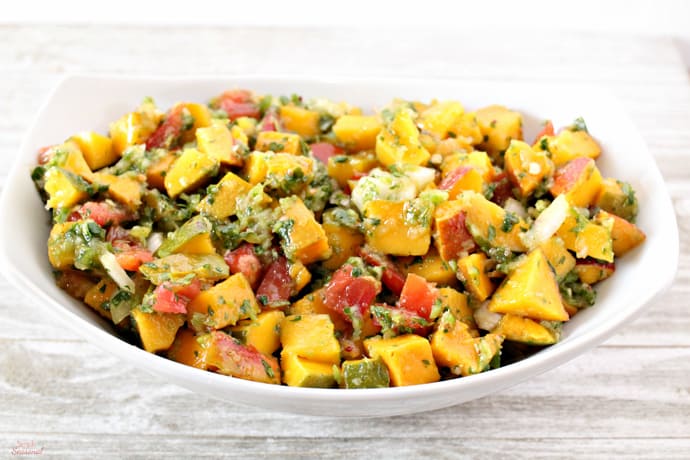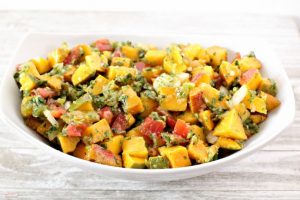 Another mango tomato salsa!
Both of the mango tomato salsa recipes in this post look amazing. Try them to both to see which one is your favorite:)
You can find the recipe at Simple and Seasonal.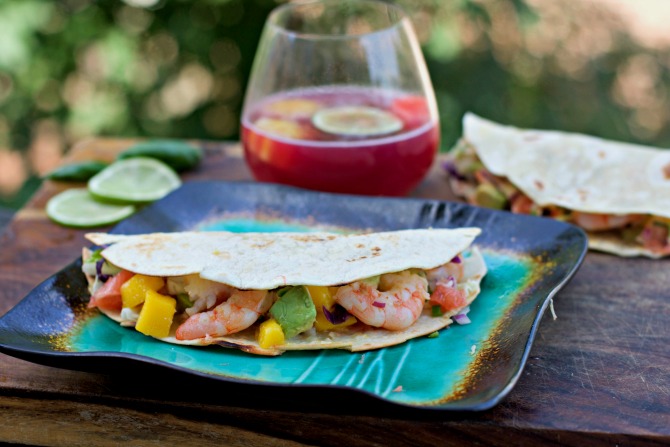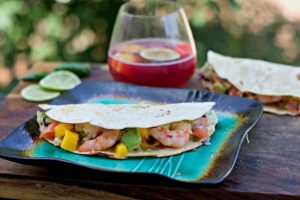 Shrimp tacos pair beautifully with mango salsa! Another great recipe for a healthy family dinner:)
What makes this mango salsa unique is that it contains grapefruit!
Find the recipe to make these delicious tacos at Spinach Tiger.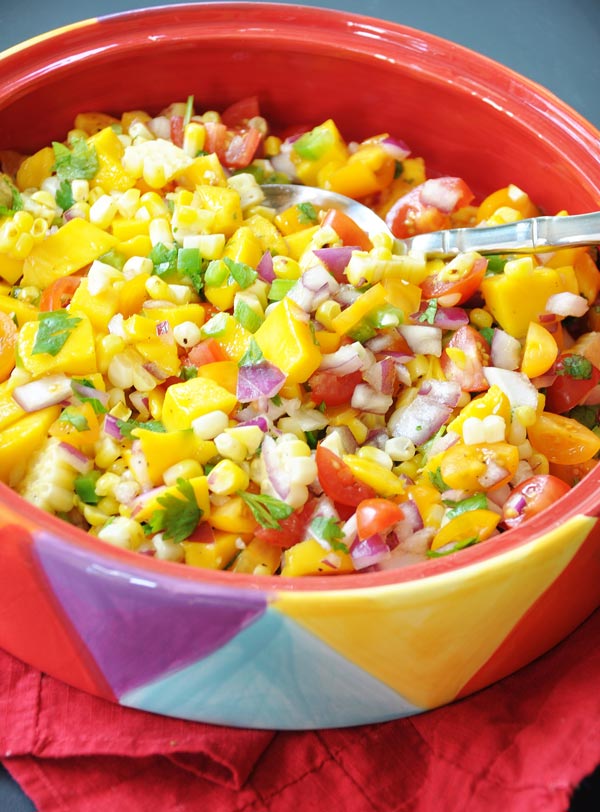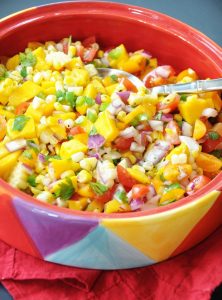 Corn salsas are delicious! Combine it with mango for an intensely tropical flare!
This bright colored salsa recipe can be found at Veganosity.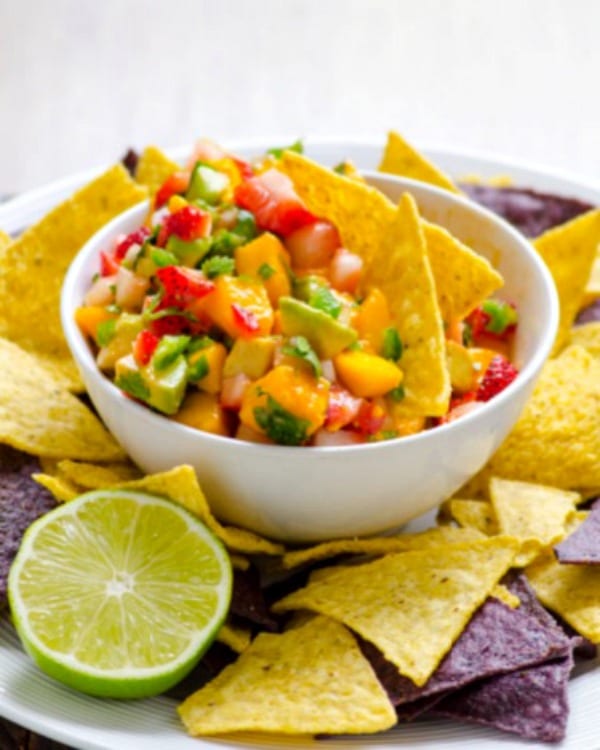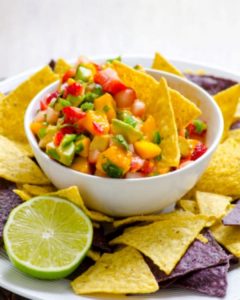 Another strawberry mango salsa that you must try!
This salsa brings a little heat along with the sweet through the addition of jalapeños.
Find the recipe at Gluten Free Easily.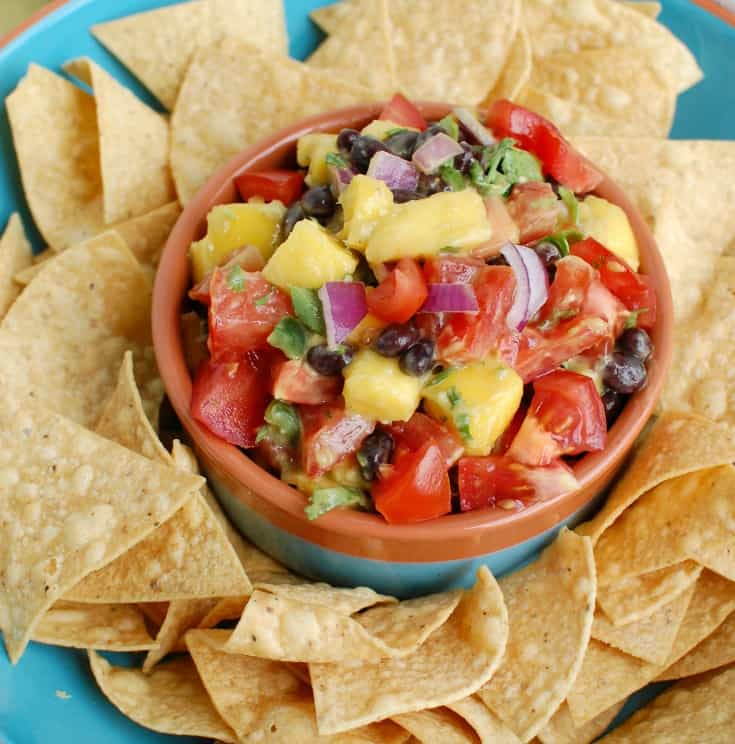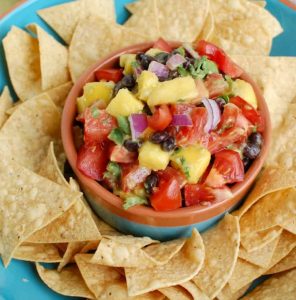 I love black beans! This mango black bean salsa is a great way to use up your extra mangos.
You can find the recipe to make this hearty mango salsa at A Cedar Spoon.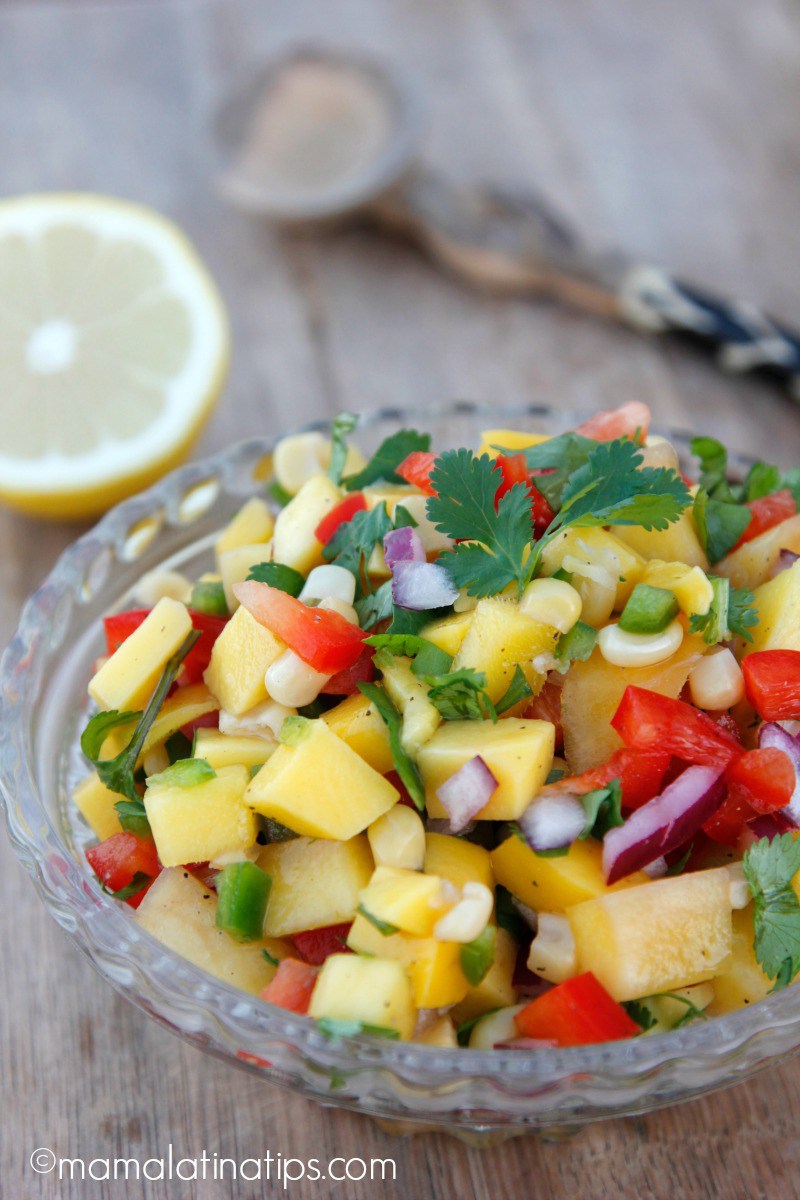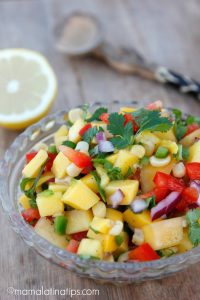 Another mango corn salsa that you need to try this summer!
Such a beautiful, vibrant salsa! A definite crowd pleaser.
Find the recipe at Mama Latina Tips.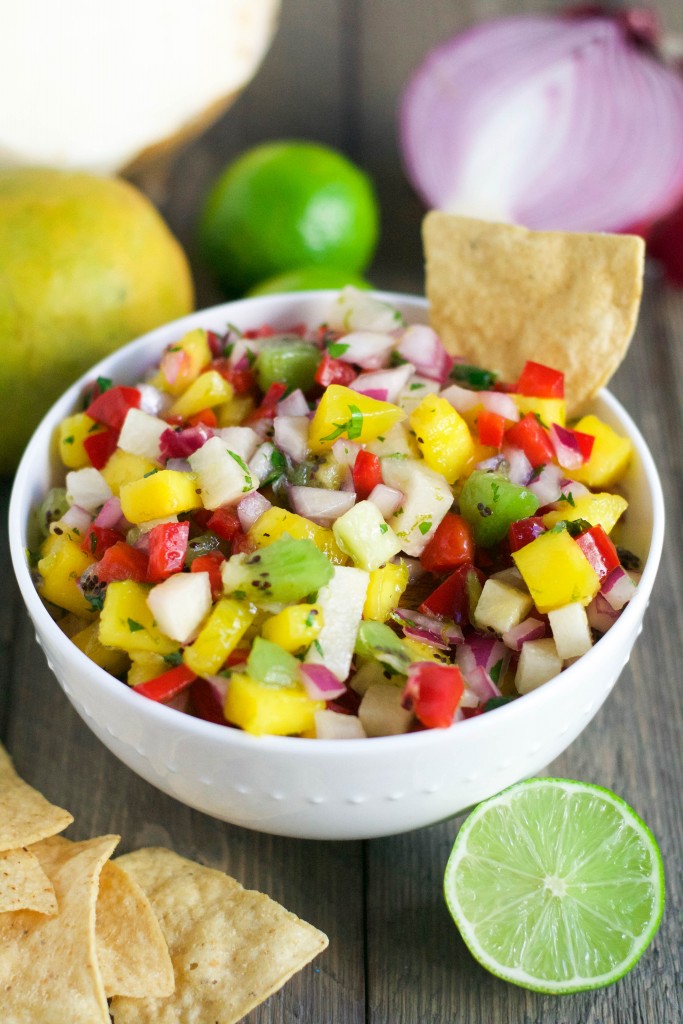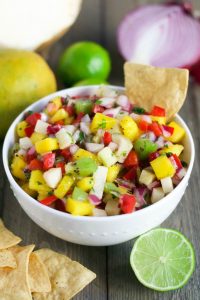 This mango salsa is definitely unique!
Jicama and kiwi are added to this tropical salsa.
A Dash of Megnut shares exactly how to make this salsa.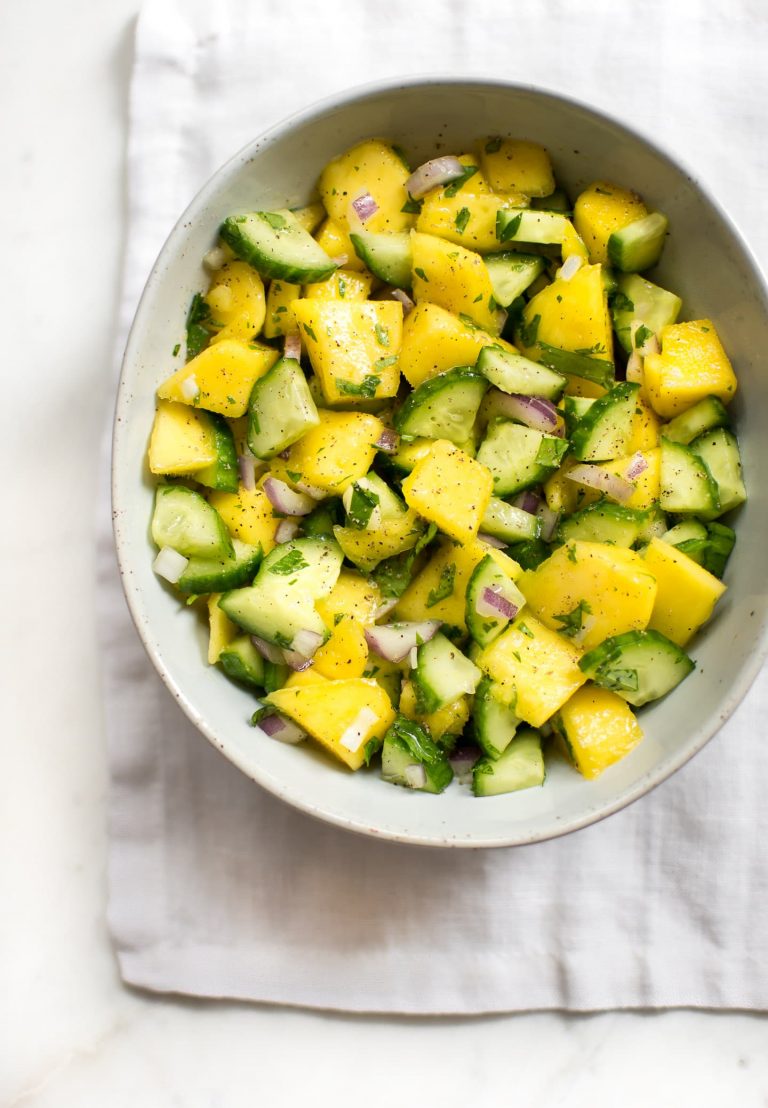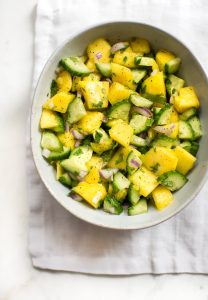 This dish is a great side for any dinner. Mango and cucumber are such a great flavor combo!
Find the recipe for this cool, crisp, refreshing salsa at Salt and lavender.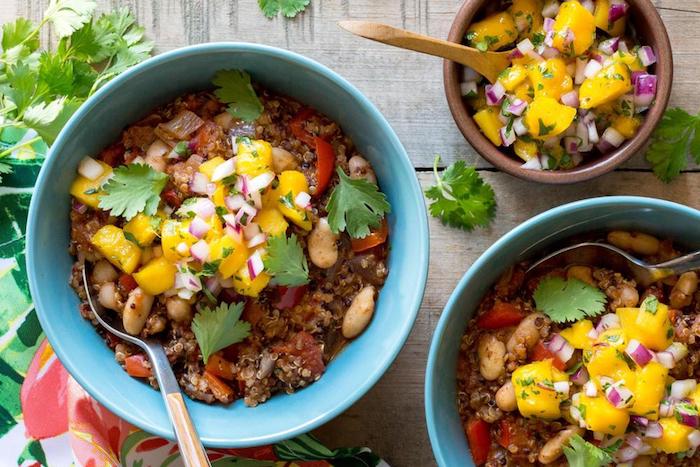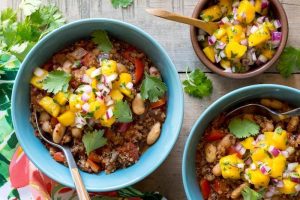 This Mango salsa recipe is used as a topping for a delicious quinoa dish. Make the entire recipe or make the mango salsa by itself!
Either way it is sure to be a tasty treat:)
Find the recipe for this salsa at The Organic Kitchen.
And that is 19 mango salsa recipes that you must try!
Do you like salsa? Have you ever tried mango salsa before?
Leave me a comment below and let me know which recipe (or recipes:) you choose to make!