Do you have baby goats? Is their mother unable to nurse or do you want to ensure that your babies are as comfortable with people as possible? Then bottle feeding goats is something that you need to learn how to do!
This site contains affiliate links. If you make a purchase using one of these links, I may earn a commission. Please click here for more information about cookies collected and our privacy policy.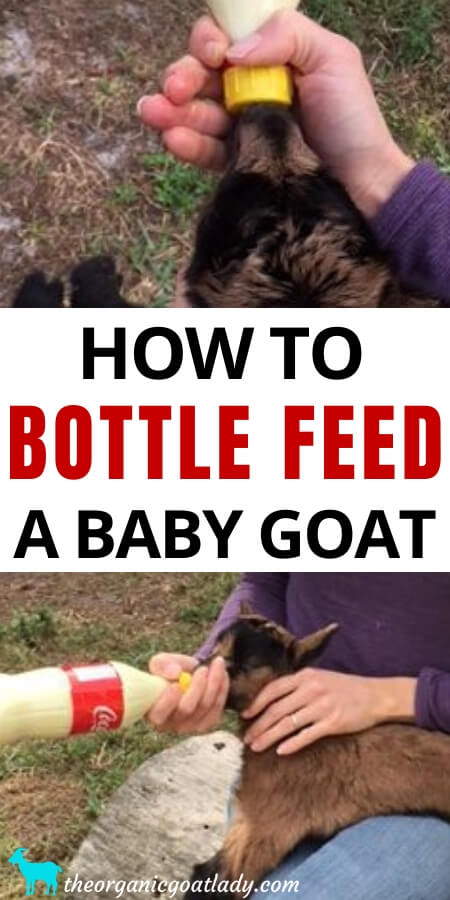 Bottle Feeding Goats
Don't you just love baby goats?! They are so cute and cuddly!!
Here I have included for you a video showing you exactly how to bottle feed a baby goat as well as written instructions and pictures to ensure that you know everything that you need to know!
How to Bottle Feed a Baby Goat
Before you begin feeding your baby goat you need to have milk!
This means you need to milk the mother.
To find out more details on milking a goat read How to Care For Your Newborn Goat. This article will also tell you which bottles and nipples you need to get to ensure bottle feeding success.
It also includes lots of other important tips and information on what to do within the first days of a baby goat's life.
And if you are having trouble getting your doe to get on the milk stand, then be sure to read How to Train a Goat to a Milk Stand.
Bottle Feeding Baby Goats
Once you have the milk in the bottle it's time to feed that adorable little baby!
To feed the baby sit him or her on your lap.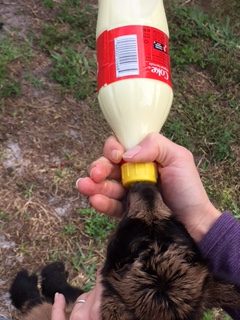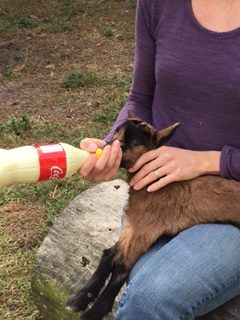 Hold the neck of the bottle in between your thumb and forefinger with the nipple in your palm. Using the palm of the same hand cup the baby's chin.
Cup your other hand on the back of the baby's head.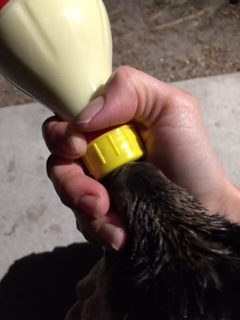 Using your fingers of the hand holding the bottle, push the nipple into the babies mouth from the side.
Look at the above pictures to see how I feed my babies. You can also watch the video included in this article to see exactly how I do it.
Once the baby tastes the milk it should start to suck. If it's not interested wait a few minutes and try again. Don't panic if it won't drink very much at first. Just keep trying and eventually it will get the hang of it!
I've had babies suck down half a bottle right after birth and others that didn't act interested at all.
You do want to get at least a little bit of colostrum into the baby within the first hour or so after birth, so just keep trying within that hour until it at least gets some.
You can leave the baby's bottle out at room temperature for quite a while. If you do end up refrigerating it, be sure to warm it in hot water before feeding it to the baby. You can test it on your wrist just like you would for your own baby:)
How Long to Bottle Feed a Baby Goat
I have also attached this FREE printable that tells how often and how much you should feed your baby goats!
You can find the Goat Bottle-Feeding Schedule here!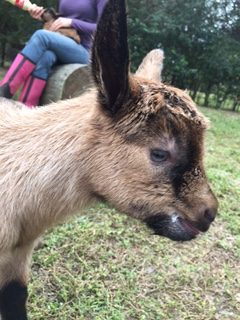 You can find more goat care info within my Goat Care Section.
Also to learn more about pregnancy, kid care, and everything else you need to know to care for your goats, check out the Raising Goats For beginners Course!
This course has step by step lessons, videos and PDFs for everything from goat illnesses, feeding, milking, you name it! It will help you to raise your goats with confidence, as well as provide contact with experts for help and support to ensure your success as a goat owner!
I hope you enjoyed the video! Be sure to comment below and let me know what you think!
Do you bottle-feed your baby goats? If so what technique do you use? Do you have any additional tips to add? Please share with me!
Free Goat Health eCourse!
Get the Free Goat Health eCourse! Learn about common illnesses that plague goats and the best ways to avoid them!