This site contains affiliate links. If you make a purchase using one of these links, I may earn a commission. Please click here for more information about cookies collected and our privacy policy.

*This Post Contains Affiliate Links
How To Make Your Own Antibacterial Kids Hand Sanitizer Spray!
Today I'm going to share with you one of my best-selling recipes! At Healing Blends For Life it's know as 'Clean Kids Hand Sanitizer'. It's an amazing all natural hand sanitizer Spray that contains essential oils! And not only can you use it on hands but you can use it to disinfect surfaces as well!
 I know that the post title says 'kids hand sanitizer', but don't let the name fool you! There are lots of adults that buy it for themselves. Probably because it smells AMAZING and leaves hands fresh, nourished and germ free!
How many times a day do you tell your child not to touch something? 'Don't pick that up!' 'You don't know where that's been!' 'That has germs!' In my experience as a mother of four, somebody is always picking something up from the ground that they shouldn't!
And while baby wipes come in handy for wiping hands, they just don't quite cut it! Baby wipes don't kill germs
Watch this video to see how easy it is to make your own Antibacterial Kids Hand Sanitizer!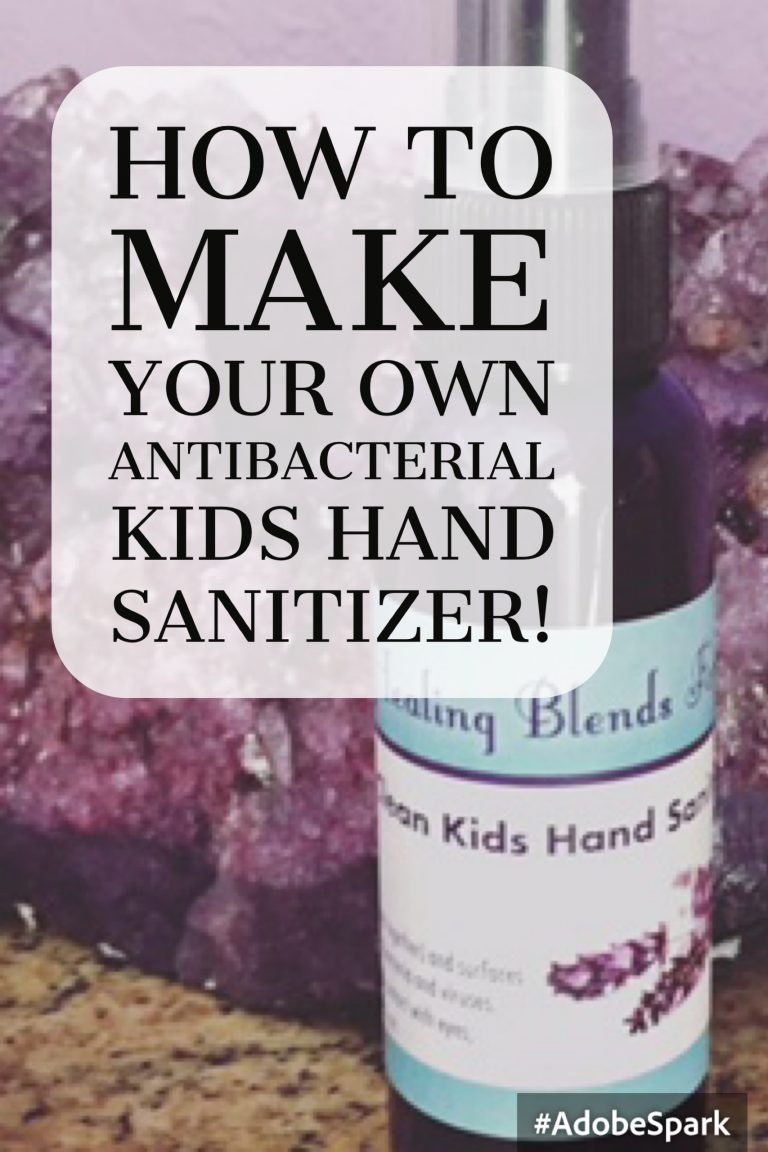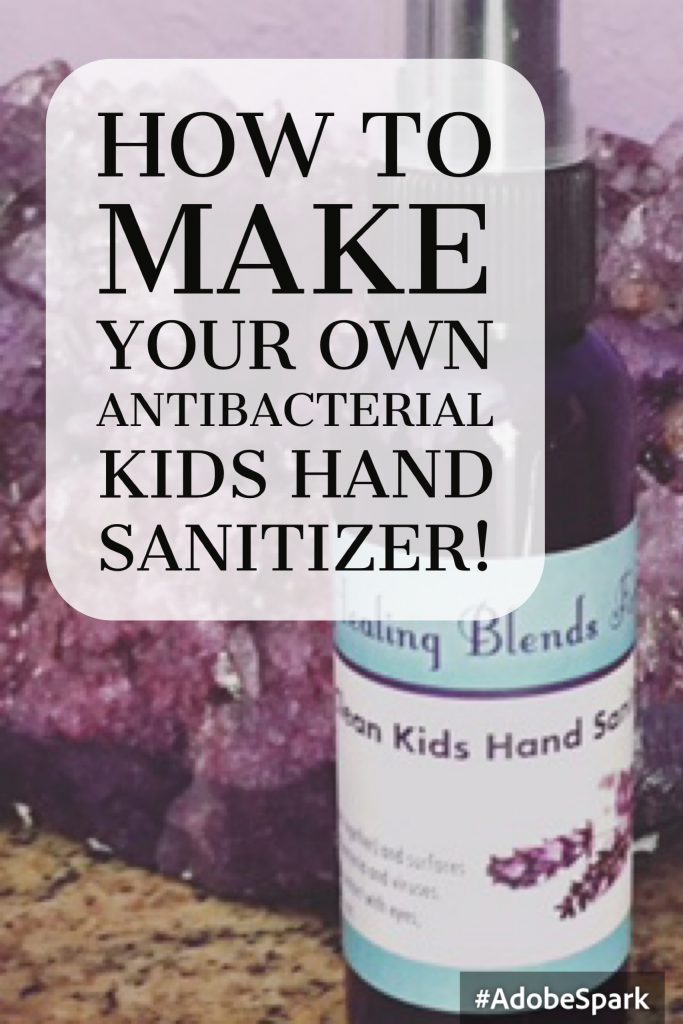 Now you might be asking: why should I make my own hand sanitizer when I can just buy a bottle at the dollar store?!
The first reason that you want to avoid store bought antibacterial anything, is that it destroys the protective barrier on the skin, also know as the stratum corneum. This barrier is important in that it helps the body to prevent foreign invaders (including bacteria!) from entering the body. So, the very product that you buy to kill the germs is opening up your body to recieve germs!

The second reason to avoid commercial hand sanitizers is that they contain parabens! I don't know about you, but I don't feed my kids a healthy organic diet so that they can rub chemicals on their bodies! Parabens cause all kinds of problems in the body. They are linked to cancer, endocrine disruption and they even mimic estrogen! Not something that I want to put on my growing child's skin!

The Third Reason to stay away from store bought hand sanitizers is that they contain a very high percentage of alcohols. These alcohols are absorbed by the body and enter the blood stream. This is damaging to the body, especially a childs.

Also, we all know how quickly a small child can drink things that they shouldn't! All you have to do is turn around for a second and they are getting into something that they shouldn't be! Trust me, I know! Once, I turned around to find my youngest drinking bubbles!? I'm guessing that bubbles do not qualify as an organic food!

Due to the high concentration of alcohol in store bought hand sanitizers it only takes a few squirts and your child could be displaying symptoms of drunkenness. If they consume too much, alcohol poisoning is a real risk. Symptoms of alcohol poisoning include confusion, inability to wake up, vomiting, seizures, and slow or irregular breathing, according to the National Institute of Alcohol Abuse and Alcoholism.

The fourth reason we should all be avoiding store bought hand sanitizers, is that while they do kill bacteria, it might not be the kind that you want to kill! Commercial hand sanitizers kill good bacteria, allowing bad bacteria to flourish and become resistant. If the good bacteria are gone, there is nothing left to fight the bad bacteria that come along!

Pretty scary stuff, huh?!

This is just a few of the main reasons that store bought hand sanitizers should be avoided.
Next I'm going to break down the ingredients in my handmade hand sanitizer so that we can see how they not only kill the germs safely, but nourish your whole body as well!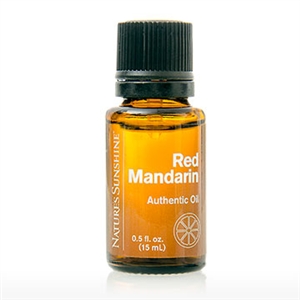 The first ingredient in this recipe is Red Mandarin essential oil. Red Mandarin has a sweet, fruity, uplifting scent. It is a very safe essential oil for children and it is safe to use during pregnancy as well.

Red Mandarin contains the highest amount of vitamin C and is an excellent immune system booster. It is antiseptic, antibacterial, antispasmodic, digestive and sedative.

Red Mandarin is also very replenishing, making it great for those that are always on the go. It is an excellent essential oil to use for adrenal exhaustion, fatigue, stress, tension, moodiness, anxiety and nervous tension. Maybe this is why I love this hand sanitizer as much as my kids! ?

As you can see this essential oil not only kills bacteria and strengthens the immune system, but nourishes the whole body! And it doesn't stop there! Red Mandarin is also nourishing to the mind, helping to ease our stress and soothe emotional upset. I bet that you didn't think that you could get that from a hand sanitizer?!

Ingredient number two in our recipe is: Lavender essential oil. I'm sure you are probably familiar with this oil's relaxing benefits, but did you know that Lavender is also antibacterial, antifungal and antiviral? Or that it is analgesic, antidepressant, antiseptic, anti-inflammatory, astringent, sedative and an antispasmodic?

I love to use it for burns, wound healing, acne, eczema, insect bites, headaches, toothaches and nausea.

Lavender really is an excellent all-purpose Oil!

In addition to its physical healing properties it is also very useful for anxiety, irritability, fussy babies, anger, compulsion, OCD and road rage!

This hand sanitizer is like a hundred products all in one! This is why I am obsessed with essential oils! Is there anything that they can't do?!

And finally our third, and last, ingredient in our hand sanitizer is: (drum roll please….)

The plant enzymes that I use are derived from vegetables and fruits and are hypoallergenic. They have so many uses! Plant enzymes are a must for every household!

Plant enzymes hydrate the skin and activate the bodies own healing mechanisms. They help to relieve digestive and intestinal discomfort.

Plant Enzymes also destroy protein structures, which allows them to assist in breaking down bacteria.

And, something else that they are excellent at, is eliminating stains and odors! Yes you heard me right! These enzymes break down the molecular structure of stains and odors without harming fabrics. You can spray it into the air or directly onto stains and odor-causing sources such as shoes, clothing, bed linens, upholstery, carpet, auto interiors, etc.

Is that not music to every mom's ears!When was the last time your hand sanitizer did that?!

If you would like to see where I purchase my plant enzymes you can click here.

Buy it on Amazon-click Image

 

Also, let me share with you the type of bottle that I use, just in case you are wondering what you should put your hand sanitizer spray in. A glass bottle is always best to use. But when making products that kids will be using, I tend to shy away from glass to avoid broken bottles. When I do use plastic I use a PET plastic bottle. These are the safest plastic bottles to use as they are not known to leach any chemicals that can cause cancer and disrupt hormones. You can purchase them here. Or if you decide that you want to use glass you can find them here.

Well, there you have it! This hand sanitizer is simple, effective and smells super yummy! Are you not totally convinced that you should make this hand sanitizer for your family?! Trust me, you will love it!

What are some of your go to essential oils for eliminating bacteria? Do you have a favorite? I would love to hear from you! And don't forget to let me know how you and your family like the hand sanitizer!

Would you like to find out how you can purchase the best quality essential oils at wholesale prices?! Click here!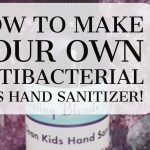 How To Make Your Own Kids Antibacterial Hand Sanitizer Spray!
Ingredients
7

Drops

Red Mandarin Essential Oil

Link in Notes

5

Drops

Lavender Essential Oil

Link in Notes

2

Oz.

Plant Enzymes

Link in Notes
Instructions
Add Red Mandarin and Lavender essential oils to 2oz. Glass or PET spray bottle. Next add your plant Enzymes, screw on the lid and give it a good shake! Add a label to your bottle and you are ready to go! Don't forget to shake well before each use.