Peppermint Cafe Con Leche is a delicious holiday twist on a favorite hot beverage! If you are looking for a healthier, yet incredibly tasty, coffee drink to make yourself then you have got to try this! Plus it includes the added benefit of essential oils!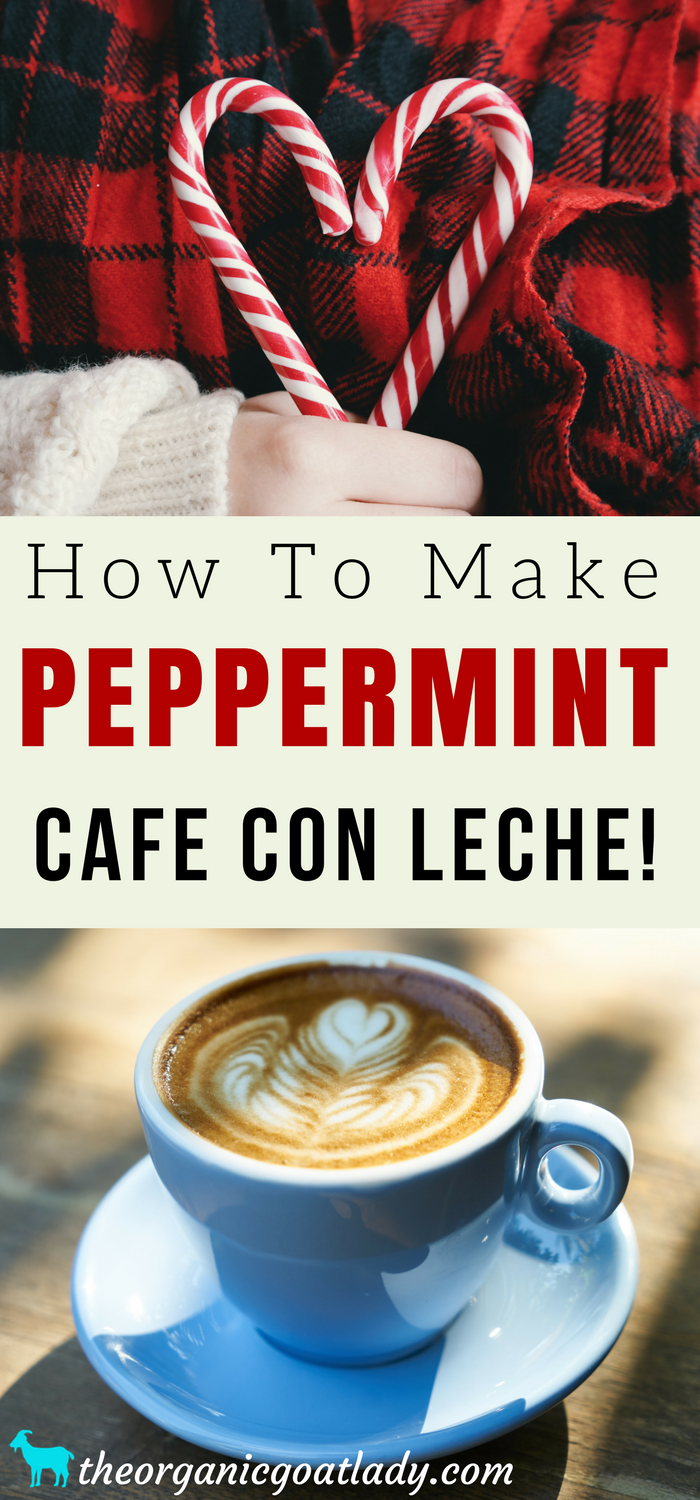 This site contains affiliate links. If you make a purchase using one of these links, I may earn a commission. Please click here for more information about cookies collected and our privacy policy.
How To Make Peppermint Cafe Con Leche!
I used to be a hot tea person. And while I do still love my green tea, I have become a big Cafe Con Leche fan lately!
My friend Claudia, who is from Mexico, taught me how to make amazing Cafe Con Leche!
I make it with goat milk from my own dairy goats:)
It is amazing!
Recently I have been branching out and experimenting with flavorings for my Original Cafe Con Leche recipe!
The first successful flavor was my Pumpkin Spice Cafe Con Leche! Definitely try that out, its awesome:)
And then I thought, why stop with fall, what about Christmas?!
Christmas definitely needs its own flavor!
And that's how Peppermint Cafe Con Leche was born!
Cafe Con Leche- Coffee With Milk

What makes this Peppermint Cafe Con Leche special?
Two things make my Cafe Con Leche unique.
1. I make mine with raw goat milk! Mmmh mmmh good!
2. I use peppermint essential oil to achieve my wintery candy cane flavor!
Cooking With Essential Oils
That's right! I use peppermint essential oil in my coffee!
Now, essential oils don't usually mix well in beverages because they are not water soluble.
However, they mix great in fats, which is why you add essential oils to carrier oils.
That is why they mix so well in this!
They evenly distribute throughout your entire cup of coffee because of the goat milk!
Milk contains fat, so the essential oils are able to mix into the milk, thus incorporating easily into the coffee!
So you not only have a delicious holiday beverage, but you have the added benefits of the peppermint essential oil as well!
The peppermint is an excellent addition when you are trying to stay awake!
As a blogger, cafe con leche is sometimes the only thing that keeps me going at night as I blog. And adding peppermint essential oil to my cafe con leche helps keep me even more alert!
So, it tastes good, is good for you, and gives you an added energy boost without additional caffeine! Win, Win, Win!

How to make Cafe Con Leche with peppermint
To make Peppermint Cafe Con Leche I start by making my Original Cafe Con Leche recipe.
Next, when I am adding the warmed milk to my cup, I drip two drops of peppermint essential oil onto my spoon and stir it into the milk.
Then I just follow the rest of the original recipe!
Now this is according to taste.
I would start with adding one drop of peppermint and then taste it to decide if you need more.
And that's all there is to it!
Isn't that easy?
Now, I just need to bake some yummy Christmas goodies to go with it;)
Also, I do want to say, please be sure that peppermint essential oil is safe for you before consuming!
Do NOT use peppermint if you are pregnant, or if you have extremely high blood sugar!
If you are interested in buying high quality essential oils at discounted prices, or if you are curious about the brand that I feel most confident in, you can learn more here on my Essential Oil Page.
Disclaimer: The information provided on this site is for educational purposes only. I do not prescribe, diagnose or treat any medical conditions. Please consult your health care provider before implementing any of the information provided on this site.
The information provided on this site is completely my own opinion and does not reflect the opinions or beliefs of any other entity.
Any statements or claims regarding health benefits of foods, supplements or essential oils listed on this site have not been evaluated by the Food and Drug Administration and are not intended to treat, cure or prevent any disease.