Are you looking for the ultimate peanut butter and chocolate snack?!
Are you in love with buckeyes but hate the thought of consuming all of those unhealthy ingredients?!
Then you are going to love these healthier peanut butter buckeyes!
And for those of you who hate the chore of mixing peanut butter buckeyes, I have a treat for you as well!

*This Is A Sponsored Post*
Healthier Peanut Butter Buckeyes!
I am in love with peanut butter! Ever since I was a kid I have had a thing for that creamy, nutty goodness! Don't get me wrong, I love all nut butters, but peanut butter has always been my weakness!
And the older I get, the more in love I am with chocolate! So what could be better than the two of them together?!
Buckeyes are one of those treats that I love, but the healthy part of me cringes every time I eat one.
What makes these buckeyes healthier?
Traditional buckeyes are basically balls of unhealthy peanut butter containing high fructose corn syrup, and powdered cane sugar! Not a healthy snack!
So, I decided that it was time to fix this problem. I have determined that the world needs a healthier buckeye alternative! One that I will not mind my children eating. And one that I will not feel guilty about devouring after they go to bed;)
So let me introduce to you (drumroll please!)… the new and improved peanut butter buckeye!
They. Are. Amazing!
This site contains affiliate links. If you make a purchase using one of these links, I may earn a commission. Please click here for more information about cookies collected and our privacy policy.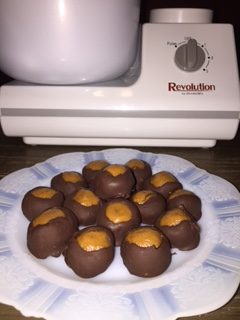 My healthier peanut butter buckeyes are made with natural organic peanut butter (yes the natural runny kind!) and sweetened with maple sugar!
I'm excited to share with you how to make these addictive little balls of peanut butter, chocolatey goodness!
The problem with making buckeyes and how to solve it!
Now, before we start measuring out ingredients, let's talk about the problem that exists when making peanut butter buckeyes.
The problem of mixing, and mixing, and mixing peanut butter until your arms are sore!
As much as I love buckeyes, I hate making them!
It is such a chore to mix the peanut butter in with the rest of the ingredients.
Especially when you are making a large batch! During the holiday season I make lots of these to share with friends and family. That means a LOT of mixing thick sticky peanut butter!
Now, I have used a stand mixer in the past, but I didn't really like it. It is so HEAVY! It's impossible to move easily and because my counter space is limited I actually dread dragging it out of my pantry.
But, I have discovered the ultimate tool to use when making buckeyes! Actually it will be my go to tool for all of my future baking projects!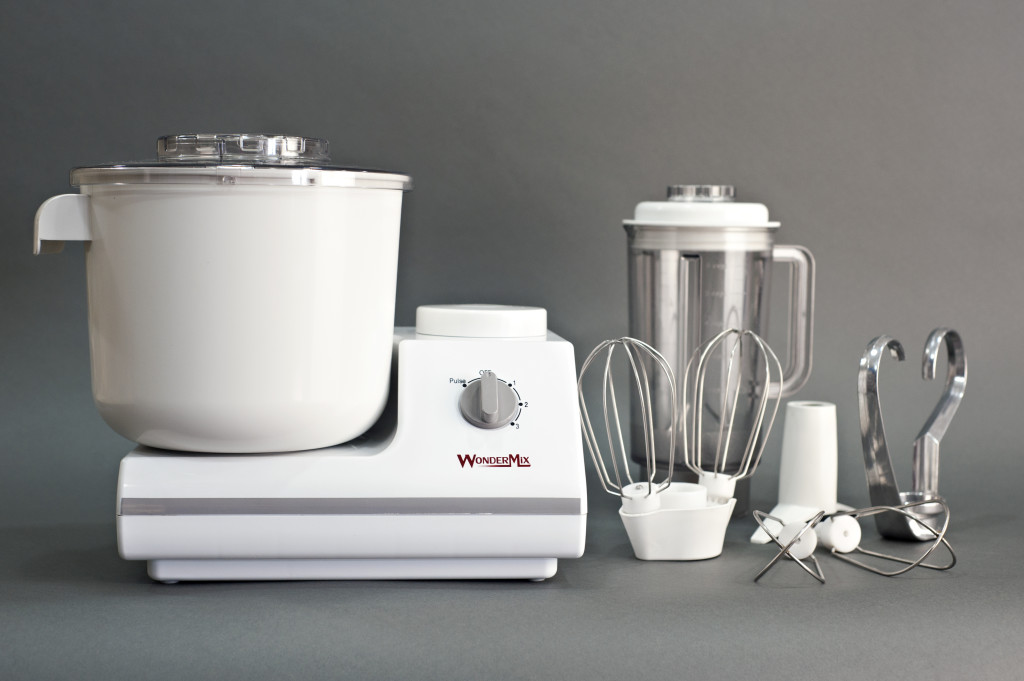 My friends over at WonderMill were kind enough to give me a WonderMix Mixer to use in creating this recipe for you! And let me just say for the record, I AM IN LOVE!
It has a 22 cup mixing bowl and is BPA free!
It is my new favorite kitchen tool! Well, actually it's one of my favorite kitchen tools:) I am also in love with my grain grinder;) Which you can read more about in my post How To Easily Grind Your Own Flours At Home.
And, I will definitely be adding this Mixer to my list of 15 Kitchen Tools That Every Healthy Cook NEEDS! Yes, this is definitely going at the top of the list!
And, unlike stand mixers, it isn't heavy! I can easily move it around, which I love!
The WonderMix also has many functions. Not only does it mix really well, but it also kneads dough and has a separate port to attach the blender that is included!
That's right, it also has a blender! I bet your stand mixer can't do that;)

So, you can actually make your peanut butter buckeyes from scratch with the WonderMix!
How, you might ask? You can use the blender to make your own peanut butter for your buckeyes! Yes, the blender is that good! It's as simple as throwing peanuts into the blender and blending until smooth!
As I write this I am actually visualizing all of the recipes that I make that require a mixer and a blender.
For example, how easy will it be to make my Pecan Pie Muffins using only this machine?! I can simply pulse my nuts in the blender to chop them, and then add them to the mixing bowl to mix the muffins up before scooping them into my muffin pan!
I'm so excited! If you don't already have a WonderMix, you need one!
Also, as I mentioned above, this buckeye recipe calls for maple sugar. You can use a fine ground maple sugar, or if the maple sugar you have on hand is too course, simply put it in your WonderMix blender and grind it to the consistency of powdered sugar!
Then you can easily dump it into your WonderMix mixing bowl and proceed with your recipe!
I have never made peanut butter buckeyes so quickly before!
Which might be a bad thing! The main reason that I don't make buckeyes on a regular basis is because they are such a pain to mix. But now that I have the WonderMix and can make them in a jiffy, I'll probably be eating way too many of these;)
Some tips for making the perfect buckeyes:
Because these buckeyes are made with natural peanut butter which tends to be more runny, you will need to put your dough into the freezer or fridge for a while before rolling into balls.
I put my dough in a bowl in the freezer for about thirty minutes or more before rolling into balls. Just keep any eye on it to be sure that it doesn't become too hard, this really depends on how cold your freezer is.


Then after you roll your buckeyes into balls, place them on a wax paper covered cookie sheet, and put them back into the freezer for another 10-30 minutes.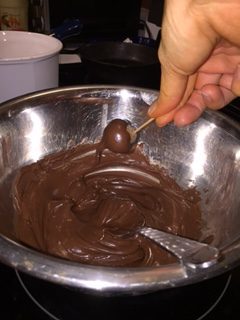 Also, I use a toothpick to dip them into the melted chocolate. Then after dipping them I use the toothpick to smooth out the hole that the toothpick leaves in the buckeyes.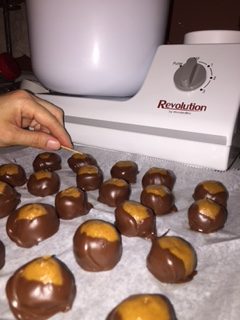 After dipping them in chocolate I put them back in the fridge or freezer to harden the chocolate before transferring them to a container to store in the refrigerator.
Storing them in the refrigerator will ensure that they stay firm and will keep them fresh, as natural peanut butter needs to be refrigerated to keep from going rancid.
Do you make peanut butter buckeyes? Are you as excited as I am about the healthier alternative?! I can't wait for you to try them, I know that you will love them!
Also, if you love these buckeyes, then be sure to try my Pumpkin Spice Peanut Butter Buckeyes for a yummy fall treat!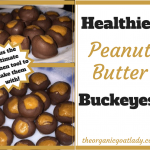 Healthier Peanut Butter Buckeyes!
My healthier peanut butter buckeyes are made with natural organic peanut butter (yes the natural runny kind!) and sweetened with maple sugar!
Ingredients
1

Cup

Natural Peanut Butter

1/4

Cup

Grass-fed Butter

Softened

1 1/3

Cup

Fine Maple Sugar

1/4

tsp

Vanilla

1 1/2

Cup

Organic Chocolate Chips
Instructions
Combine peanut butter and butter in your WonderMix Mixer until smooth.

Add remaining ingredients and mix until everything is smooth and completely combined.

Refrigerate or freeze dough until chilled. Approximately 30 minutes.

Using a tablespoon, scoop dough and roll into balls

Put balls on wax paper covered cookie sheet and put back in the fridge or freezer for 10-30 minutes.

Meanwhile melt chocolate chips using a double boiler.

Using a toothpick, dip balls into chocolate leaving the top of the peanut butter exposed. Place back on cookie sheet.

Using the toothpick, smooth out the hole made by the toothpick.

Return to the fridge or freezer until the chocolate hardens. Then place in a covered dish and keep refrigerated.