Are you looking for Instant Pot canning recipes? Take your food preservation to the next level and use the Instant Pot! These seven recipes are all delicious recipes that are easy to make!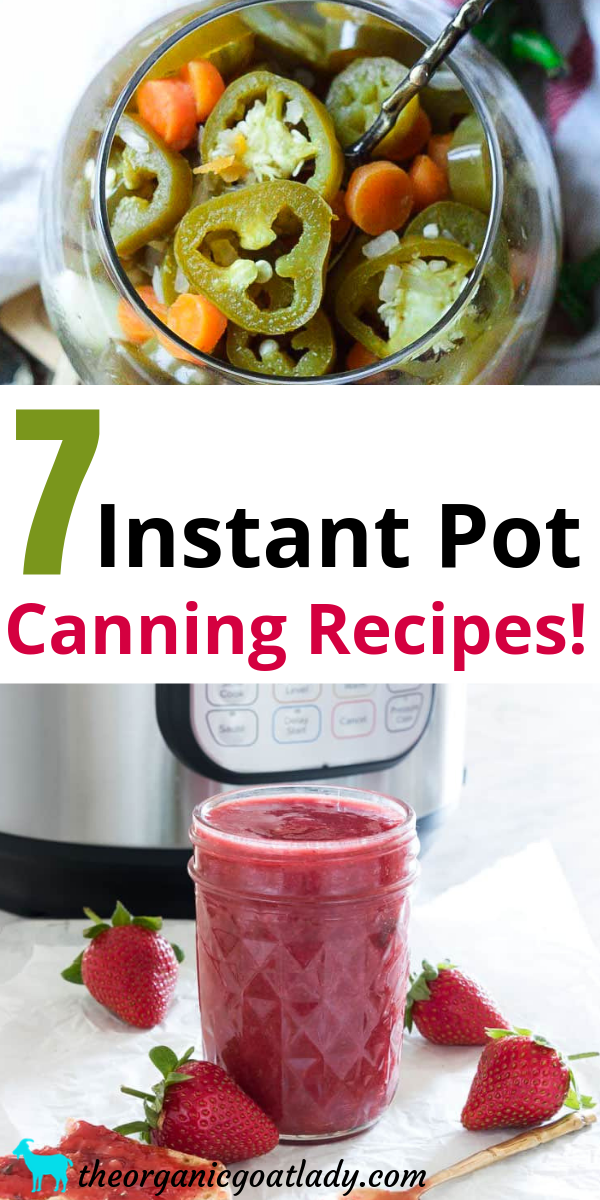 This site contains affiliate links. If you make a purchase using one of these links, I may earn a commission. Please click here for more information about cookies collected and our privacy policy.
Instant Pot Canning
Do you have an Instant Pot? Or are you planning on getting an Instant Pot? I got one for Christmas and I absolutely LOVE it!
It is so great for those days when I'm in a hurry or for those days when I forget to lay the chicken out and it's still a frozen block in the freezer!
I also love how quickly I can make bone broth in the Instant Pot! We are able to consume so much more bone broth, which means better health, because I'm able to make it so quickly. For the first time ever I actually have had a freezer full of ready made bone broth thanks to the ease that my Instant Pot offers. It is awesome!
7 Instant Pot Canning Recipes
The Instant Pot is a great tool to use when preserving food! Check out and try each of these seven Instant Pot recipes and put your Instant Pot to good use!
Canning in Instant Pot
And those are 7 Instant Pot canning recipes!
If you would like to find more recipes for preserving food then be sure to check out 47 Food Dehydrator Recipes, 140 Home Canning Recipes, 75 Fermented Foods Recipes, 11 Ways to Preserve Tomatoes, 15 Must Try Jam Recipes, 21 Pickled Foods Recipes, and 13 Foods You Can Freeze!
For freezer inventory sheets, canning & dehydrating cheat sheets, other preservation method temperatures and cook times for fruits and vegetables, as well as canning instructions, and awesome charts to help keep your preserved foods organized, you NEED to use the Food Preservation Planner!
Do you get overwhelmed at harvest? Do you find yourself having to research and look up dehydrating temperatures, canning times and info every fall to preserve foods?
The Food Preservation Planner contains cheat sheets, inventory lists, meal planning, additional recipes, and more! You definitely need this for your sanity!
Preserving Food