Essential oils are so good for the skin! This hydrating essential oil facial toner is not only cleansing but nourishing. A great choice for your face!
This site contains affiliate links. If you make a purchase using one of these links, I may earn a commission. Please click here for more information about cookies collected and our privacy policy.
✅
In a Hurry? Get Started Creating Your Own Essential Oil Beauty & Body Care Products NOW!
Pick up a copy of the Essential Oil Recipes for Beauty & Body Care Binder to help you create nourishing, hydrating recipes for a fraction of the cost of store bought. Erase wrinkles and stretch marks, say goodbye to rough skin, and become a healthier more vibrant you! Everything you need to know about creating essential oil body care products in an easy to read format so that you can start nourishing your skin sooner!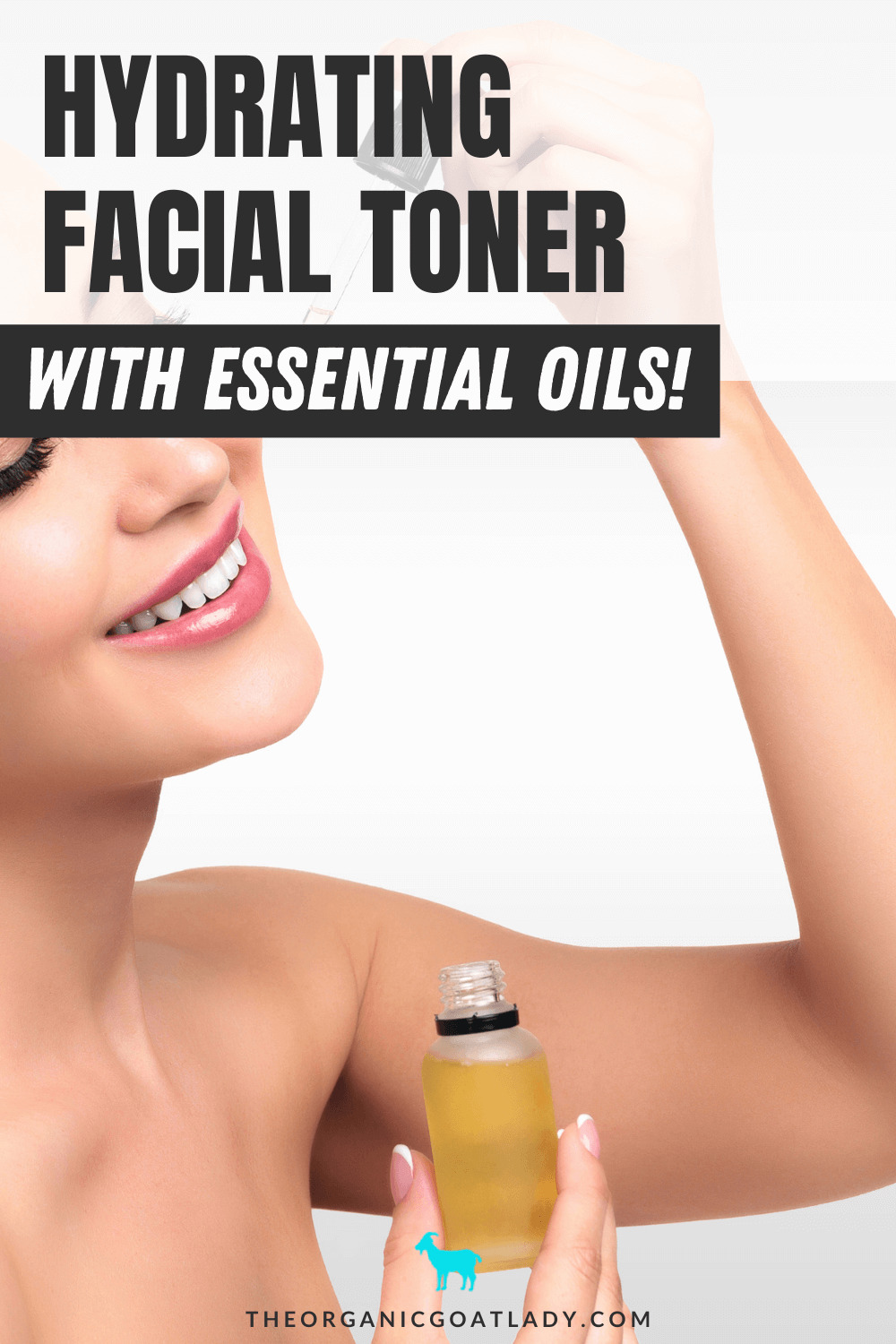 Essential Oil Facial Toner Spray
I love to use essential oils for my skin.
I mean, as an Aromatherapist I pretty much use them for everything;). But I especially love the fresh clean feel they give my skin.
I love knowing that not only is my skin being nourished, but my entire body is being nourished as well when I apply essential oils to my face. Essential oils absorb through the skin and enter the blood stream. Thus traveling throughout the entire body and helping you in many different areas!
Isn't that awesome?!
What face care product do you know of that can do that?!
DIY Makeup Remover with Essential Oils
I also find that this facial toner works as a great makeup remover!
Simply spray a cotton round several times with it and use it to wipe makeup from your face!
It works great and is a much better alternative to harsh chemicals.
DIY Facial Toner With Essential Oils
Each of the oils that are included in this blend are also good for so many different things!
Lavender for example, is a very calming relaxing oil. So while you are applying the toner to your face before bed you are also helping your body to relax and to prepare for a good nights sleep!
Roman Chamomile is also known as a great sleep aid as well as a great oil for calming negative emotions.
Palmarosa has a floral like, sweet, yet earthy scent. I love the smell of palmarosa! It's such an emotionally balancing oil. When I use palmarosa I feel so happy and relaxed! It truly is an amazing oil, not only for the skin but for the emotionally grounding feeling that it provides!
And the final oil in this recipe, helichrysum, is also very beneficial! I especially love helichrysum for it's ability to reduce scarring. This makes it a great oil to use on the face!
Now, if you would love to use this recipe, but don't want to have to order all of the ingredients and make it yourself, I would be happy to make it for you:)
You can order a ready made bottle of the Hydrating Facial Toner here.
I hope you enjoy this recipe as much as I do!
And I always enjoy hearing the positive results that you experience after using any of my recipes or products! So please, either come back and leave me a comment or send me a quick email! I'd love to hear from you:)
Essential Oil Recipe for Facial Toner
This makes a 2oz. bottle.
Instructions: In a 2oz. glass or PET spray bottle, combine EO's, silver and enzymes. Shake well before use.
Directions for application: Apply 2 times daily to face, neck and chest to hydrate and nourish the skin. This blend helps to encourage cell turnover repair and rejuvenation!
And don't forget, if you would like to find more essential oil beauty and body care products, then be sure to check out my recipe book: 50+ Essential Oil Beauty and Body Care Products!