Can you mix essential oils with lotion? Lotion is so hydrating to the skin, and so are essential oils! Can they be combined?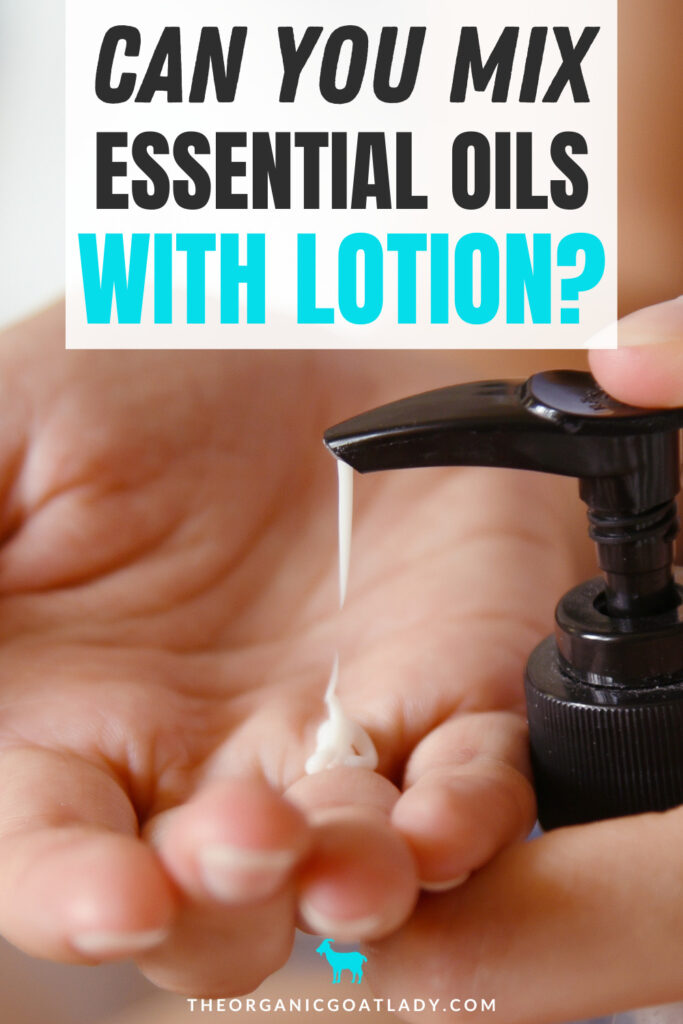 This site contains affiliate links. If you make a purchase using one of these links, I may earn a commission. Please click here for more information about cookies collected and our privacy policy.
Can you mix essential oils with lotion?
Pure essential oils are excellent options to add to your skincare routine!
There are essential oils that are great for sensitive skin, oily skin, dry skin, mature skin, acne prone skin, etc.
I personally use essential oils on a daily basis in my skincare products.
Some of my favorites are my Essential Oil Toner recipe, my Skin tightening Facial Scrub, my Moisturizing Facial Oil, and my Skin Spot Reducer Blend. You can find each of these recipes, plus many more, in the Beauty & Body Care Essential Oil Binder.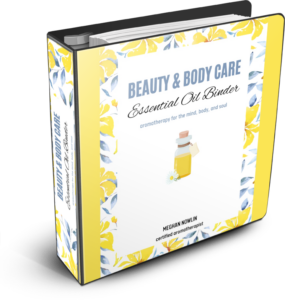 ​The binder is FULL of just about any essential oil skin and body care recipe you can think of! It contains everything from lotion, facial care, and hair mask, to hand sanitizers, scar and wound salve, and insect repellent!
Definitely a must have if you're looking for natural, safe and effective body care products!
Body Care Products
So, we have established that essential oils are excellent for the skin.
But can we mix them with lotion? Can we combine the hydrating properties of essential oils with the hydrating effect of natural lotion?
The answer is yes! Although it can be challenging to do sometimes and will require some muscle. Also there are some things to consider before adding essential oils to lotion.
Body Lotion
The first thing to consider is the type of lotion you are going to use.
This is actually very important.
You want to use a lotion that is natural and not full of harmful ingredients.
You do not want to add your pure essential oils to a lotion that is full of synthetic fragrances or harmful ingredients. If you do use a poor quality, synthetic lotion base you will be absorbing harmful chemicals and ingredients through your skin!
​It can be hard to find a 100% clean lotion base.
You definitely want to use an unscented lotion.
The cleanest option is actually going to be to make your own essential oil lotion.
But homemade lotion can be very tricky to make. Getting the texture, consistency, and shelf life that you need is hard to do. It's definitely something that you need to play around with to get it just right.
Unless you come across a tried and true recipe, there's a lot of science involved to get it just right to prevent things like mold from growing in your lotion.
When creating my essential oil body lotion I usually use this unscented lotion base.
It is made with botanical emollients such as shea butter, avocado oil and jojoba seed oil and helps hydrates and soften dry skin without a heavy or greasy feeling. Aloe, cucumber extract and chamomile soothe and calm skin. It is a 100% vegetarian formula, is hypo-allergenic, and does not contain any parabens, phthalates or synthetic fragrances. It is also not tested on animals.
I use this lotion when creating essential oil lotion recipes for my clients as well as for my family.
Carrier Oils for Essential Oils
Some other great carrier oil options and ingredients that would be great additions to a lotion, whether you buy it or make it yourself, are:
These are all excellent carriers for skin care!
Each of these ingredients are great for different skin types. Be sure to read The Best Carrier Oils for Essential Oils to find out which carriers are best for which skin types.
There are certain carriers you want to avoid if you have oily skin, for example, and certain oils you definitely want to use if you have dry skin. Experiment with different lotion bases to see which one works best for you and your skin type!
One of the things I love most about the lotion base I use is that it's great for multiple skin types. I love it!
Face Lotion
Since the lotion base that I use is not greasy, it also can be used on the face.
My son loves to use this as a hydrating facial lotion as his skin tends to dry out a lot. This keeps his face from cracking around his lips and nose.
I love it for hands, elbows, knees and feet as well!
​Dilution Rate
How much essential oil should you add to your lotion base?
I recommend for adults using 25 drops of essential oil per 2 oz. of lotion.
If you would like to find more details regarding dilution ratios for different ages and different size bottles, you can find that in the Beauty and Body Care Essential Oil Binder as well. It contains dilution charts to help guide you when creating essential oil products.
Homemade Lotions
Something else you need to focus on when making your own essential oil lotion is the type of bottle to use.
I recommend either using this glass bottle with a pump top, or this PET plastic bottle with a flip top.
These are the safest options for storing your EO lotion. You don't want harmful ingredients leaching into your pure lotion and essential oil blend!
Also, when adding your essential oils to your lotion you need to be aware that it's going to be harder to mix than in other blends.
You can add the lotion and essential oils to a glass bowl and mix them there before transferring them to your container.
Or you can use the method I do.
I add about half the lotion to my bottle, then I add the essential oils, and then I add the other half of the lotion. After all of the ingredients are in the bottle you will screw on the lid and then start shaking!
You're going to need to shake the bottle to incorporate the oils into all of the lotion. Your arm might get tired, and you might need a couple breaks, but you need to shake it well until the oils are thoroughly mixed in.
Best Essential Oils for Lotion
There are many essential oils and essential oil blends that can be added to your lotion base!
Some of my personal favorite essential oils to add to lotion are:
Tea Tree Essential Oil
Lavender Essential Oil
Citrus Essential Oils (Just be sure to read about how to safely use photosensitive oils here before applying citrus oils topically)
Eucalyptus Essential Oil
Peppermint Essential Oil
Roman Chamomile Essential Oil
Frankincense Essential Oil
Patchouli Essential Oil
And so many more! You can find the essential oil brand that I use here at: Healing Blends For Life.
My all time favorite essential oil lotion recipe is the Moisturizing Lotion Recipe that I include in the Beauty and Body Care Essential Oil Binder.
I use the lotion base that I link to above in the recipe and between that and the oils it is a very moisturizing, hydrating lotion blend!
​I have only ever had positive feedback from this recipe!
Benefits of Essential Oils
Essential oils can be added to lotion to soothe a skin irritation, to benefit from a certain essential oil's anti-inflammatory properties, to reduce stress, and many other skin issues.
It is a great way to benefit from topical application of essential oils and a great addition to a unique skin care routine!
​Essential oils and beauty products are such a great combo!
​Enjoy a spa-like experience and pamper your skin with your own essential oil lotion!
​