Are you looking for the most important cast iron products and accessories to include in your kitchen? These 10 cast iron items will change your life!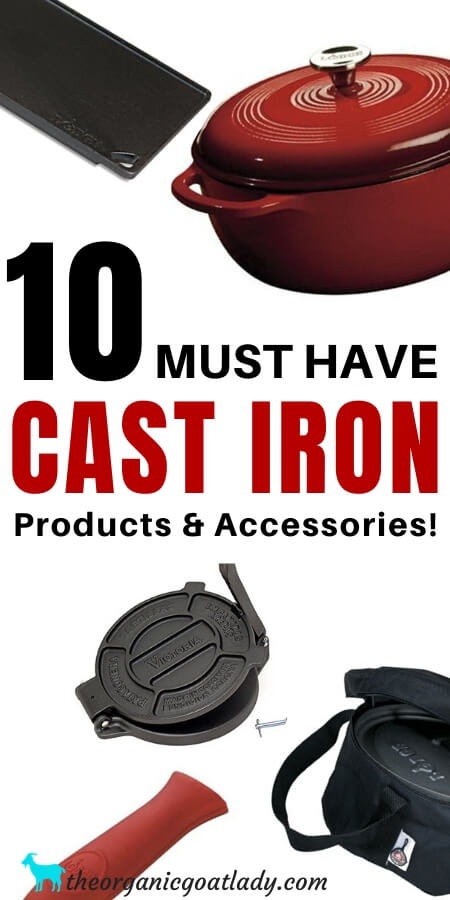 This site contains affiliate links. If you make a purchase using one of these links, I may earn a commission. Please click here for more information about cookies collected and our privacy policy.
Cast Iron Products
As a natural mama I have always been all about feeding my kids healthy organic foods.
But then I realized that I was cooking that amazing organic food in toxic cookware!
I'm sure that most of us have read about the dangers of non-Stick cookware and about the chemicals that they are leaching into our foods!
So, after realizing that I was actually poisoning the people that I am trying to make healthy, I gathered up my toxic pans and got rid of them!
Then I had to decide on what to use instead! I ended up using mostly a combination of stainless steel and cast iron.
Cast Iron Cookware
While I love both, I really love my cast iron!
It is an awesome way to cook your food!
It cooks evenly, it heats quickly, and you can use it on the stove or in the oven.
You can even use it outdoors over a fire, or on the grill. What's not to love about that?!
The only downside that I have found with using cast iron is
A: It's heavy!
B: It's not dishwasher safe:(
But other than that it's the best!
So, being the cast iron obsessed mom that I am, I have compiled a list of 10 Cast Iron Products and Accessories that You NEED To Have in Your Kitchen!
And, because I am really in love with cast iron, I have also compiled a list of 20 More Cast Iron Products and Accessories That You NEED in addition to this list!
I absolutely looove this cast iron griddle!
It covers two burners on your stove, giving you lots of cooking space.
It is also reversible!
One side is flat and smooth and the other side is ribbed.
And, being thin and flat it stores easily in my cabinet.
I have cooked burgers on the ribbed side and they were awesome! It even leaves that nice grill mark that you get from your outdoor grill:)
The flat side is my pancake side! I love it because this griddle is big enough to make multiple pancakes at one time!
It's awesome!
Ok, so I don't actually have this one, but look at it!
It's so cute and nifty! I want one!
It would be perfect for melting butter, heating sauces, melting cheese, etc.
I'm adding it to my wish list on my husband's Amazon account;)
What would you use it for?!
It can be used on the stove, in the oven, on the grill, while camping.
Are you feeling like you need this as much as I am?!
I love my Enameled Cast Iron Dutch Oven!
For some dishes I like my regular cast iron Dutch Oven. But for certain things I prefer the enamel coated.
For example, spaghetti sauce.
I have cooked speghetti sauce in my regular cast iron pots before, but I feel like the acidity of the tomatoes leaches too much iron from the pot.
Maybe I'm totally off on this. But every time that I cook spaghetti sauce in my noncoated cast iron, it gets really dark.
And then, for a few days after our delicious dinner, everyone in my family has darker teeth! I mean really dingy and gray! Kind of gross!
But I guess that our iron levels are probably really good! Lol
So anyways, I now use the enameled cast iron dutch oven instead of the traditional.
Plus, the enamel coated cast iron is really easy to clean! Still not dishwasher safe, but very easy!
Next time that you go to a potluck or a BBQ, there will be no need to transfer your food from your Cast Iron Dutch Oven to an easier to carry dish!
Just use the Dutch Oven Carry Bag!
It comes in four different sizes, 8, 10, 12 and 14 inch. It is heavy duty and padded. Excellent for carrying your cast iron anywhere that you need to!
How cool will you look when you show up to your next BBQ carrying your cast iron dutch oven in your nifty Tote Bag;)
How To Clean Cast Iron
Ok, I know, not as glamorous as the Tote Bag! But trust me, you will think that your scraper is pretty awesome when it comes time to clean your cast iron!
This nifty little scraper makes clean up a breeze!
It gets off pieces of stuck on food and things that a regular cloth can not.
This also leads into our next item:
Slightly more glamorous than the scraper, the brush is what I use after the scraper has loosened the tough, larger pieces.
Between the two of these items I am able to clean my cast iron very quickly and efficiently!
Trust me, they might not be as exciting as the other items on the list, but you are going to be glad that you have them!
Now I know that the cast iron skillet is something that you probably already own if you have any cast iron at all.
But what makes this skillet special is its size!
While I do use my large skillets regularly, I use the 8 inch skillet pretty much every day!
It is great for little things and small servings.
I use it almost every morning to cook my eggs in! I also use it to heat leftovers.
Anyone with kids knows that for breakfast and lunch, everyone is going to want something different to eat! They can never eat the same thing and make it easy on us! Lol
This is where the 8 inch skillet comes in handy for heating small individual meals.
Trust me, no matter how big or small your family is you NEED the 8 inch pan!
We have four kids, and like I said, I use it daily!
Ok, if you don't get anything else listed on this page you have got to get this!
It will save you so much pain, literally!
Somehow I went years without this.
What was I thinking?!
After burning my hand on a cast iron skillet handle so many times, you would think that I would remember "Hey, that's hot, don't touch!".
But when you are in the zone cooking (or when you have kids distracting you;) it happens!
I got this cast iron skillet handle cover for Christmas from my husband (again, Amazon wish list! Make one for your husband, you won't regret it;) and I love it!
No more burnt hands for me!
It is really easy to use.
You just slip it over the handle while cooking and then pull it off when you're done.
And this item IS DISHWASHER SAFE! Woohoo!
Have you ever seen a cast iron pie pan before?
Maybe I'm just totally out of the loop, but this is new to me!
I don't actually have one of these, but I can tell you right now it's going on the wish list!
This pie pan practically screams "This pie was made from scratch with love!"
I can just visualize my triple berry pie at Thanksgiving in this pretty cast iron pie plate!
In fact, I might need a couple of these;)
I really like my cast iron tortilla press!
Recently, my good friend Claudia, who is from Mexico, taught me how to make authentic corn tortillas!
They are amazing!
She soaks the organic corn overnight in lime water just like her grandmother did in Mexico.
This is the healthiest way to consume corn!
So, getting back to the tortilla press, if you want to make authentic tortillas you NEED to have this cast iron press.
You need something heavy enough to make the tortillas the perfect thickness. This cast iron press does the job better than anything else!
And there you have it!
Cast Iron Accessories
That completes my list of the 10 Cast Iron Products and Accessories That You NEED to Have in Your Kitchen!
Be sure to check out my post 20 More Cast Iron Products and Accessories That You NEED to find even more cast iron ideas!
Do you use cast iron cookware?
What are some of your favorite cast iron pots and pans?
Have you used any of the items on this list?
If so, please leave a comment below telling us how much you like them and what you use them for!