Are you looking for a yummy side dish to add to your fall menu plan? Or maybe something different to serve with the turkey at Thanksgiving?
How about dessert for dinner?! Have your sweet potato pie as a side dish instead of dessert when you will be too full of turkey to enjoy it!

*This Post Contains Affiliate Links*
Sweet Potato Pie Mashed Potatoes!
I LOVE sweet potato pie! I mean LOOOVE! In fact, I have made sweet potato pie (and these mashed potatoes) when it isn't even fall! Yeah, I'm kind of addicted to fall food, and sweet potato pie is my favorite!
Living in Florida, we have to suffer some pretty intense heat. I'm talking surface of the sun hot! But, if you turn on the air conditioner and make fall food it's like taking a break from summer;) Please tell me I'm not the only one who does this?!
Anyways, back to sweet potato pie!
This site contains affiliate links. If you make a purchase using one of these links, I may earn a commission. Please click here for more information about cookies collected and our privacy policy.
These mashed potatoes are so easy to make and are really good for you!
They are naturally sweet and full of fall spice!
Your kids will even love these!
My daughter, who will not eat sweet potatoes, loves these mashed potatoes! I made myself a bowl of these and she ended up eating a bunch of it! I guess next time I need to make extra;)
Also because they are so easy to make, you can make them for Thanksgiving and not have to feel stressed! Make this delicious side dish, and still have plenty of time to make other dishes and to focus on the star of the show – the turkey! Of course once everyone tastes your amazing Sweet Potato Pie Mashed Potatoes the turkey won't be the star anymore;)
Have you ever made mashed potatoes using sweet potatoes before? Give these a try and let me know what you think! I know you will love them!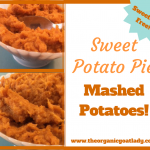 Sweet Potato Pie Mashed Potatoes!
Ingredients
1

Large

Sweet Potato

3

Tbsp.

Grass-fed Butter

1/2

tsp.

Cinnamon

1/2

tsp.

Nutmeg

1

Pinch

Himalayan Pink Salt
Instructions
Wash your sweet potato and place it on a baking sheet. Pierce with a fork and bake for 45-50 minutes at 400 degrees until soft.

Scoop out sweet potato and mash with a fork until smooth. If it isn't as smooth as you'd like then put it in the blender until it reaches the consistency that you would like.

Mix in butter, cinnamon, nutmeg and salt. Mix well.

Serve while hot and enjoy!