Who doesn't love some jelly toast? Or is it jam toast? Wait…do I like jam or jelly? What's the difference between jam and jelly?! These types of questions are probably what has brought you to this post. Read on to find out exactly what the difference between jam and jelly is!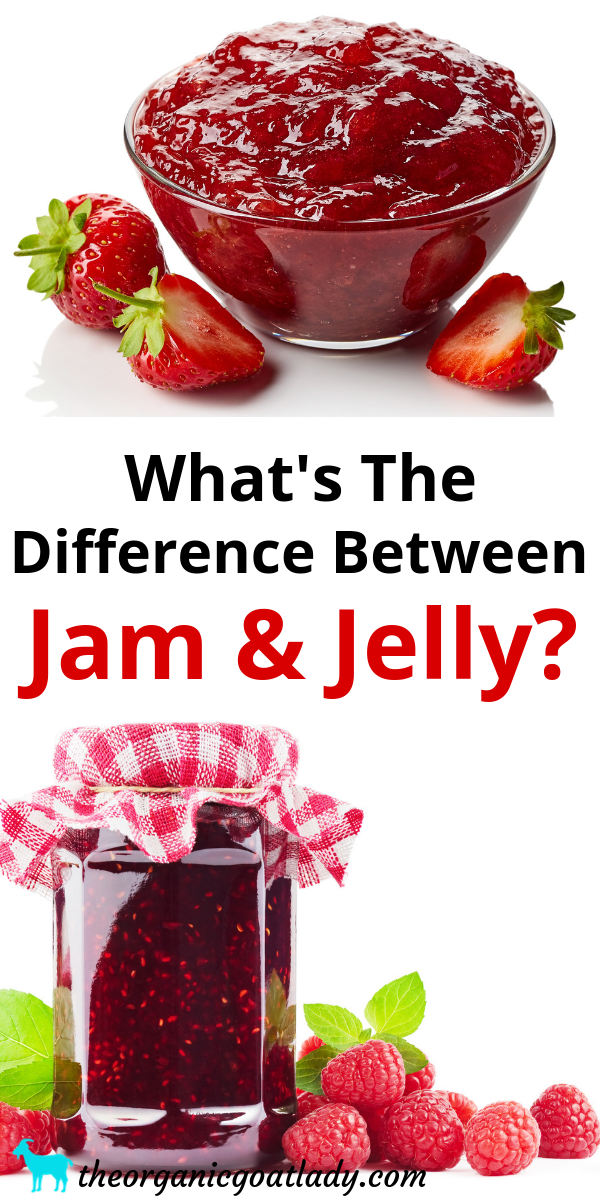 This site contains affiliate links. If you make a purchase using one of these links, I may earn a commission. Please click here for more information about cookies collected and our privacy policy.
Difference Between Jam and Jelly
Who doesn't love hot buttery toast slathered in a sweet, fruity spread know as jelly! Or jam;)
Whether you are headed to the grocery store to pick out your favorite flavor, or whether you are looking for recipes to make your own, you need to know the difference between jam and jelly.
You might be wondering, is there actually a difference? Or are the names interchangeable?
Jam and jelly are two different things. But what makes them different?
Is there a difference in flavor? Does the difference lie in the texture? Or do ingredients make the difference?
The answer is actually all three!
What's the Difference Between Jelly and Jam?
Let's start by talking about jelly.
Jelly is somewhat clear and has a very smooth, gelatinous texture.
Jelly is made by taking the cooked fruit and straining it. The juice that is strained from the fruit is then used to make jelly. Therefore jelly contains no chunks or fruit pieces.
But there is more.
If you turned your jelly jar over it would probably all slide out in one piece that is the same shape as the jelly jar. As I said above, it has a very gelatinous texture. This is due to the addition of pectin.
Fruit naturally contains pectin, some fruits more than others. But when making jelly, pectin is added to give it a stronger gel. The pectin is what's responsible for making it "jelly".
What Is the Difference Between Jam and Jelly?
Now, what about jam? What is it that makes jam different from jelly?
Jam is more than just fruit juice. Jam is made by mashing and cooking the fruit until it breaks down. This makes a thicker, more flavorful spread than jelly.
Because jam uses the fruit itself in addition to it's juice, it makes a more intensely flavored spread. Also, because pectin isn't always added to jam (remember, the fruit naturally contains pectin), it is less gelatinous. This makes it easier to scoop out with a spoon.
So, while both jam and jelly can be made from the same fruit, they both differ in texture, flavor intensity, and the amounts of pectin that they contain.
So as you can see, deciding between jam and jelly is really a personal preference. Are you someone that can't stand chunks of pieces in your fruit spread? Then jelly might be for you!
Or are you someone that is looking for a spread to easily scoop onto crackers or cheese that has a more intense flavor? If so then jam might be more your jam;)
My personal favorite of the two is jam. I love the intense flavor and the texture reminds me more of the apple butter my great-grandmother used to make when I was a child:)
Jam Recipes
If you would like to find some delicious jam recipes so that you can make your own jam, then be sure to check out 15 Must Try Jam Recipes! You will love them all!
Also, for canning instructions, as well as awesome charts to help keep your canned goods organized, you NEED to use the Food Preservation Planner!
Do you get overwhelmed at harvest? Do you find yourself having to research and look up canning times and info every fall at canning time?
The Food Preservation Planner contains cheat sheets, inventory lists, meal planning, additional recipes, and more! You definitely need this for your sanity!
I hope this post has helped you to better understand the difference between jam and jelly!
And don't forget, leave me a comment below and let me know which of the two you prefer:)
Pin it for later: