Are you looking for natural ways to care for your garden? Essential oils make excellent gardening tools! These are the best essential oils for gardening!
This site contains affiliate links. If you make a purchase using one of these links, I may earn a commission. Please click here for more information about cookies collected and our privacy policy.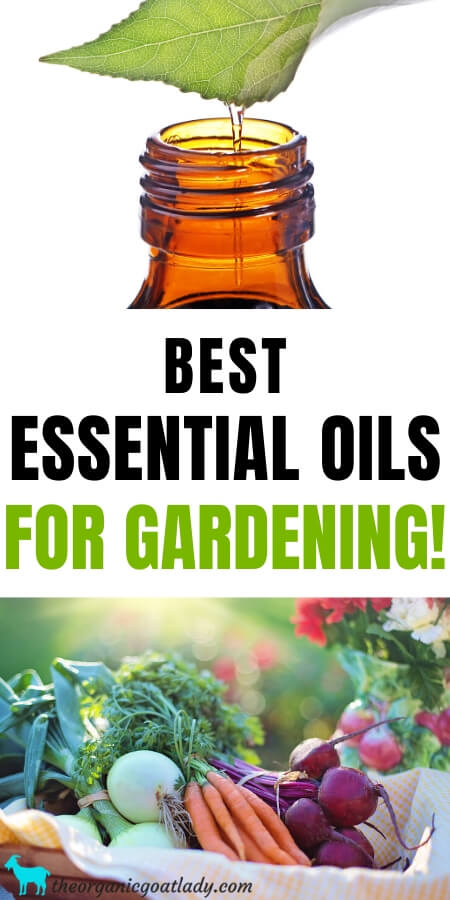 Essential Oils for Gardening
If you've been following me long then you know that essential oils are my passion!
As an aromatherapist I use essential oils in all areas of my life. And that includes gardening!
There are multiple ways that essential oils can be used in the garden.
Now, you might be wondering how essential oils can help your garden. Before we start talking about which essential oils to use, let's first discuss how essential oils work so that we can better understand how they can hep your garden.
Essential Oils for Plants
Essential oils are basically the cells of plants. The essential oils that I recommend in this article come from herbs and plants that bugs and diseases do not like, and that your vegetables do like. It is basically a concentrated version of the plant that it comes from.
For example, it takes approximately 40 rose petals to make 1 drop of rose essential oil! Now that is concentrated, is it not?!
So by spraying a mixture containing essential oils on your plants, produce, or the ground around them, you can eliminate those bugs, molds, and more!
Using Essential Oils in the Garden
Best Essential Oils for Gardening
Let's look at three different ways that essential oils can benefit your garden!
These are all great ways to put your essential oils to use. After giving these a try you will never garden without essential oils again:)
Nobody wants creepy crawlers eating their plants or produce!
There is nothing worse than coming out to discover that some pest has destroyed all of your hard work.
Use these seven essential oils to keep those pests away so that you can enjoy the fruits of your labor!
Antifungal essential oils are good for more than just killing mold in your home. Use them to kill fungus and mildew on your plants as well!
But be careful, not all antifungal essential oils are safe for the garden. Read on to find out the top five that I recommend!
Essential oils are not just for killing bugs and fungus.
Did you know that they can actually increase the health of your plants as well?! That's right! They can help your plants to be healthier as well as to increase their yield!
Read on to find out which essential oils work best and how to use them.
Essential Oils for Gardening
And those are some of the best essential oils for gardening!
Have you used any of these oils in your garden before? If so leave me a comment below relating your experience! I'd love to hear from you:)
Also, if you would like to find out more about using essential oils in the garden to keep away pests, then be sure to read 13 Essential Oils to Repel Snakes!
Happy gardening!