Are you looking for a hearty and delicious soup recipe? This baked potato soup recipe is sure to become one of your favorites!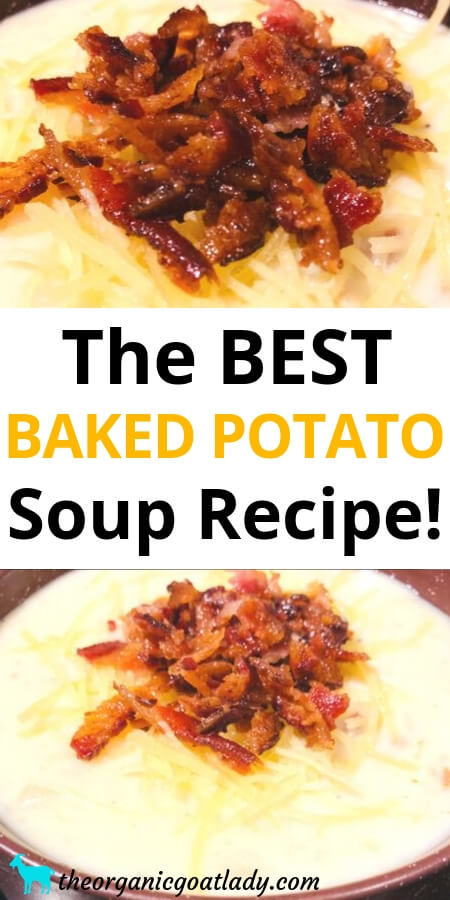 This site contains affiliate links. If you make a purchase using one of these links, I may earn a commission. Please click here for more information about cookies collected and our privacy policy.
Potato Soup
I love soup! I try to incorporate a lot of bone broth into my family's diet and soup is one of the best ways to do that.
I have a handful of soups that are our favorites, but this potato soup is definitely at the top of the list! My daughters love this soup and eat it with zero complaints.
While some people eat soup only in the fall and winter, we eat it year round. There is not only so much nutrition in soup, but with a large family it's something that you can make a lot of! As I mention in my Hamburger Soup recipe, nothing makes me happier than a giant pot of soup;)
I mean, even if you don't eat it all, you can freeze the rest to pull out on busy days for a ready made dinner! But with a large family, it usually doesn't last long enough to freeze around here. If I can get a few meals out of it, then I count it a win;)
Potato Soup Recipe
This potato soup is so creamy and has such a wonderful rich flavor! Just thinking about it makes my mouth water!
It's also easy to make. The part that takes the longest amount of time isn't assembling the soup, it's baking the potatoes and cooking the bacon. I recommend baking your potatoes and cooking your bacon earlier in the day so that when it comes time to assemble your soup everything is ready to go.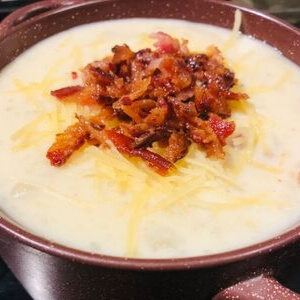 Easy Potato Soup
Most of the ingredients included in this soup are probably ingredients that you already have on hand, making this a cheap soup to make as well!
This recipe is a large recipe and makes a full 8-10 quart pot of soup. Having a large family I only make big pots of soup:) But if you don't want to make that much you can simply cut the recipe in half.
Also, I use milk from our goats in this recipe, but you can use cow milk as well. However if you are looking for a good recipe to use your goat milk in, it does very well in this one! In fact we love it so much that I have included this recipe in the Goat Milk Recipe Book along with all the other delicious goat milk recipes that I, along with my fellow goat ladies, make regularly.
How to Make Potato Soup
To get started making your potato soup you want to make sure you have all of the ingredients on hand. Once you have done that you need to get the potatoes and bacon started.
Wash and then bake your potatoes until they are tender enough to mash. Once cooled cut potatoes in half and scoop out potato from skins and mash.
If you don't have russet potatoes on hand, you can use any other type of potato as well. I have also made this recipe using red potatoes. I simply peeled them and then boiled them instead of baking. Then after draining the water I mashed them in the pot. It was really easy as well.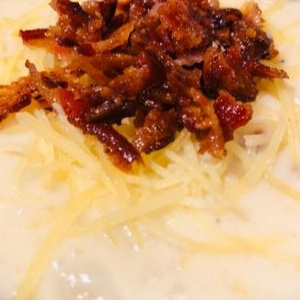 Baked Potato Soup
As I mentioned above, you also want to go ahead and cook the bacon. Set it aside to cool so that it's easy to crumble. You can cook the bacon in advance and have it crumbled and ready to go!
Once the potatoes and bacon are ready to go, you can start making the soup!
Melt the butter in a large pot, add the chopped onion and saute.
Add the flour and stir constantly until smooth. Next add the milk. Continue to stir until it thickens. Then add the mashed potatoes, broth, salt, and pepper. Cook the soup until it is heated, then add the sour cream. Continue to cook until the soup is completely heated, but do not boil.
And that's it! Now you can fill your bowl and enjoy a warm, hearty bowl of baked potato soup!
Creamy Potato Soup
Baked Potato Soup
This creamy, hearty baked potato soup is not only delicious but easy to make!
Ingredients
2 3lb bags of Russet Potatoes
1 1/3 cup Butter
1 small Onion chopped
1 1/3 cup Flour
6 cups Bone Broth (can use chicken, beef, or venison)
6 cups Milk (can use heavy cream)
1 1/2 tsp. Salt (or to taste)
1 tsp Pepper (or to tate)
3 cups shredded Cheddar Cheese (reserve 1 cup for topping)
24 slices of Bacon cooked and crumbled (reserve some for topping)
16 oz. Sour Cream
Green Onion for topping (optional)